Shakespeare In The Square Presents A MIDSUMMER NIGHT'S DREAM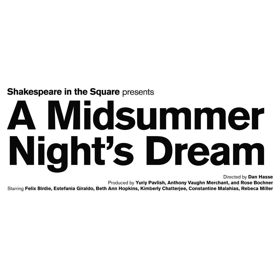 Shakespeare in the Square is proud to present William Shakespeare's A Midsummer Night's Dream for an exclusive two-week engagement starting August 7 and running through August 19. Performances will take place at The Access Theater (380 Broadway, New York City) in The Gallery Space. Tickets are available at www.ShakespeareintheSquare.tix.com.
Coming off of its successful four-week tour along the east coast, this stripped-down production of Midsummer combines Shakespeare in the Square's quick and precise style with a dash of experimentation. The cast of six, all dressed in utilitarian jumpsuits, feast on Shakespeare's words with boldness and athleticism, weaving from scene to scene and portraying over 20 characters. They play on a bare tarp, with the only props being a variety of food-stuff; from dried oats, to blood oranges, to mashed potatoes, and marshmallow fluff, the food helps invoke feelings of childishness, sexiness and tiptoes the fine line between silliness and kink. You could think of it as a Food Fight Midsummer: unhinged, messy, and fun.
The cast includes Felix Birdie, Kimberly Chatterjee, Estefania Giraldo, Beth-Ann Hopkins, Constantine Malahias and Rebeca Miller.
The show has costume design by Richard Aaron and lighting design by Timothy Meola. The original set and prop design for the tour was by Olivia McGiff, and Angelina Margolis is designing sets and props for this production. Hannah Kallenbach serves as our associate director and food-play expert. Additional director credits include Abigail Wahl as fight director, Jorge Morales as music director, Chloe Troast as choreographer, and Samantha Hosi as assistant director. Lindsay Kipnis serves as production stage manager.
A Midsummer Night's Dream from Shakespeare in the Square performs at The Gallery Space at The Access Theater (380 Broadway, New York City) from Tuesday, August 7 through Sunday, August 19. The performance schedule is Tuesdays, Thursdays, Fridays, Saturdays, and Sundays at 8:00 PM. Regular tickets are $45, with $30 tickets for patrons under 30 with a valid ID, and student tickets for $20 with a valid student ID. All ticket are available on the website at www.shakespeareinthesquare.com. This production is part of the Access Association Series.
SHAKESPEARE IN THE SQUARE (Producer) was founded in 2010 by Rose Bochner and Dan Hasse. It is the mission of the company to perform Shakespeare to the hilt, with a respect for the words and an awareness of original staging practices. SITS believes that his language still has the power to captivate a crowd without the use of elaborate sets or lighting effects; we trust the audience's imaginations to "piece out our imperfections."
Above all else, the company strives to create shows that are fast, accessible, and precise. After seeing a recent Shakespeare in the Square performance, Terrence McNally - the Tony and Emmy winning playwright - raved: "Washington Square Park is never more alive and enchanting than when these merry, nimble players are at work there. Shakespeare smiles." The organization was praised for its "presence and immediacy" by MCC Theater artistic director Will Cantler.
The acclaimed SITS production of Romeo and Juliet was hailed as "full of zest and humor" by TheaterMania and "not to be missed" from Stage Buddy. Gay City News praised the "troupe's penchant for breaking rules and blasting expectations, all in service to making the Bard's work more accessible to the common folk." Their recent adaptation, Coriolanus: From Man to Dragon, was called "compelling" by Washington Square News, "hugely ambitious" by Manhattan Digest and "glorious" by Theater Pizzazz.
Felix Birdie (Lysander, et al.) lives in Brooklyn with a girl and two cats. Felixbirdie.com. @felixbirdie
Kimberly Chatterjee (Helena, et al.) is thrilled to be making her Shakespeare in the Square debut! Off-Broadway: Dance Nation (Playwrights Horizons), Pride & Prejudice (Primary Stages); The Tempest (Classical Theatre of Harlem). Regional: Pride & Prejudice, The General From America, Macbeth, Measure for Measure (Hudson Valley Shakespeare Festival); As You Like It (Folger Theatre). Television: "High Maintenance." Education: NYU Tisch New Studio on Broadway. www.kimberlychatterjee.com
ESTEFANIA GIRALDO (Hermia, et al.) has previously worked within the SITS family as Assistant Director for Henry V. She is very excited to make her SITS acting debut. Theatre: Good People (Dottie) and A Winter's Tale (Perdita, Emilia, Time) at the Stella Adler Studio of Acting. Film: For Yajira (Yajira) NYU Student Works. Recently wrapped production on Hamlet in the Golden Vale, produced by Roll The Bones Theatre Company with production support from The Immersive Storytelling Studio at The National Theatre (UK). Training: BFA New York University Tisch School of the Arts, Stella Adler Studio of Acting, Stonestreet Screen Acting Studios.
Beth Ann Hopkins (Titania, et al.) is an actor, director and producer. The co-founder and the Artistic Director of Smith Street Stage, she just returned from filming her first feature with Roll the Bones Theater Company at Grantstown Castle in Co. Tipperary, Ireland playing the role of Gertrude in their adaptation of Hamlet, titled Hamlet in the Golden Vale. They also created an immersive theatre experience as well as a Virtual Realty short film in collaboration with the National Theater of London. Recent acting credits include: U.S. Premiere Unity 1918 (Project Theater), Henry IV, Parts 1 & 2 (Smith Street Stage), Paulinka in A Bright Room Called Day (Columbia Stages) directed by Scott Ebersold, and Anne Hamilton's Event of a Thread (Park Avenue Armory). This is Beth Ann's debut performance with Shakespeare in the Square. www.hopkinsbethann.com
Constantine Malahias (Demetrius, et al.) is a clown regarded fondly by some as "a breath of fresh air." He enjoys coining dad jokes and boldly acting as if they were only his. He is consistently cast as multiple characters in the same story and chooses to believe this is because people just can't get enough of him. Midsummer is Constantine's eighth production with SITS and fourteenth of Shakespeare's 36 plays. His most recent project is playing Rosencrantz and Guildenstern as twins in Hamlet in the Golden Vale. www.constantineMalahias.com
Rebeca Miller (Puck, et al.) has worked regionally in theatre at Cincinnati Playhouse in the Park, The Repertory Theatre of St. Louis and Florida Studio Theatre, and toured nationally with Theatreworks USA. In New York she has been privileged to work with Classic Stage Company, On The Rocks Theatre Company, New York Shakespeare Exchange, The Box Collective, Snorks and Pins, Everyday Inferno, and the NYC Fringe Festival. She has worked with playwrights developing new work at The Ensemble Studio Theatre, Columbia University, New Georges, and Pulse Ensemble Theatre. TV/ New Media credits include The Perfect Murder (Investigation Discovery), Don't Shoot The Messenger (YouTube) and The Chanticleer (YouTube). Rebeca also works as a Costumed Interpreter at The Lower East Side Tenement Museum. NYU: BFA. www.rebecamiller.com
Dan Hasse (Artistic Director) is a New York-based director/teacher and the Artistic Director of Shakespeare in the Square (SITS). Off-Broadway: The Tragedy of Romeo and Juliet (The Gym at Judson/SITS). Off-Off: Richard II (The Robert Moss Theater/SITS), As You Like It (The Stella Adler Studio), Fist in Mouth (The Studio at Cherry Lane), Round and Round the Garden (The Kraine Theatre), Othello (The Chain Theatre). Teaching: The Winter's Tale, Beautiful Bodies (The Stella Adler Studio; NYU Conservatory), Henry VI, Part 3 (American Shakespeare Center), The Taming of the Shrew (Montfort Academy). Outdoor: Nine shows in Washington Square Park with SITS. Residencies with Bedlam (MadLAB) and The Actors Studio (The Playwright/Directors Unit). Currently on the festival circuit with Hamlet in the Golden Vale, produced by Roll The Bones Theatre Company with production support from The Immersive Storytelling Studio at The National Theatre (UK). www.danhasse.com
YURIY PAVLISH (Executive Director) is a maverick stage director, actor, musician, digital media specialist, and producer, based in New York City. He works extensively with Roll the Bones Theatre company, an immersive group, and Combative Theatre Company, a company dedicated to exploring kinetic storytelling and a fantastical use of stage combat in theater. Favorite shows in NYC include The Tragedy of Romeo and Juliet (Producer), Shakespeare in the Square's debut Off-Broadway production, Coriolanus: >From Man to Dragon (Director), and 'Hamlet in the Golden Vale' (Laertes), a feature film adaptation of Hamlet.
Anthony Vaughn Merchant (Associate Producer) is an actor, director, and fight choreographer. He is a member of several theatre companies including the Classical Theatre of Harlem, Shakespeare in the Square, and Epic Theatre Ensemble, where he has worked on a number of projects from playing Henry V to directing Antigone for Epic's Human rights Project. Anthony can also be seen on Netflix, USA, and HBO with his work on "Luke Cage," "Mr Robot," and "Vinyl."