STEEPLECHASE Comes To NY Summerfest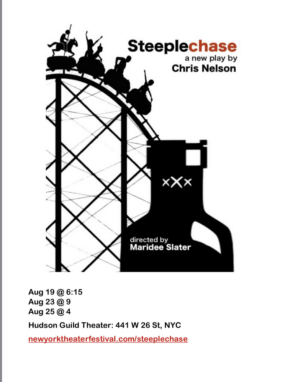 STEEPLECHASE, a new dark comedy by Chris Nelson with direction by Maridee Slater begins as part of New York Theater Festival's Summerfest at Hudson Guild Theater (441 West 26th Street) on Monday August 19th with subsequent performances on August 23rd and 25th. The cast includes Valerie Redd*, James O'Hagan-Murphy*, Amy Laird Webb, Rob McDermott, Joel Reyer, Schuyler Van Amson, Tyra Hardy, Cristina Lucas* and Allison Pappas. *(Member of Actors Equity). Costume design is by Corina Chase. Lighting and set design are by John Salutz.
Coming of age in 1990's New York, Viv is instantly drawn to the dark underbelly of the city. She revels in the nightlife, simultaneously riding waves of self-discovery and self-destruction. Viv floats from one lover to another, teaming up with freak show performers for the hedonistic amusements of Coney Island. Once the shiny promise of youth washes away, the roller coaster loses its appeal. But Viv still can't get off the ride. She's forced to confront the ghosts of a time and place long gone to discover unexpected answers to what she's been seeking.
Chris Nelson holds an MFA from NYU's Tisch School of Arts, where she studied playwriting with Arthur Miller, Tony Kushner and John Guare. She earned a BA cum laude in English and Drama from Duke University. Chris is the recipient of a grant from the National Endowment for the Arts and a Frank Nelson Doubleday Fellowship for fiction. She received two Benenson Awards for the Arts and the Reynolds Price Award for script writing. Her short play "Gifted" was Grand Prize winner in the Davenport Theatrical 10 Minute Play Contest. Staged readings of her plays have been held at New Dramatists and Brooklyn Reading Works. STEEPLECHASE was first presented as a staged reading under the title of "The Last Roller Coaster" at Dixon Place in 2017.
Maridee Slater holds an MFA in Directing from Columbia University. Some of her directing credits include Stillwater (Drew University and Tectonic Theatre Project), Decon Midsummer (Fusion Factory, Denver), the rock opera No Sympathy for the Wolf (FringeNYC), Gynx by Alicen Grey(NY Summerfest), Sam Shepard's The Tooth of Crime (Columbia/The Connelly) and the folk opera The Song of the Sea (The Cell Theatre).
STEEPLECHASE begins at New York Theater Festival's Summerfest in the Hudson Guild Theater (441 West 26th Street between 9th and 10th Avenues) on Monday August 19th at 6:15PM. Festival dates and performance times are Monday August 19th at 6:15PM, Friday August 23rd at 9PM and Sunday August 25th at 4PM. All tickets are $23 plus service fee.
For tickets go to https://www.brownpapertickets.com/event/4241498. Also go to http://newyorktheaterfestival.com/steeplechase. Entertainment industry members will receive complimentary pass.