Pigeonholed Presents NOT CLOWN an Allegory for Free Speech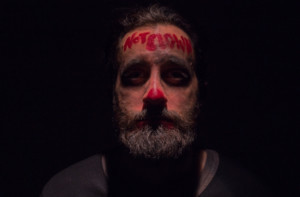 Pigeonholed, a NYC-based theater company, presents "Not Clown" by Steve Moore and Carlos Treviño of Austin-based Physical Plant Theater, January 24-28, 2018 at the Robert Moss Theater at 440 Lafayette Street, NYC. In 2006, the play enjoyed an extended run at NYC's famed Soho Rep.
This production marks the NYC revival of this stunningly original, eerily topical and allegorical play. A synopsis states: In a time when clowns are tortured and circuses banned, a renegade troupe enacts the story of a girl who longs for their outlawed life - even as her father commits atrocities on the State's behalf. Limbs rebel against the body. The cram car bolts for the border. And a round, red nose is a dark souvenir.
"Not Clown" is directed by Daniel Adams (2nd Year MFA candidate at Columbia under Anne Bogart) and features Justin Fuller*, Alice Rothman-Hicks*, Adam Foldes, Alana Fu, Tomas Virgadula, Jameson Lisak, Paul Lombardo, Justin Cimino, and Sasha Lazare. (*denotes member of Actors' Equity Association) Stage Manager is Rachel April. Set and Properties Design by Sarice Olson. Lighting Design by Cheyenne Sykes. Costume and Makeup Design by E.L. Hohn.
Shows are at 8pm Wednesday-Saturday nights, with matinees at 3pm on Saturday and 2pm on Sunday. Tickets are $20 and are available at https://www.artful.ly/store/events/14195. Pigeonholed is a sponsored project of Fractured Atlas, and tax-deductible donations can be made through the company's website at www.pigeonholedtheater.org/donate.
About Pigeonholed: Labeled. Typecast. Stuck. Told to be shorter or taller, bigger or smaller, younger or older, funnier, prettier. Told your time will come. We want to get unstuck, to find our own unique ways to use theater to engage with the world around us. We tell immediate, socially relevant stories that spark vital conversation, understanding and empathy. Founded in December 2016 by NYU Tisch classmates Sasha Lazare and Justin Cimino, Pigeonholed is a non-profit theater company based in NYC. Their first production was "Detroit," by Lisa D'Amour, at the IATI Theater in March 2017. Please visit www.pigeonholedtheater.org for more information.