Click Here for More Articles on SHAKESPEARE SPOTLIGHT
Photos: Titan Theatre Celebrates Opening of A MIDSUMMER NIGHT'S DREAM
Long Island City-based Titan Theatre Company launched its second full season on Friday October 18, 2013 with the premiere of its highly anticipated adaptation of Shakespeare's infectious comedy A Midsummer Night's Dream, where, for each night of the show's limited New York City run, audience members pick which actors from the acclaimed nine-actor ensemble will play each of the 16 roles in Shakespeare's infectious comedy of sly sprites, rude mechanicals and confused lovers. The show will run at The Secret Theatre in Long Island City through November 3, 2013. BroadwayWorld has photos from the opening night festivities below!
"Our opening weekend of this daring production was a smashing success," said Artistic Director Lenny Banovez. "Audiences who've joined us for this unique and unprecedented take on Shakespeare's 'Dream' have been cheering during the show, jumping to their feet with riotous applause following the final black out and we've been fielding nothing but raves and praise for the show. Ticket sales have been higher than ever, and we're humbled and thrilled to have two more weeks to share this very special play with audiences. "
The cast of A Midsummer Night's Dream features Titan Theatre Company members Laura Frye and Alexis Black, as well as Titan favorites Sean Hudock (star of the critically acclaimed film "Private Romeo," Shakespeare Theatre of NJ), Emily Trask (Twelfth Night at Folger Theater, Yale Rep, Utah Shakespeare), Matthew Foster ("House of Cards"; "Law & Order: SVU"), Gregory Isaac (Chicago Shakespeare, Steppenwolf), Ryan Lee(Virginia Shakespeare, Illinois Shakespeare), Jonathan Matthew Finnegan (Actor's Theatre of Louisville), Lloyd Mulvey (Milwaukee Rep, Utah Shakespeare), Tressa Preston and Adam Perabo.
With direction by Titan Artistic Director Lenny Banovez, who previously helmed Titan's hit productions of Romeo and Juliet and Henry V, A Midsummer Night's Dream is produced by Titan Theatre Company Managing Director Kevin Beebee and the late Leonard Banovez, Sr.
The creative team also includes Alan Piotrowicz (Lighting Design), Scott Frost (Costume Design), Michael Selkirk (Sound Design), Alexis Black (Fight Choreography), Alexis Achilles (Technical Direction), Jesse Michael Mothershed (Speech & Text), Gabby Acquaviva (Marketing),Jasmine Roberts (Technical Direction) and Anna Carter (Stage Management).
A Midsummer Night's Dream runs October 18th through November 3rdat The Secret Theater in Long Island City. Tickets are currently on sale and can be purchased online at www.TitanTheatreCompany.com for $15 and at the door for $18 or by calling the Titan Theatre box office at (347) 738-5602. The Secret Theatre is an air-conditioned venue located just blocks from the 7,E,M,G,N and Q trains in Queens at 44-02 23rd St, Long Island City, NY.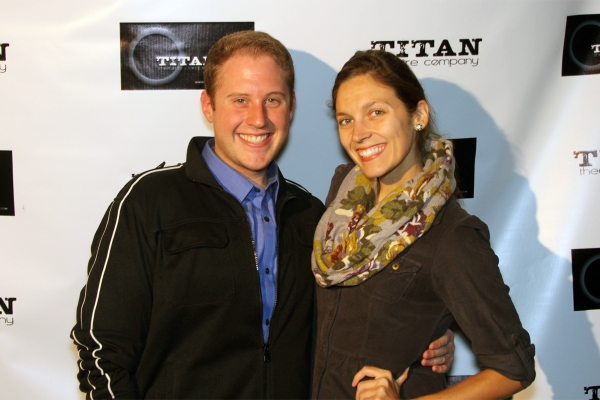 Michael Gioia from Playbill.com and Bartley Stratton 'The Play Bill Collector'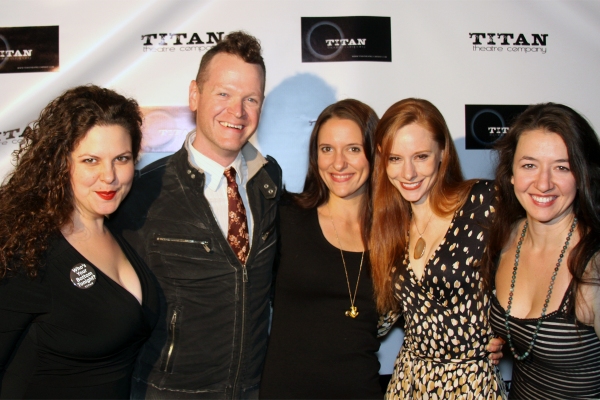 Cast Members Tressa Preston, Lloyd Mulvey, Laura Frye, Emily Trask and Alexis Black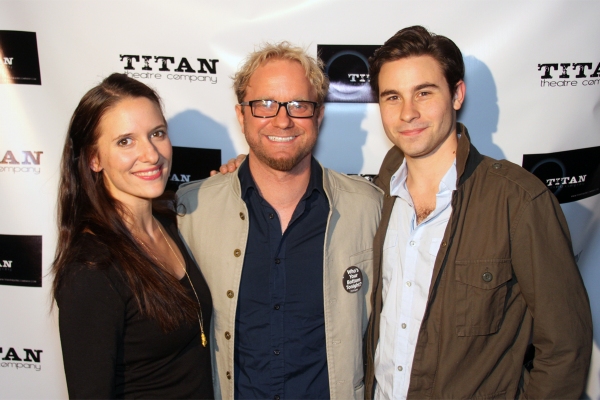 Director Lenny Banovez (Center) with Cast Members Laura Frye and Sean Hudock

Cast Members Sean Hudock, Ryan Lee, Adam Perabo, and Lloyd Mulvey

Stage Manager Anna Grace Carter, Assistant Director Alyssa Van Gorder, and cast member Laura Frye