Photo Flash: Sneak Peek at HERE's CULTUREMART 2014, Set for 1/28-2/9
The OBIE-winning HERE announces the line-up for CULTUREMART 2014, taking place January 28 - February 9. In CULTUREMART, process becomes the focus, as this annual festival offers a first look at live performance work in various stages of development from the boundary-breaking artists in the HERE Artist Residency Program (HARP) on their journey to mainstage productions. CULTUREMART 2014 serves up 13 adventurous workshop performances of new hybrid work that blurs the lines between theater, dance, music, multimedia, puppetry and visual art. Scroll down for a sneak peek at the performers!
HERE's producing residency programs (HARP & Dream Music) commission and develop cross-disciplinary performance work through residencies lasting 1-3 years, focused on mid-career artists. While in residence, artists have opportunities to present work at various stages of development through work-in-progress showings and more fully developed workshops in CULTUREMART. This vibrant festival offers a vital step in the evolution of new work, delivering for artists and audiences alike. Resident artist projects seen at CULTUREMART culminate in mainstage productions at HERE. This year's festival also features three works by HARP alumni back with new projects in development. CULTUREMART alumni include
Young Jean Lee
, Taylor Mac, Lisa D'Amour, Faye Driscoll,
Erin Orr
, Troika Ranch,
Corey Dargel
, Theatre of a Two-Headed Calf, and many more, as well as workshops by HERE Artistic Director
Kristin Martin
g. CULTUREMART 2014 takes place in both of HERE's theaters: the Mainstage and the Dorothy B. Williams Theater. Full schedule follows. HERE is located at 145 Sixth Avenue (entrance on Dominick Street). Tickets for CULTUREMART productions are $15.00. Student Rush: FREE with valid Student ID at the box office. For tickets & info, call (212) 352-3101 or visit
www.here.org
. In-person sales at the Box Office after 5pm on show days only.
CULTUREMART 2014 SCHEDULE:
*Note: productions listed with same date/time represent a shared bill. Tuesday, January 28 & Wednesday, January 29 @ 8:30 PM
Sunken Cathedral by Bora Yoon
Sunken Cathedral is a multimedia musical performance work by Korean American composer, vocalist, and sonic surrealist Bora Yoon, designed as an architectural journey through a house, and an archetypal journey through the subconscious. Each room illuminates a different sonic 'space,' which excavates memory, insights, and intersections in which our greatest diamonds and demons are held. With direction by Glynis Rigsby, video projection design by
Adam Larsen
and featuring Korean traditional drummer Vong Pak, Sunken Cathedral is about death, life, rebirth, and the cyclical nature of the universe; the alchemical moment of transmutation where one medium becomes another. Wednesday, January 29 & Thursday, January 30 @ 7:00 PM*
Mata Hari by
Matt Marks
& Paul Peers Mata Hari is an interdisciplinary opera-theater piece inspired by the life of Mata Hari, the mystic dancer who was executed for espionage during World War I. The story is placed during last months of her life while incarcerated in St. Lazare prison in Paris, France. This work, by composer
Matt Marks
and librettist/director Paul Peers, focuses on her relationships with the five men that led to her death in 1917. Science Fair by Hai-Ting Chinn Science Fair is an opera-singer's love-song to the scientific worldview. Conceived and performed by mezzo-soprano Hai-Ting Chinn, and featuring pianist Erika Switzer, Science Fair melds Science and Opera into a witty evening of songs, slides, and live experiments. The words of working scientists, writers, and teachers are set to music by contemporary composers and become songs about the phases of the moon, the evolution of whales, the physics of the operatic voice, and, above all, the wonder of the scientific worldview. *Shared bill: Mata Hari and Science Fair Friday, January 31 @ 8:30 PM
Restless Next by
Rebecca Davis
Restless Next is a collection of collections: envelopes, coins, movement, thread, and wax. Using dance and visual art tactics, the work explores time passing through the transience of bodies, objects and space. Treating the human body and inanimate objects with equanimity,
Rebecca Davis
offers audiences an experience of perpetual metamorphosis: underscoring the ceaseless and fascinating mutability of all things. Saturday, February 1 & Sunday, February 2 @ 7:00 PM
Send for the Million Men by
Joseph Silovsky
Send for the Million Men examines the controversial trial and execution of the anarchists Sacco and Vanzetti. Their case was a Cause Célèbre in the 1920s and still enflames passionate responses from advocates and detractors alike. In collaboration with Victor Morales (video designer/performer) and Catherine McRae (sound), and working in his unique style of oratory, robotics and puppetry,
Joseph Silovsky
illuminates the humor and tragedy in the story and connects it to today's political strife as well as his own micro-tragic biography. Monday, February 3 @ 6:00 PM
The Scarlet Ibis by Stefan Weisman &
David Cote
When Doodle was born, no one expected him to live. But he did. Now his older brother has to lug him everywhere in a red wagon. One summer day, a scarlet ibis appears in the bleeding tree behind the family house. The boys' fates are intertwined with this exotic creature. Based on the classic 1960 story by
James Hurst
, The Scarlet Ibis is an opera with puppets that explores the pains and wonder of childhood. This new work, for adults and teens, features score by Stefan Weisman and libretto by
David Cote
. A concert of the entire piano-vocal score. Directed by Mallory Catlett. Music direction by
Steven Osgood
. Co-produced by
Beth Morris
on Projects. Monday, February 3 & Tuesday, February 4 @ 8:30 PM*
Chang(e) by
Soomi Kim
Chang(e) is based on the life and work of Philadelphia-based Asian American performance artist and activist Kathy Change. She is remembered for her infamous last "performance" in which she set herself on fire and danced in protest to the political apathy of elite students of the University of Pennsylvania.
Soomi Kim
portrays the enigmatic and controversial Change in this dynamic new hybrid dance theater work. Chang(e) incorporates dance on film, site-specific work, political theater, movement, video, and original music. This marks
Soomi Kim
's third collaboration with director Suzi Takahashi. Lost Property Unit by Mei-Yin Ng/MEI-BE WHATever In Lost Property Unit, dance explorer Mei-Yin Ng, with her company MEI-BE WHATever, opens an investigation into the bodily and soul-driven limits of surveillance, networking, and media. Dance, robotic sculpture, and a time bending blend of live and recorded video craft a chilling narrative of a beautiful recluse and the cyborg pet who is anything but her best friend. With media design by Sofy Yuditskaya and Eric Barry Darsin and sound design by James Lo, Lost Property Unit lures us into a headspace where solitude is never total and togetherness is always just out of reach. *Shared bill: Chang(e) and Lost Property Unit Wednesday, February 5 & Thursday, February 6 @ 8:30 PM
The Futurist by Laura Peterson Choreography How far away is the future? What happens to your body when you think about the future? What will happen to us? The Futurist is an evening-length dance by Laura Peterson Choreography with sound installation by composer Joe Diebes where moving sound sources and speakers transform into costumes, furniture, or landscapes, and complex choreography physicalizes states of dread, hope, anticipation, and excitement of imagined possible futures. Drawn from interviews with diverse groups of participants The Futurist explores the questions we ask about the future. A HARP Alum Presentation. Thursday, February 6 & Friday, February 7 @ 6:30 PM
Genet Porno by
Yvan Greenberg
/Laboratory Theater GENET PORNO is based on
Jean Genet
's 1943 novel, Our Lady of the Flowers, and follows the loves and betrayals of a cross-dressing gay prostitute named Divine. Divine's story is staged within the production of a present-day gay porn video, incorporating narrative elements from the confessional videoblog of a real-life porn star. Their stories merge in an "impossible ballet" as GENET PORNO explores our contemporary culture of narcissism and the consequences that result from blurring our public and private lives. Friday, February 7 & Saturday, February 8 @ 8:30 PM
Glass Mouth by Leyna Marika Papach Glass Mouth is about the complexity of our identity: all the layers of identity we carry within us, and all that reverberates in time and space through the words we speak and the movements we make. Leyna Marika Papach creates an opera/movement-theater work where sound, music, dance, and chance are woven together in a story of characters lost in a labyrinth of unresolved thoughts, wishes, and regrets. Saturday, February 8 at 7:00pm & Sunday, February 9 @ 2:00 PM*
there are caves and attics by Michael Bodel "To tell the truth, my body will not be so easily reduced. It has, afterall, its own phantasmagoric resources. It possesses some placeless places - places more profound and more obstinate than the soul . . . It has its caves and attics." Emerging from Michel Foucault's 1966 radio broadcast Corps Utopique, there are caves and attics is a solo in six parts, danced alongside text and an original olfactory score. A HARP Alum Presentation. Frantic Beauty by LEIMAY (Ximena Garnica & Shige Moriya) Frantic Beauty unfurls the pursuit of beauty, revealing its inherent ambivalence through a performance juxtaposing sound, video, light, movement, and kinetic sculptures. Spawned by imagination, beauty shapes society based on our dreams and desires. At the same time, this beauty is capable of sabotaging humanity. Frantic Beauty examines how the power of the beauty we choose to pursue determines our future. A HARP Alum Presentation. *Shared bill: there are caves and attics and Frantic Beauty Since 1993, the OBIE-winning HERE,
Kristin Martin
g, Artistic Director and
Kim Whitener
, Producing Director, has been a leader in the field of producing and presenting new, hybrid performance viewed as a seamless integration of artistic disciplines. Productions include
Eve Ensler
's The Vagina Monologues,
Basil Twist
's Symphonie Fantastique and Arias with a Twist,
Hazelle Goodman
's On Edge,
Trey Lyford
and
Geoff Sobelle
's all wear bowlers,
Young Jean Lee
's Songs of the Dragons Flying to Heaven,
Corey Dargel
's Removable Parts, Taylor Mac's The Lily's Revenge and Yoav Gal's Mosheh, among many others. The HERE Artist Residency Program (HARP) has been HERE's core program since 1998. HARP commissions, develops and premieres new hybrid performances. Through HARP, the Resident Artists are given the opportunity to develop projects for up to three years through works-in-progress showings and workshop presentations in CULTUREMART, culminating in full-scale productions. In honoring HERE with the 2009 Ross Wetzsteon Award, the OBIE Committee noted, "it's become increasingly hard for artists to find a place to take risks, a safe haven where they can develop daring new work. One theater has regularly bucked the trend, making its mission to ensure that artists have a home for their research and development, and that theatregoers can sample the exciting results." Additionally, HERE is home to the Dream Music Puppetry Program (Artistic Director,
Basil Twist
; Producing Director, Barbara Busackino), and the visiting artist programs startHERE: Innovative Theatre for Young People, aimed at young audiences, and hemispHEREs, which brings innovative national and international visiting artists to HERE for a residency and presentation. HERE's 2013-2014 season launched with BOTCH, a sound and visual installation performed live, by Joe Diebes, and the current puppet theater work The Pigeoning, by Robin Frohardt (through Dec 22). The season continues with PROTOTYPE: Opera/Theatre/Now, the second annual festival co-produced by
Beth Morris
on Projects and HERE (January 8-19, 2014); Denmark's Sofie Krog Teater's The House (March 12-16, 2014); and Keep Your Electric Eye On Me, a multimedia dance performance by Shaun Irons & Lauren Petty (April 30-May 10, 2014). Trade Practices, a site-specific Artistic Director Production by
Kristin Martin
g &
David Evans
Morris, originally slated for Fall 2013, is aimed at production in 2014.
Photo Credits: Dana Miltons, Benjamin Heller and Shige Moriya, respectively.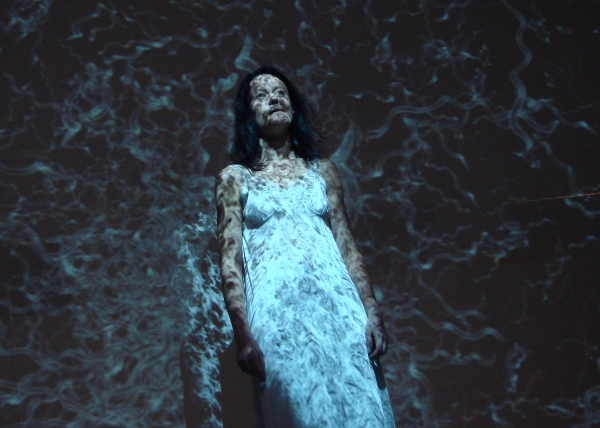 Mata Hari, by Matt Marks & Paul Peers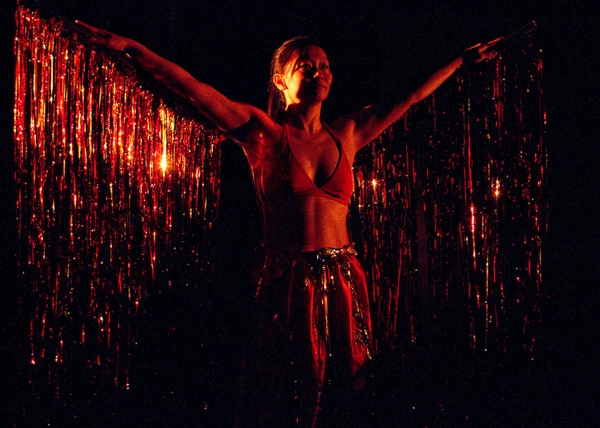 Chang(e), by Soomi Kim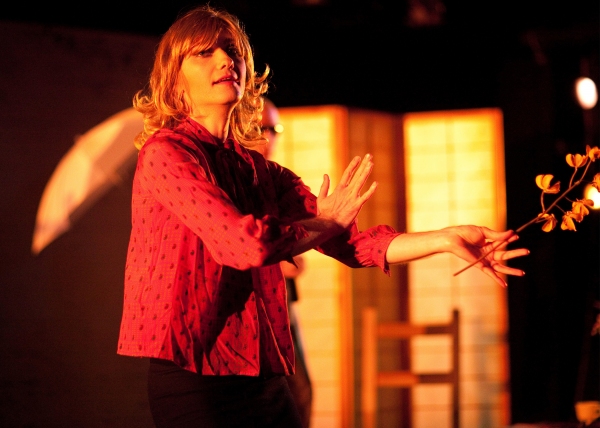 Genet Porno, by Yvan Greenberg

Frantic Beauty, by LEIMAY

More Hot Stories For You