Photo Flash: Sneak Peek at Grusomhetens Teater's THE MOUNTAIN BIRD, Coming to La MaMa
Grusomhetens Teater--Norwegian for "The Theater of Cruelty" (a nod to Antonin Artaud)--is celebrating its 25th anniversary this year. This independent, Oslo-based theater troupe will make its North American debut at La MaMa March 2 to 5 with "The Mountain Bird" (Fjeldfuglen) by Henrik Ibsen, its celebrated staging of a romantic 1859 opera libretto by the great giant of Norwegian theater. The production contains a critically acclaimed original score by contemporary composer Filip Sande and is the company's longest-running show. Scroll down for photos and footage of the piece!
The piece, staged with a company of eight actors and two musicians, has appeared at festivals and as a guest performance at theaters in Norway (including the Norwegian Opera House and the National Theater's International Ibsen Festival), Sweden, Germany, France, England, Poland, Russia, Turkey, India, and Japan. It will be performed in Norwegian with English supertitles.
Ibsen's 1859 libretto, "The Mountain Bird" (Fjeldfuglen), is based on a medieval legend of a young woman (Tunaal) on The Farm Birkehaug in Justedalen who is the only survivor in the valley after the Black Death. When discovered several years later by an expedition from a neighboring parish, they find her to be free of the shackles of civilization. In her solitude, she has become as "shy and wild as a bird." One of her discoverers, a young bridesgroom (Steinsland), is fascinated by her, intrigued by her spirit which is unshackled from convention and societal obligation. The second half shifts to the village where the parishioners live. A wedding celebration is being prepared for the bridegroom and another woman, named Blehr. While fulfilling his duty, Steinsland's mind continues to hark back to the "mountain bird" woman that he encountered in the valley. It is there that the manuscript breaks off abruptly. Grusomhetens Teater chooses not to "end" or finish the piece, but to leave the narrative unresolved and ambiguous, with the audience lingering in the unfinished universe of "The Mountain Bird."
The production was inspired by a conversation eleven years ago between Director Lars Øyno and Erik Edvardsen, director of the Henrik Ibsen Museum in Oslo. Edvardsen told Øyno said that, in a new edition of Ibsen's Complete Works (Aschehoug, 2006), the publishers were including not only his famous completed works, but also incomplete manuscripts. This included the first half of a three-act opera libretto, "Fjeldfuglen" ("The Mountain Bird"), a Romantic piece set in the Middle Ages, but which Ibsen abandoned in 1859. It had been a curiousity for scholars and academics, but never staged.
Øyno, who founded his independent group Grusomhetens Teater ("The Theater of Cruelty") in 1992 in the physical theater tradition of Antonin Artaud and Jerzy Grotowski, was immediately intrigued. He had already directed another, more famous, unfinished work in 1996--Georg Büchner's "Woyzeck"--and was dedicated to theater which is not reliant on spoken dialogue or text to convey imagery or content, but uses the actor's body and physicality as the primary means of expression. He was intrigued to undertake an unfinished Ibsen opera with his troupe. Also, being a Norwegian actor originally trained in the classical tradition, Øyno felt it important to stage the work so that it may be known by more audiences and theater-practitioners everywhere, to provide a fresh look into Ibsen's artistic development and his work as a whole. The Norwegian theater establishment was skeptical of the project being entrusted to an independent troupe known for Artaud-influenced physical theater on a small black box stage, so its success was surprising to many.
"Fjeldfuglen" received its world-premiere in Oslo in 2009 and has become the longest-running and most frequently-performed production in Grusomhetens Teater's 25-year-history. It has played at the National Theater's International Ibsen Festival, the Norwegian Opera House and festivals in England, France, Germany, Poland, Russia, Turkey, India and Japan.
The piece is set to an original score by contemporary Norwegian composer, Filip Sande, which is performed live with acoustic instruments played by Lars Tore Pedersen and Maja Gravermoen Toresen. The scenography is very simple. The first half, taking place in the valley where the "mountain bird" (played by Hege Tunaal) has been alone and away from civilization for years since the Plague, is suggested by a barren tree, an abstract stage-painting and some platforms suggesting a mountain. The second half is back in the "village farm," where a wedding celebration is being prepared. Production values are typical of Grusomhetens Teater's "poor theater" aesthetic (in the Grotowski sense of the term) while also being true to an older tradition that Ibsen might had used should he have staged this opera in 1859. The costumes are inspired by bunads--Norwegian traditional folk costumes--to help the audience go back in time visually. The instrumentation is all acoustic, using Nordic folk instruments (including the hardanger fiddle) and percussion. Grusomhetens Teater's surreal, highly expressive, dynamic use of the actor's body is mixed with conventions of the mannered dramas of the mid-19th century. Much of the piece is played by actors with wide-open eyes, reminiscent of early actors' portraits from that period, when it was a form of dramatic expression. Critic Jens-Morten Hanssen observed, "The text is sung with heartfelt sincerity. The performance is devoid of any irony, but it is not without sting."
The actors are Odille Annette Heftye Blehr, Hanne Dieserud, Jimmie Jonasson, Nina Sponnich, Miguel Emilio Dobrodenka Steinsland, Hege Tunaal, Stig Zeiner, and Johanna Øyno. The musicians are Lars Tore Pedersen and Maja Gravermoen Toresen. Producer is Brendan McCall.
For tickets and more information, visit www.lamama.org.
---
Photo Credit: Eric Didym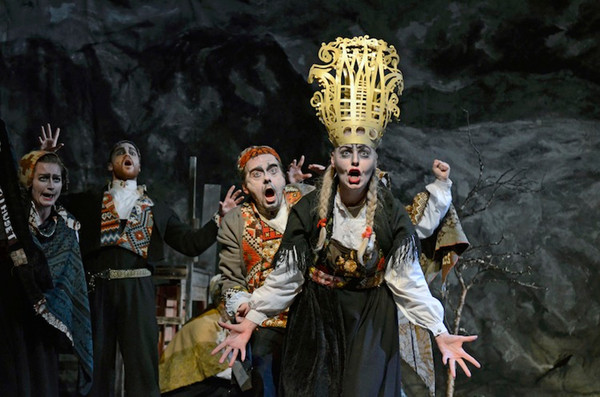 Hanne Dieserud, Stig Zeiner-Gundersen, Jimmie Jonasson, Odille Annette Heftye Blehr.
Stig Zeiner-Gundersen, Jimmie Jonasson, Hanne Dieserud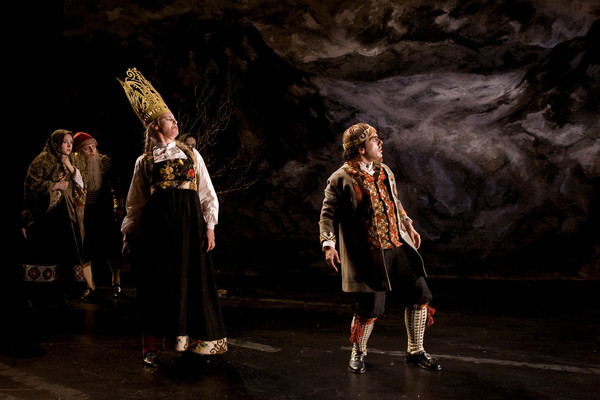 Nina Eileen Sponnich, Miguel Emilio Dobrodenka Steinsland, Odille Annette Heftye Blehr, Jimmie Jonasson
Hanne Dieserud, Nina Eileen Sponnich, Miguel Emilio Dobrodenka Steinsland, Odille Annette Heftye Blehr, Jimmie Jonasson (foreground), Lars Tore Pedersen (background)
More Hot Stories For You