Photo Flash: Robot Millennia Poses with Company of Resonance Ensemble's THE TRUTH QUOTIENT
Robert M. Doornick of International Robotics Incorporated brought famed robot Millennia to Theatre Row last night to take in Richard Manley's play The Truth Quotient (through Feb 2). After the show, he posed with director
Eric Parness
, with playwright Richard Manley and his wife, and finally the cast and crew of The Truth Quotient. Check out the photos below!Resonance Ensemble's 10th anniversary season "Connecting Circuits" features THE TRUTH QUOTIENT by award-winning playwright Richard Manley, directed By
Eric Parness
. The season runs through February 2, 2013 at Theatre Row's Beckett Theatre (410 West 42 Street).
THE TRUTH QUOTIENT takes place a few years from now, in a foreseeable future, when overcoming loneliness and feeling loved are no less of a challenge, but technology offers more solutions to those who can afford them. David is a wealthy entrepreneur who, despite great business successes, feels something is missing in his life. To ameliorate this nagging emptiness, he turns to a new company called Nureál, which promises real companionship from artificial beings. THE TRUTH QUOTIENT has already received significant attention and accolades, winning the Ashland New Play Festival, and being named a finalist for the STAGE International Script Competition, Reverie Productions' Next Generation Playwriting Contest, the Woodward/Newman Award, and the Dayton Playhouse FutureFest.
THE TRUTH QUOTIENT cast includes: Jarel Davidow (Taking a Chance on America - The Bela Lugosi Immigration Story. Of Mice and Men Film: Fillmore Lights, New Detroit); Angelina Fiordellisi (B'way: Zorba. TV: "Thunder Alley"); Meredith Howard (TV: "I Married a Mobster" Stage: RINO); Mark Peters (Sheba, Amahl and the Night Visitors); Shaun Bennet Wilson (Advance Man, Shakespeare's Slave Film: Pieces of Cake); Maxwell Zener (Film: Jim. Stage: The Importance of Being Earnest, Strange Bedfellows).
Designers include: Jen Varbalow (Scenic Design), Sidney Shannon (Costume Design/The Truth Quotient), Pamela Kupper (Lighting Design), Nick Moore (Composer/Sound Design), Jennifer Murphy (Props Master), Joe Doran and Philip W. Sandstrom (Production Managers), Sean McCain (Stage Manager/The Truth Quotient).
RICHARD MANLEY (playwright, The Truth Quotient) After two decades of success as a copywriter and advertising executive, Richard Manley started a second career writing stage plays, which he has been doing full time for the past five years. Pulling from many years' worth of personal journals, he rediscovered his passion for the sound of the language and its potential to entertain and provoke and inspire. When he returned to the States from a sabbatical in Paris six years ago, he sold his business and structured a lifestyle that would allow him to write stage plays full-time. His plays (and awards) include: The Truth Quotient (Winner of the John Gassner Memorial Playwriting Award and the Ashland New Play Festival); Life is Mostly Straws (Winner of the Pillars Playwriting Prize, Todd McNerney National Playwriting Award, and the Long Beach Playhouse New Works Festival); Quietus (part of the 2011 TRU Play Reading Series and finalist for the Reva Shiner Playwriting Contest); An Ignorant Man (Winner of the W. Keith Hedrick Award and Brevard New Play Competition,), Even the Wee Waves (Winner of the Oglebay Institute's Towngate Prize); as well as award-winning one-act plays including Thank Emily, Witlacks, Apparently Not, and Chew Toy Research.
Eric Parness (director, The Truth Quotient) is the Artistic Director of Resonance Ensemble, where he has directed productions of Sophocles' Antigone, Maxim Gorky's The Lower Depths, Chekhov's The Cherry Orchard, Ibsen's The Master Builder, and the world premieres of Strange Bedfellows by Bruce Cohen, La Tempestad by Larry Loebell, The Mail Order Bride by Charles L. Mee, Sherlock Solo by Victor Cahn, What Happened Then by Michael Feingold, 23 Knives by Christopher Boal, and Shakespeare's Slave by Steven Fechter. Other New York directing credits include Rachel Reiner Productions' Embraceable Me, Jean Cocteau Repertory's Crazy for the Dog, Oberon Theatre Ensemble's The Winter's Tale, Of Mice and Men, Measure for Measure, and The Starship Astrov, Hypothetical Theatre Company's Kryptonite City, and Boomerang Theatre Company's Blood Wedding. He has directed regional theatre for the Blumenthal Center in Charlotte, NC, Curtain Call Theatre in Latham, NY, and The Home Made Theater in Saratoga Springs, NY, as well as educational theatre for Marist College, Stern College and Brandeis University. Eric is a graduate of Brandeis University, a Directing MFA Candidate at Brooklyn College (2014) and a member of the Lincoln Center Theater's Directors Lab..
RESONANCE ENSEMBLE's (Producer) goal is to weave a thread between the theatre's past, present, and future. We explore how classic plays by writers such as Euripides, Shakespeare, Molière, Chekhov, and Williams remain relevant and vibrant across countless eras and cultures, and endeavor to create new work in their spirit. By learning from and paying tribute to history's master dramatists, we strive to craft new theatre that is just as timeless and universal. To accomplish this goal, we invite the playwright to join the director in the exploration and interpretation of classic plays. We challenge writers to study their predecessors in order to create new work that resonates today. We are not interested in direct adaptations, but rather innovative new work that evolves from preexisting material. The process culminates with a production of the new play in repertory with the classic that inspired it.
For more information about Resonance Ensemble, visit
www.ResonanceEnsemble.org
.


Director Eric Parness with Robot Millennia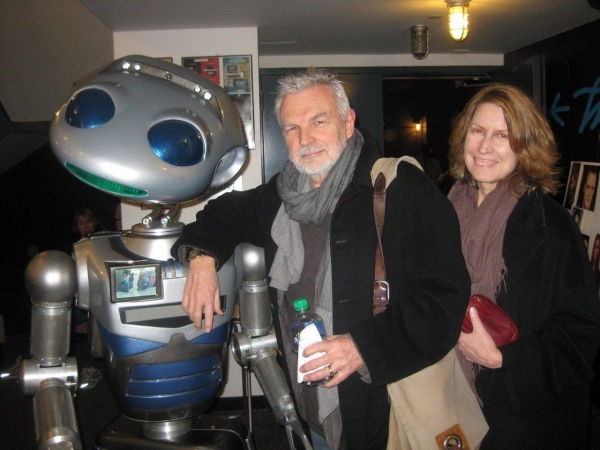 Robot Millennia with playwright Richard Manley and his wife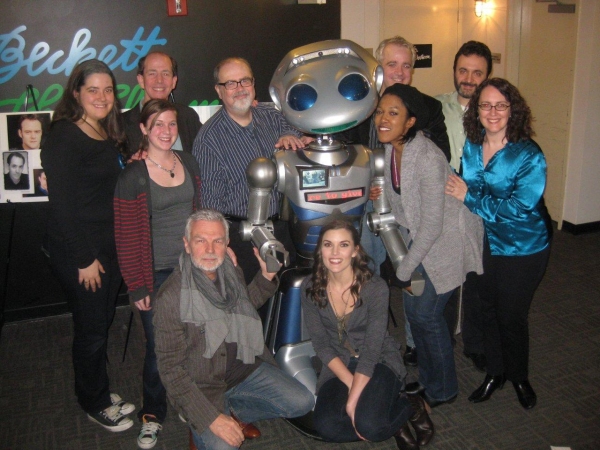 Robot Millennia with the Cast and Crew of THE TRUTH QUOTIENT

Featured BroadwayWorld Events
Check out these concerts...

More Hot Stories For You