Photo Flash: Meet the Cast of New York Gilbert & Sullivan Players' PIRATES OF PENZANCE and PANTIENCE
The New YorK Gilbert & Sullivan Players, America's preeminent professional Gilbert & Sullivan repertory company, launches its G&S Fest 2013-14, presenting iconic classic productions of The Pirates of Penzance and Patience when the company returns to Symphony Space (2537 Broadway at 95th Street) on December 27th for a strictly limited engagement through January 5th. Special performances include "Bring Your Grandparents Day" and the annual New Year's Eve Gala! BroadwayWorld has a sneak peek at the cast below!
Under the artistic and music direction of
Albert Berg
eret, the company has presented over 2,600 performances throughout the United States, Canada, and England. Incorporating a full orchestra, its productions feature contemporary energy while retaining a traditional respect for each of the G&S masterpieces. New Yor
K Gilbert
& Sullivan Players is considered by many to be the nation's "leading custodian of the G&S classics." The Pirates of Penzance, or The Slave of Duty centers on the dilemma of young Frederic who, as a child, was mistakenly apprenticed to the pirates until his twenty first birthday. Helping Frederic to deal with this unusual predicament are the brash Pirate King, Ruth - the pirate maid-of-all-work, romantic Mabel, and the delightfully dotty Major-General Stanley. On the rocky coast of Cornwall, England a band of tenderhearted pirates celebrates the coming of age of their apprentice, Frederic. Although Frederic's apprenticing to pirates was the mistake of his nurse maid Ruth, he has dutifully served, but he now announces his plan to devote his life to the extermination of piracy. The naive young man meets a group of beautiful girls, their father the Major-General, and enlists the help of some bumbling and diffident policemen. But Ruth and the Pirate King tell Frederic that his apprentice papers state that he won't be of age until his 21st birthday, which won't occur until the distant date of 1940 because Frederic was born in leap year on the 29th of February. Frederic is doomed to remain the pirate apprentice. The policemen try to capture the pirates on their own, but are easily defeated. Everyone is happy to discover that the pirates are really all "noblemen who have gone wrong," so all is forgiven in the end. Patience, or Bunthorne's Bride - Fads come and go, and aesthetic poetry is all the rage in town these days, especially among the maidens who have all become groupies of the self-styled poet Reginald Bunthorne - to the dismay of their macho military boyfriends. All but Patience, the virtuous village milkmaid who claims to have never loved anyone. She doesn't care for poetry much either, and, as it turns out, neither does Bunthorne! And while Bunthorne is infatuated with Patience, she falls for her childhood crush Archibald Grosvenor, another famous aesthete who attracts women even faster than Bunthorne. The rigid military men attempt to win back their ladies by comically posing as willowy poets, but, when exasperated Bunthorne challenges Grosvenor to give up the current aesthetic craze, he does so willingly - and everything backfires. Being common becomes the new celebrity, and all the ladies choose their old sweethearts, including Patience - proving after all, that every generation has its own temporary insanity! The NYGASP 2013-14 season is made possible with public funds from the New York State Council on the Arts, celebrating 50 years of building strong, creative communities in New York State's 62 counties. This program is supported, in part, by public funds from the New York City Department of Cultural Affairs. Performance times for The New Yor
K Gilbert
& Sullivan Players' 39th season at
Symphony Space
(2537 Broadway at 95th Street) are as follows: The Pirates of Penzance: Friday, December 27(8PM); Saturday, December 28 (2PM & 8PM); Sunday, December 29(3PM); Monday, December 30 (3PM - Bring Your Grandparents Day!);Tuesday, December 31 (8PM - New Year's Eve Gala!). Patience:Friday, January 3 (8PM); Saturday, January 4 (2PM); Saturday, January 4 (8PM); Sunday, January 5 (3PM). Tickets prices are $87, $77 & $67 with 50% off for children 12 and under (accompanied by an adult) and $8 off for seniors 65 & older. The New Year's eve performance has special prices of $97, $87 & $77. Discount subscriptions are available by calling (212) 769-1000. To order regular tickets by phone: call
Symphony Space
Box office at 212-864-5400 or visit
www.nygasp.org
.
Photo Credit: William Reynolds

David Wannen as The Pirate King

David Wannen as The Pirate King & James Mills as the Major General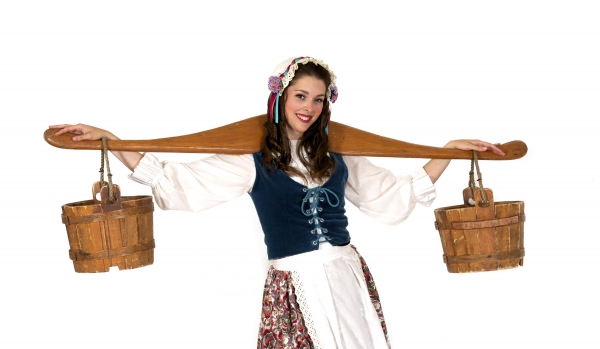 Sarah Caldwell Smith as Patience

Erika Person as Lady Angela, David Macaluso as Grosvenor, Sarah Caldwell Smith as Patience, Caitlin Burke (behind) as Lady Jane, James Mills as Bunthorne, Melissa Attebury as Lady Saphir in 'Patience'