Click Here for More Articles on SHAKESPEARE SPOTLIGHT
Photo Flash: In Rehearsal with Boomerang Theatre's LOVE'S LABOUR'S LOST in Bryant Park
The award-winning Boomerang Theatre Company and Artistic Director Tim Errickson, in association with Bryant Park Shakespeare, are excited to announce their production of LOVE'S LABOUR'S LOST by William Shakespeare, directed by Associate Artistic Director Cailin Heffernan. LOVE'S LABOUR'S LOST will be presented at Bryant Park (Upper Terrace Steps, 42nd Street and 6th Avenue), Thursdays, Fridays and Saturdays at 7 p.m., beginning Thursday, August 14 through Saturday, August 30, 2014. BroadwayWorld has a sneak peek at the cast in rehearsal below!
"Love's Labour's Lost is an ideal summer comedy in the perfect setting... the oasis of Bryant Park, surrounded by New York City. I plan to transport us all to London (read Navarre) during a mythic late Belle Époque era, framed in the British Music Hall" - shares Boomerang Theatre Company's newly appointed Associate Artistic Director Cailin Hefferman. - "Worlds collide when a coterie of sophisticated French noble woman run circles around their less able English lords. Rounding out the the cross-section of motley humanity are a young boy, two pedantical would-be lovers, a bobbie, a clown, a bombastic Spaniard, a conniving French chaperone and a lusty country wench. I am inspired and challenged by the elegant whimsy of the word play to translate that language into action."
The production stars Timothy Babcock*, Amanda Berry, Erik Bryan, Deborah Carlson*, Timothy W. Hull*, Amanda Jones*, Jason Loughlin*, Hannah Jane McMurray, Jake Minevich, Linda S. Nelson*, Sarah Norris, Jared Reinmuth*, Dan Renkin*, Natalie Roy, Michael Russinik*, Christian Ryan* and Sara Thigpen*.
The production features original music and lyrics/musical direction by Henry Aronson. Costume design by Kathryn A. Squitieri, fight choreography/movement by Dan Renkin, prop design by Leah Voysey and the assistant director is Danielle Demisay. The production stage manager is Andrew Morton* and Kat Meister is the assistant stage manager. Theresa McElwee is the dialect coach.
Tickets are free and do not require a reservation. For more information visit www.boomerangtheatre.org.
Photo Credit: Ethan Lercher for Bryant Park Shakespeare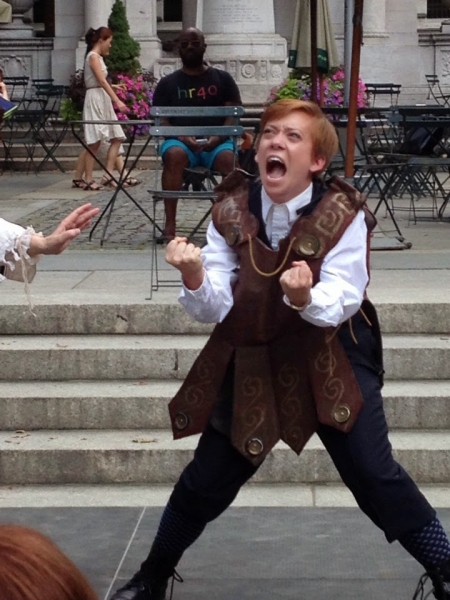 Amanda Berry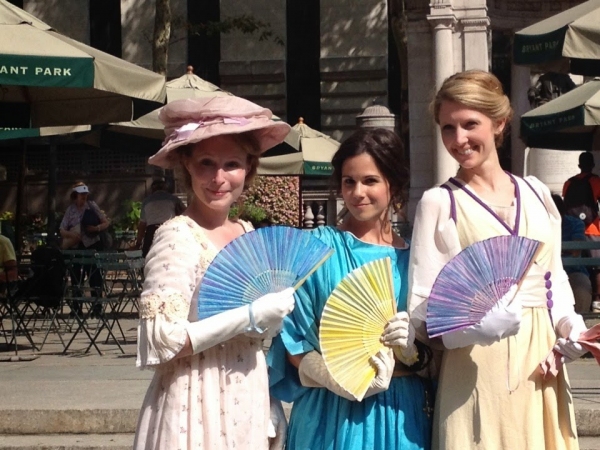 Amanda Jones, Natalie Roy and Hannah Jane McMurray

Linda S. Nelson, Erik Bryan, Amanda Jones, Timothy Hull and Sara Thigpen

Erik Bryan, Timothy Hull, Dan Renkin and Jason Loughlin

Eva Gil, Dan Renkin, Hannah Jane McMurray, Natalie Roy and Timothy W. Hull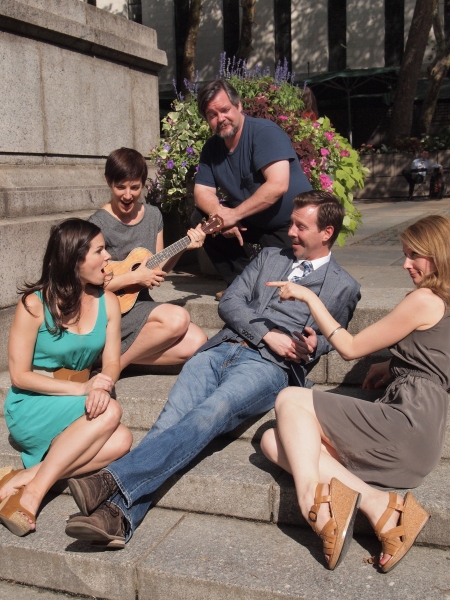 Natalie Roy, Eva Gil, Dan Renkin, Timothy W Hull and Hannah Jane McMurray