Photo Flash: Green-Wood Cemetery Sets Stage for Thorton Wilder's OUR TOWN
For three weeks in June, Historic Green-Wood Cemetery will be transformed into Grover's Corners, New Hampshire at the turn of the 20th century, as it becomes an urban and bold outdoor stage for a new production of Thornton Wilder's Our Town. Located on 478 park-like acres in the heart of Brooklyn, Green-Wood was founded in 1838. Scroll down for a sneak peek of the production!
Heading the production team are award-winning director and playwright James Presson, founder of Less Than Rent Theatre and a 2013/2014 Dramatists Guild Fellow, and Nora McNally (24 Hour Plays on Broadway and executive director of Less Than Rent Theatre). The show is being presented in partnership with the Green-Wood Historic Fund.
Set against the backdrop of Green-Wood's rolling hills, early summer blooms and 19th-century headstones and monuments, this new production of Wilder's timeless three-act play will explore the universal human experience of life, love, marriage, death and dying while incorporating the Cemetery's natural beauty and idiosyncrasies into its staging.
The production will have original music and choral arrangements by acclaimed classical composer Brendan Fox. This cast of the show reflects Brooklyn today -- a far cry from the Puritan New England town of the original production. And while the play stays true to the universal themes of Wilder's world-renowned work, its presentation is distinctly urban, incorporating music that ranges from romantic to punk and from rock to folk - which promises to add a certain "Brooklyn" vibe to the show.
Presson has been making headlines for years for his vast writing and directing experience. He is no stranger to adapting classics to more modern day productions. He was the youngest winner ever, at age 19, of the best director award at FringeNYC forRichard 3, which Presson adapted from Shakespeare's Richard III, making it part Shakespeare, part modern, part punk.
"Producing Our Town at Green-Wood Cemetery instantly taps into the location's sense of place and history," Presson said. "Our innovative staging will utilize Green-Wood's unique geography including trees, pathways, hills, the visible skyline and monuments themselves, as we create an environment reminiscent of the 'town' and the Grover's Corners cemetery."
Green-Wood President, Richard J. Moylan, said, "Just as Our Town celebrates the beauty of life and the importance of memorials and memory, at Green-Wood, we honor the life stories of our permanent residents through innovative and exciting public programs, performances and events. We are thrilled to host this new production of Our Town and look forward to a successful run."
In the summers of 2011 and 2013, Green-Wood was host to a successful and critically well-received production of The Spoon River Project, adapted by Tom Andolora from Edgar Lee Masters' Spoon River Anthology. Thousands of theatre goers enjoyed the play.
The role of Emily will be played by Amanda Brooklyn, a Brooklyn-based actress and vocalist. Cory Asinofsky, actor and fight choreographer - also from Brooklyn, will play the role of George. Rachel B. Joyce, co-Artistic Director of Less Than Rent, will play the Stage Manager. The role of Julia Gibbs will be played by Mayaa Boateng (Classical Theatre of Harlem's A Midsummer Night's Dream); Kumiko Konishi (Hyde Park on Hudson) will play Myrtle Webb; the role of Frank Gibbs will be played by Patrick Fleury (Desire! [A Varsouviana]); Ashley Ranyon (Le Cabaret Grimm) will play Louella Soames; Zoe Farmingdale (winner of Best Actress at West Village Musical Theatre Festival forPreschool! A Pint Sized Musical) will play Joe; Yadin Goldman (Nickelodeon's The Greenhouse) will portray Simon; Joe Flynn (Little Mac, Little Mac, You're the Very Man) will play Sam; the role of Howie Newsome will be played by Roland Lane (The Birthday Boys); Actor/Playwrights Ben Diserens (Beckett in Benghazi) and Jacob Presson (Very Bad Words) round out the cast as Charles Webb and Constable Warren respectively.
Also joining the production are Production Stage Manager, Sofia Montgomery; Costume Designer, Sara Donovan; Lighting Designer, Jonathan Cottle; Sound Designer, Lee Kinney; Puppet Designer, A.J. Cote; and Composer Brendan Fox.
Ticketholders will meet inside the main gate and travel by foot to the show location. Showtimes are Wednesdays - Saturdays, June 11, 12, 13, 14, 18, 19, 20, 21, 25, 26, 27, 28. Doors open at 7:00pm. Show begins at 7:30pm. Saturday Midnight Shows will take place at June 14, 21, 28. Doors open at 11:00pm. Show begins at 11:30pm)
For information about the production or to purchase tickets, call 718-210-3080 or visit http://www.green-wood.com/event/730-our-town/2014-06-11/. Advance tickets (can be purchased up to an hour before the show) are $30. Tickets at the door (subject to availability) are $35. Tickets for midnight shows are $40. Group rates are available for 10 or more. For information on Group rates, call 718-210-3073. A $5 discount is available for all shows for attendees under 25 (with valid ID) and members of Green-Wood or the Brooklyn Historical Society (with valid ID).
The Green-Wood Historic Fund is a registered 501(c)(3) not-for-profit membership organization established to advance public knowledge and appreciation of Green-Wood Cemetery through innovative public programming; to preserve its historic and architecturally significant buildings and monuments; to conduct education programs; and to safeguard the natural landscape of one of NYC's first green spaces.
Photos by Hunter Canning


Amanda Brooklyn (Emily) and Cory Asinofsky (George)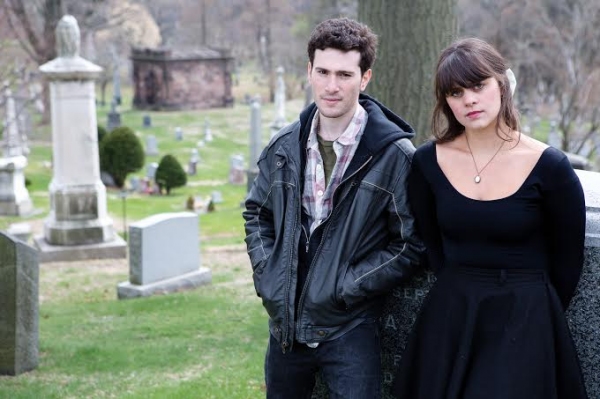 Cory Asinofsky (George) and Amanda Brooklyn (Emily)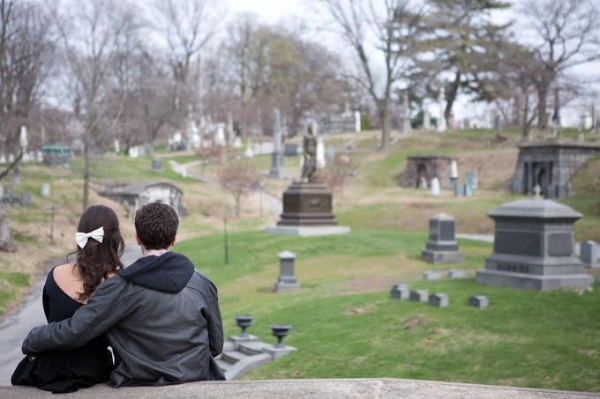 Amanda Brooklyn (Emily) and Cory Asinofsky (George)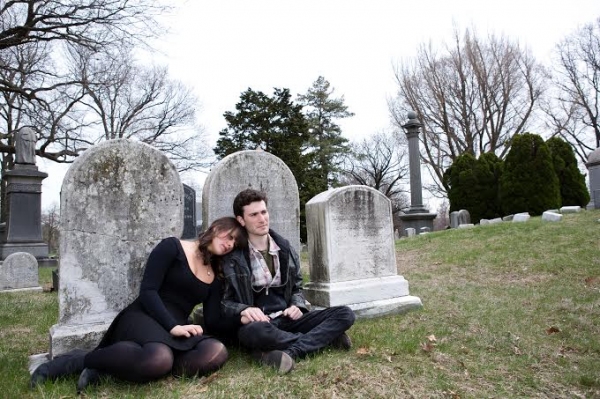 Amanda Brooklyn (Emily) and Cory Asinofsky (George)

Related Articles View More Off-Off-Broadway

Stories

Shows
More Hot Stories For You