Photo Flash: First Look at Medicine Show Theatre's TOM THUMB
Medicine Show Theatre Ensemble, one of New York's longest-running experimental theatres, will stage Henry Fielding's 1730 classic Tom Thumb, officially known as The Tragedy of Tragedies; or the Life and Death of Tom Thumb the Great. A preview is set for Thursday, June 6, 2013. The production opens Friday, June 7, 2013 and closes Sunday, June 30, 2013. BroadwayWorld has a first look at the cast in action below!
Medicine Show
artistic director Obie-award winner
Barbara Vann
will appear in and directs the production. Cast members include Jarrod Bates as Tom Thumb,
Barbara Vann
as Queen Dollalolla,
Oliver Conant
as King Arthur,
David Elyha
as Merlin, Perri Yaniv as Lord Grizzle the Rebel, Meaghan Bloom Fluitt as Glumdalca the Giant Princess, Eva Nicole as Princess Huncamunca, and as courtiers, ghosts, soldiers and others:
Zoe Anastassiou
,
Beth Griffith
,
Richard Gross
, Richard Keyser, and Ward Nixon.
Do not let Tragedy of Tragedies fool you. The play is a wondrous tale filled with great laughs, a parody of the epic tragedies that were popular in 18th century London. According to legend, the play made Gulliver's Travels author and satirist Jonathan Swift laugh out loud for only the second time in his life. Fielding is better known for his later novels Tom Jones and Amelia. His source material for the play was 1621'sThe History of Tom Thumbe, the first English fairy tale in print, but the legends are even older, going back to the tales of King Arthur. Tom was said to be a favorite of Arthur's, small in stature but fierce in battle. The play mostly focuses on a series of love triangles, as a tiny Tom conquers giants and becomes the object of desire for many of the ladies at court.
Medicine Show's current season is garnering great reviews. CurtainUp's Elizabeth Ahlfors called Fifty Million Frenchmen "non-stop frivolity" while The Wall Street Journal's Will Friedwald tweeted that the production was a "spirited gem." Time Out listed the classic musical comedy The Beggars' Opera as a "gay old time," a reference to the laughs and author John Gay.
Performances will be on Wednesdays, Thursdays, Fridays and Sundays at 8 p.m. There are no Saturday performances. The theatre is located at 549 W. 52nd Street, 3rd Floor, near 11th Ave., New York, NY 10019, subway C/E 50th St. Tickets are $18.00 for general admission, $15.00 for seniors and students. Tickets are available from Smarttix at www.Smarttix.com or (212) 868-4444. Group rates are available by calling the theater directly at (212) 262-4216. For more information, log onto the company's website at www.MedicineShowTheatre.org.
Photo Credit: John Quilty


Perri Yaniv as Lord Grizzle, Jarrod Bates as Tom Thumb, Meaghan Bloom Fluitt as Glumdalca the Giant Princess

Jarrod Bates as Tom Thumb, David Elyha as Merlin

Jarrod Bates as Tom Thumb, Meaghan Bloom Fluittas Glumdalca the Giant Princess, Oliver Conant as King Arthur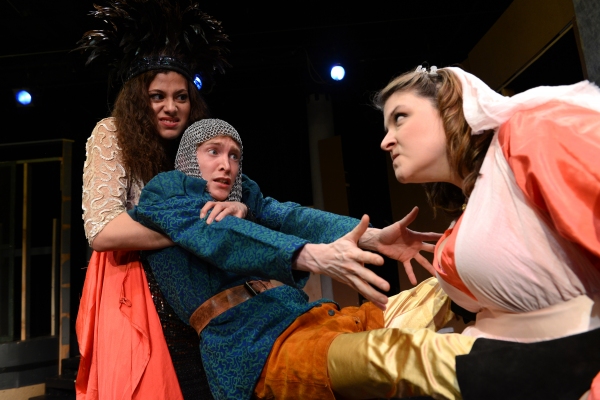 Meaghan Bloom Fluitt as Glumdalca the Giant Princess, Jarrod Bates as Tom Thumb, Eva Nicole as Princess Huncamunca

Related Articles View More Off-Off-Broadway

Stories

Shows
More Hot Stories For You