Photo Flash: First Look at Going to Tahiti Productions' IN THE EBB at FringeNYC
Going To Tahiti Productions opens their production of "In the Ebb" at
HERE Arts Center
for the 2012 New York International Fringe Festival on August 14th. Written by Camilla Ammirati and directed by Jessica Ammirati, "In the Ebb" is an evening of one-acts exploring themes of loss, love, fear and strength and runs through August 26th. Get a first look at the productions in the photos below!
The cast features Crawford M. Collins, Leah Gabriel, Mary Goggin*, Michael Komala, Stewart Steinberg*, Montgomery Sutton*, and Lisa Crosby Wipperling. *appearing courtesy of Actors' Equity Association. AEA approved showcase.
Emily (Leah Gabriel) has everything but fears losing it all. Alicia (Crawford M. Collins) loses everything but fears getting more. One can't move, the other can't stand still but both are stuck in the ebb.
St. James in the Field of Stars – When Alicia's father dies suddenly she flees her grief by traveling the world and never settling long enough in any one place to face it. Until Joel (Montgomery Sutton), her best friend from childhood, calls and invites her to Santiago de Compostela, Spain. Alicia risks seeing someone from her old life and discovers that the grief she thought she had left behind, still waits to pounce, just out of sight. Complicating matters are her feelings for Joel – her "Never" as in never dated, never even kissed, never were more than friends – all of which may be changing with her visit to Spain.
The Ebb – Emily has everything she could desire – the perfect husband, the perfect house, the perfect job…and the perfect hallucination. She's so afraid of losing the gifts life has given her, that she pulls away from everyone and retreats into a relationship with a (perhaps imaginary) woman who literally crawled out of the sea. Is fear of losing everything she's always wanted actually driving Emily crazy? And will she be able to give in and enjoy the happiness that is hers for the taking before she drives it away?
Jessica Ammirati founded Going to Tahiti Productions (GTTP) in 2008 with the goal of giving more opportunities to women in theater. The company focuses primarily on development and production of original works including In the Ebb and Skin Flesh Bone, original plays by Camilla Ammirati, a GTTP adaptation of the Mary Doria Russell novel Dreamers of the Day, the New York debut of Ruth McKee's one woman play Full Disclosure, and a development production of Carrie Keskinen's solo show, Cat Lady Without a Cat. GTTP recently finished a very successful run of an original adaptation of Jane Austen's Persuasion. GTTP also recently received a Puffin Foundation Grant for the development of Within Arm's Reach, an original stage adaptation of the novel by Ann Napolitano. Within Arm's Reach is scheduled to be performed this winter. Details about current projects can be found at www.goingtotahitiproductions.com.
In the Ebb plays August 14-26, 2012. HERE Mainstage Theater, 145 Sixth Avenue, Tuesday, 8/14 at 2pm, 8/15 at 9pm, 8/17 at 7pm, 8/25 at 4:30pm and 8/26 at 12pm. Tickets are $18 ($15 in advance) and may be purchased at www.fringenyc.com, over the phone at (866) 468-7619, or in person at Fringe Central.
Photo Credit: Jessica Ammirati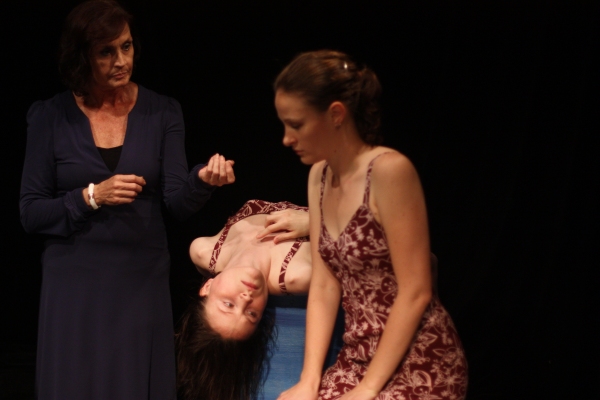 Mary Goggin, Crawford M. Collins, Leah Gabriel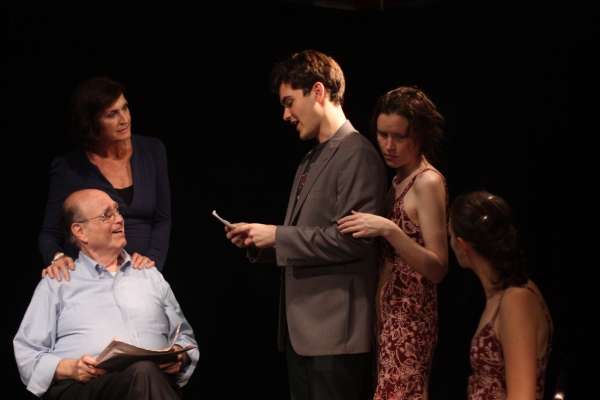 Stewart Steinberg, Mary Goggin, Montgomery Sutton, Crawford M. Collins, Leah Gabriel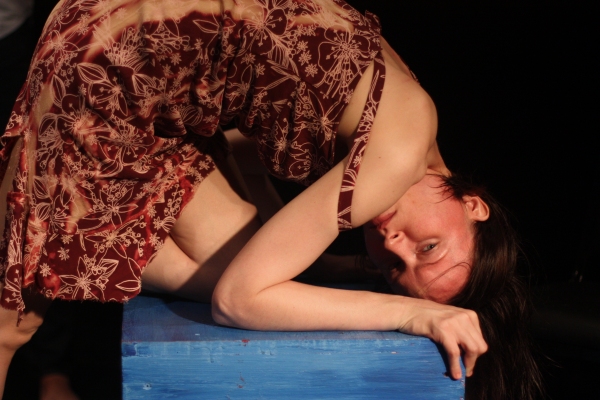 Crawford M. Collins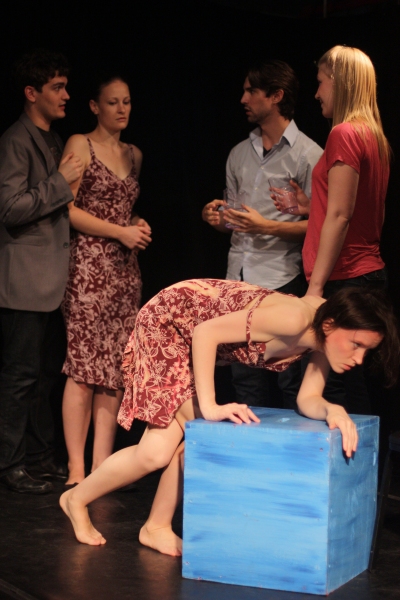 Montgomery Sutton, Leah Gabriel, Michael Komala, Lisa Crosby Wipperling, Crawford M. Collins