Photo Flash: First Look at DIZZY MISS LIZZY'S ROADSIDE REVUE PRESENTS THE BRONTES at NYMF
The New York Musical Theatre Festival will present The Helen Hayes Award winning Dizzy Miss Lizzie's Roadside Revue's The Brontes, directed by Rick Hammerly The Brontes will play now through July 19, 2013 at The Pershing Square Signature Center (480 W 42 St.). BroadwayWorld has a first look at the cast in action below!
Dizzy Miss Lizzie's Roadside Revue pays a visit to their favorite 19th century writers, The Brontes, and cook up a Yorkshire pudding of music, dance and theatrical tomfoolery. The Brontes follow celebrated writers Charlotte, Emily, Anne and their brother Branwell as they trade in Victorian repression for rock and roll expression.
The Brontes was originally premiered at the Capital Fringe Festival in Washington, DC. where Peter Marks of The Washington Post called The Brontes "saucy, raucous and witty rock concert-as-literary satire. Under Rick Hammerly's direction, the sharp songs of Steve McWilliams and Debra Buonaccorsi found an enjoyably cheeky outlet." As well as "A delightful musical satire. A cadre of marvelous actor-entertainers. It's all put together with so much wit and panache." The Washington City Paper raves that "Dizzy Miss Lizzie are alchemical fringe rock n' roll magic geniuses, and there's no reason to miss them."
The cast of the musical includes: Debra Buonaccorsi, Laura Keena, JorDan Klein, Steve McWilliams, Rich Nagel, Matthew Schleigh, Gillian Shelly, Dani Stoller and Jason Wilson. Creative team includes: Joey Walls (Lighting Design), Maria Royals (Costume Design), Greg Stevens (Set Design), Dan Martin (Sound Design).
For more information about Dizzy Miss Lizzie's Roadside Revue, visit getdizzywithlizzie.com.
Photo Credit: Russ Rowland


Cast of Dizzy Miss Lizzy's Roadside Revue presents The Brontes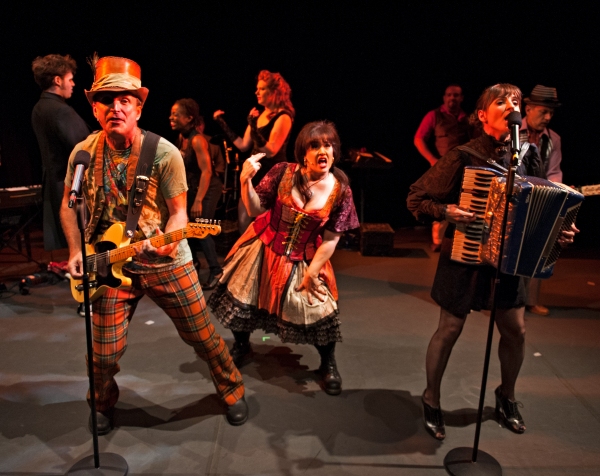 Steve McWilliams (The Barker), Gillian Shelly (The Gypsy), Debra Buonaccorsi (Charlotte Bronte)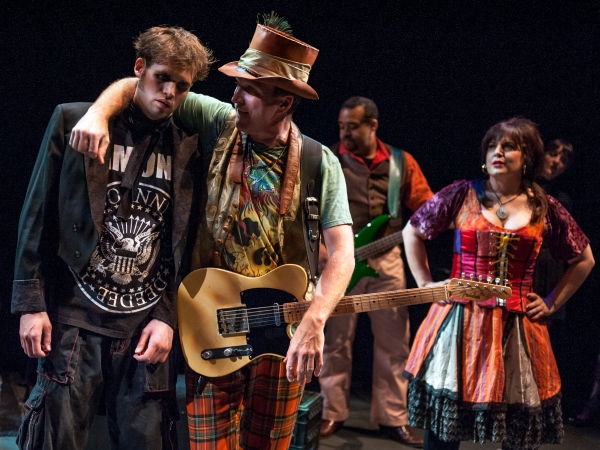 Matthew Schleigh (Branwell Bronte), Steve McWilliams (The Barker) Gillian Shelly (The Gypsy)

Steve McWilliams (The Barker) - center, Mike Koemchak (The Con Man), Gillian Shelly (The Gypsy), Haely Jardas (Anne Bronte), & Debra Buonaccorsi (Charlotte Bronte)

Gillian Shelly (The Gypsy) Debra Buonaccorsi (Charlotte Bronte)

More Hot Stories For You