Click Here for More Articles on NEW YORK CITY
OUTSIDE PADUCAH: THE WARS AT HOME Coming Up This Fall at the wild project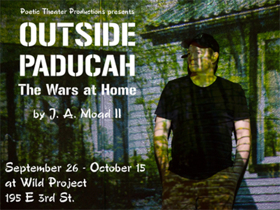 The wild project has announced its current and upcoming productions for fall. Scroll down for details!
---
ON NOW:
Now - September 23
STAR WARS...ENTIRELY FROM MEMORY
With Ryan Chittaphong, Tom Costello, Alyx Darensbourg, Ben Furnas, Willy Appelman, Claire Gresham, Clare McNulty, Molly Gaebe, Andy Schneeflock, Scott Thomas, Pete McElligott, and Zach Zirlin
Produced by Ten Bones
Schedule: Thursday - Saturday at 10 PM
Tickets: $10
Ten Bones Theatre Company puts actors in front of a room full of drunks and demands that they recreate the stories of "Star Wars" entirely from memory. The show is cast blindly in front of the audience, and afterthat there are only three rules: They must incorporate lines written by the audience; they must incorporate any sound effect played by the host; one lucky audience member is given a horn that they may honk three times. Once honked, the performers must create a scene that makes perfect sense given where they are in the story but that has no business being in the story of Star Wars.
Now - September 24
IN A Little Room by Pete McElligott, directed by Patrick Vassel
Produced by Ten Bones
Schedule: Tuesday - Saturday @ 7:30pm; Sunday @ 2pm; with Saturday matinees @ 2PM on September 16 & 23
Tickets: $15
In a Little Room is a dark comedy about two strangers trapped in the cold comforts of a hospital waiting room while feebly trying to restart their lives and failing fantastically...as the hospital possibly burns down around them.
COMING SOON:
September 26 - October 15
OUTSIDE PADUCAH: THE WARS AT HOME, written and performed by J. A. Moad II, directed by Leah Cooper
Produced by Poetic Theater Productions
Schedule: Monday, Wednesday, Thursday at 7 PM; Friday at 8 PM; Saturday at 2 PM & 8 PM; and Sunday at 3 PM. There is an added performance on Tuesday, September 26 at 7 PM
Tickets: $25
In Outside Paducah: The Wars at Home, written and performed by former Air Force C-130 pilot J. A. Moad II, we watch the toll of war reverberate across three generations of Americans: A seven-year-old boy struggles to make sense of the screaming in the night after his father returns from Afghanistan. A fifty-year-old man works to rebuild his life as he wrestles with the memory of an idealistic son-a teenager turned Marine who came back from Iraq wounded, disillusioned, and broken. And at a bar in the rust-belt remnant of his hometown, a former soldier's midnight encounter brings the past and the present into an explosive, searing reality.
---
All performances are at the wild project (195 E. 3rd Street, between Avenues A & B).
Tickets can be purchased online at www.thewildproject.com. The Box Office opens one hour prior to curtain.
The wild project is a theater, film, music, and visual arts venue that presents diverse, engaging, inspiring, and entertaining works to the vibrant and growing community of Alphabet City in New York's East Village, while bringing together the artists and the environment in a unique way. Founded in 2007, the wild project is an innovator among arts venues, providing an eco-friendly theater and gallery where the artists and space nurture each other. The company is dedicated to creating an environment that supports the artists, and to cultivating artists that support the environment. With an eco-conscious approach to presenting the dynamic works of hundreds of emerging artists each year, the wild project offers an artistic and environmental education for patrons of all ages, interests, and incomes in its community.???????