New Musical Comedy KRAGTAR Opens Tonight at The West End Theatre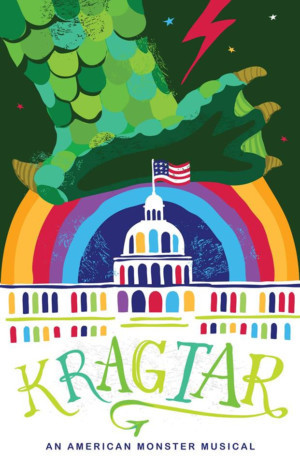 The new musical comedy Kragtar: An American Monster Musical opens tonight, December 1, and runs through December 17 at the West End Theatre at 263 West 86th Street off West End Avenue in Manhattan, as part of Theatre Now New York's Three New Musicals in Rotating Rep.
Tickets are $25 and are available online at www.tnny.org or by phone at 855-254-7469.
Kragtar centers on an America ravaged by a Godzilla-esque monster. With no end to the bloodshed in sight, and with Congress in the throes of a government shutdown, it's up to two gay scientists and former lovers to save the world from eternal darkness. The completely original musical takes a bite out of a divided country - musical comedy for the American apocalypse.
The show is written by Sam French and Kyle Wilson (The Beatles Present "The Lord of the Rings: The Musical") and directed by Benjamin Viertel (The Bitter Tears of Petra von Kant), featuring Will Branner (October Sky), Bailey Purvis (Bring It On), Harron Atkins (Gifted Hands), Annie Yokom (Beyond the Rainbow), Jimmy Nicholas (Book of Mormon), Jackson Perrin (Ludo's Broken Bride), Mary Nepi (Snatchers), and Zanny Laird (August: Osage County).
Theatre Now New York (TNNY) is a nonprofit professional theatre company focused on the production of new plays and musicals, recognizing that fully staged productions provide the best process for the development of new work. Theatre Now New York supports outstanding writers with the opportunities they need to create new theatre works. For more information visit www.tnny.org.