New Folk Musical WHAT'S YOUR WISH? Plays the West End Theatre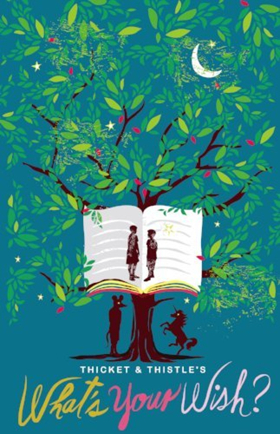 Theatre Now New York, Thomas Morrissey, artistic director and Chris Giordano, managing director present the new folk-musical comedy, Thicket & Thistle's What's Your Wish?, currently running through December 16th at the West End Theatre at 263 West 86th Street off West End Avenue in Manhattan, as part of Theatre Now New York's Three New Musicals in Rotating Rep.
Tickets are $25 and are available online at www.tnny.org or by phone at 855-254-7469
What's Your Wish? was directed, written and performed by the members of Thicket & Thistle, a collaborative writing-team of theatre artists devoted to creating new musical theatre in which the actors provide live musical accompaniment. Their musicals meld a passion for DIY theatre magic, honest, heart-filled storytelling and the spirit of improvisational comedy with a love of folk music.
What's Your Wish? carves a witty and poignant story of best friends Nicholas and Brian, who get sucked into a magical book and must find a way to make it out alive. On their journey, they encounter a friendly trash rat, a rebellious, young fairy, and a seductive, power-hungry enchantress. Through their misadventures, the boys come face to face with issues of integrity, the power of friendship, and the true meaning of sacrifice.
Thicket & Thistle What's Your Wish? premiered At Theatre Now NY's 2nd Annual SoundBites 10-minute Musical Festival in 2014, where it won Best Music and Best Actor (Sam De Roest). The show was extended to 90 minutes and performed at the 2015 New York International Fringe Festival as part of Fringe ALFRESCO which offers free theatre to the public. The show was named a FringeNYC Best Bet by Theatre is Easy and was heralded with much praise.
The show's composers and lyricists include Kyle Acheson, Sam De Roest, Nyssa Duchow, and Corley Pillsbury. The cast is comprised of Kyle Acheson, Sam De Roest, Corley Pillsbury, Joshua Stenseth, and Lindsay Zaroogian. The show is directed by Jonathan Eric Foster, choreographed by Mia Crivello, music-directed by Kyle Acheson, and Thicket & Thistle's producer Sarah George. The costume designer is Genevieve V. Beller, scenic designer Rodrigo Escalante, lights by David Sexton, sound design Jessica McIlquham, music supervisor Ellie Kahn and stage management, Molly McCarthy.
Thicket & Thistle's What's Your Wish? charts the journey of Nicholas and his best friend Brian when they suddenly find themselves sucked into a magic storybook. In the midst of their unexpected quest, they encounter unforeseen pitfalls, as well as guides to help them along the way, some of whom are charmingly helpful - a spunky-yet-dissatisfied young Fairy, and Old Vern the Trash Rat - while others have more sinister motives, like the Forest Enchantress. But how to tell the difference in a world so unfamiliar? The boys must learn about the power of trust, true friendship, and the meaning of sacrifice to make it out alive.
Thicket & Thistle is currently a resident company of Access Theater. Visit www.thicketnthistle.com more information.
Theatre Now New York (TNNY) is a nonprofit professional theatre company focused on the production of new plays and musicals, recognizing that fully staged productions provide the best process for the development of new work. Theatre Now New York supports outstanding writers with the opportunities they need to create new theatre works. We choose shows we believe have the potential for being dynamic and relevant to potential audiences by writers that are vetted through our programming. Talented writers are given far too few opportunities to develop their work as fully staged productions. For more information visit www.tnny.org.
---
IF YOU GO:
THICKET & THISTLE'S WHAT'S YOUR WISH?
book by Thicket & Thistle, music & lyrics by Kyle Acheson, Sam De Roest & Corley Pillsbury, directed by Jonathan Eric Foster and choreographed by Mia Crivello
Now through December 16, 2017 - Visit www.tnny.org for show dates & times
At West End Theatre at the church of St. Paul and St. Andrew, 263 West 86th Street, New York, NY 10024
Tickets online at www.tnny.org or call toll-free 855-254-SHOW [7469]