Leviathan Lab Announces Casting For Barbour Playwrights Award Reading Series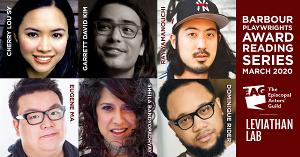 Leviathan Lab, in collaboration with The Episcopal Actors' Guild, is proud to announce the casting for the thirteenth year of the Barbour Playwrights Award Reading Series, three evenings of readings of new plays by emerging playwrights. This year's plays examine the intersection of racism and sexism across romance and desire, and the toll these crosses exact on the hearts, minds, and bodies of people of color. This year's featured playwrights are Cherry Lou Sy (Nominee, Cherry Lane Mentor Project), Garrett David Kim (Finalist, Blue Ink Playwriting Award), and Ray Yamanouchi (Semi-Finalist, IMPACT-O'Neill National Playwrights Conference).
The casts of the readings include:
Panic Room: An Unkindness of Ravens
By Cherry Lou Sy
Laura Mercedes, Alice Gorelick (Off-Broadway: LOCKED UP BITCHES, Resident Actor at The Flea), Clare Mahoney (Regional: MIRACLE ON SOUTH DIVISION STREET, METAMORPHOSES), Jenelle Chu (Broadway: BERNHARDT/HAMLET, JUNK), Sauda Jackson (NY: I DIGRESS, NOW IS THE TIME), Adam P. Huff (Off-Broadway: DOUBLE FALSEHOOD), and Eston Fung (NY: A DREAM PLAY, AFTER THE FALL).
Are You There Truman? It's Me, Just Another Guy Who Grew Up Secretly Worshipping Your Chiseled Porn Star Body Online, and Now I Think I Love You
By Garrett David Kim
Lydia Gaston (Broadway: THE KING AND I, Jerome Robbins' BROADWAY), Vince Gatton (Off-Broadway: SPILL, THE TEMPERAMENTALS), Kennedy Kanagawa (NY: SATURDAY NIGHT - IN CONCERT, THE GOOD SWIMMER), Welland H. Scripps (Off-Broadway: DOUBLE FALSEHOOD), Sim Yan Ying (NY: I LOVE WHITE MEN).
PURE//LOVE [WHITE//GIRLS]
By Ray Yamanouchi
Carolina Do (Broadway: LINDA VISTA, GRAND HORIZONS), Nicolette Ellis (Film: NOTE TO SELF, THE COMPOSER), Nia Farrell (Regional: DREAMS IN BLACK MAJOR, WHAT A WORLD! WHAT A WORLD!), David Hyuhn (Off-Broadway: HENRY VI, THE TRIAL OF THE CATONSVILLE 9), Jasmin Walker (Broadway: AVENUE Q).
The readings are directed by (for Panic Room) Eugene Ma (Resident Director at The Flea Theatre, Adjunct Assistant Professor at Columbia University), (for Are You There Truman?) Sheila Bandyopadhyay (Head of Movement/Core Faculty, American Academy of Dramatic Arts), and (for PURE//LOVE) Dominique Rider (National Black Theatre Resident Director). Gaven Trinidad (Community Engagement Associate, New York Theatre Workshop) serves as dramaturg for Are You There Truman? and PURE//LOVE. Stage management will be provided by Jonathan Castanien (Off-Broadway: SOFT POWER) and Emilia Smart-Denson (Intern, Theatre Communications Group). Ariel Estrada (Producing Artistic Director, Leviathan Lab) serves as producer.
The dates and times of the readings include:
Monday, March 9 at 7:00 p.m. - Panic Room: An Unkindness of Ravens by Cherry Lou Sy
Monday, March 16 at 7:00 p.m. - Are You There Truman?... by Garrett David Kim
Monday, March 23 at 7:00 p.m. - PURE//LOVE [WHITE//GIRLS] by Ray Yamanouchi
Tickets available at www.artful.ly/episcopal-actors-guild