LOVERS, LETTERS, AND KILLERS Opens At 13th Street Repertory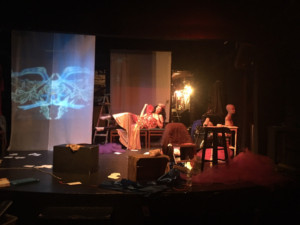 The 13th Street Repertory Theatre, continuing its exploration of unique and experimental performance art and theatre, opens next with "Lovers, Letters, and Killers," a new work performed and starring Eva Dorrepaalby. The work is directed by 13th Street Repertory Artistic Director, Joseph Battista, and is produced by Roslyn McKay.
In the performance piece, self- exiled playwright, Eva locks herself in her basement apartment in Brooklyn to resurrect Mata Hari for the stage. As she delves into the intriguing life of the scandalous dancer and alleged spy, she is forced to confront the dark and dangerous path of her own journey. The haunting memories of her estranged lover pull her into a spiral of self discovery until she cannot escape the vortex of her own past.
A unique piece that incorporates a video installment, this one-woman show opens Thursday, November 30th and runs Thursdays to Sundays until December 17th. All performances begin at 7:30PM, except for Sunday matinees, which are at 3:00PM.
Eva Dorrepaal is a Dutch film actress who began her acting career under the tutelage of minimalist filmmaker Pim de la Parra.After studying acting and directing in the Netherlands, she longed for some experience abroad. During the Serbo-Croatian War, Dorrepaal went to Yugoslavia, where she performed with the renowned, experimental KPGT theater group of Ljubiša Risti? and travelled through Kosovo with them. Her stage work includes The Tempest, Carmen, Protocol, A Midsummer Night's Dream and Gospodjica.
She has had leading roles in almost all of director Edwin Brienen's feature films, which were shot in Amsterdam and Berlin. In New York she continues to make films with inspired filmmakers such as Jonathan Caouette, Jorge Torres-Torres and Onur Tukel. She has appeared in more than 35 films that have been screened in more than 50 film festivals, including Cannes and Sundance.
Her stage work has revolved around Mata Hari, and she has been developing this piece since 2009. Variations have included MATA HARI IN PRISON (2016) at the Lower East Side Festival.
Joe Battista is the Artistic Director of The 13th Street Repertory Theatre and this marks his third directorial work at 13th Street Rep. He is a graduate of The American Academy of Dramatic Arts. He trained at HB Studios with Uta Hagen and William Hickey as well as studying mime with Paul J Curtis of the American Mime Theater. He has been involved in over 100 plays and musicals as an actor, musician, writer and director. Battista is also a prolific songwriter who has been lead guitarist for the punk rock bands Razor Engine and Electric Landlady. And as a professional photographer, Joe was instrumental in building careers for models and actors working for top agencies such as Ford, Elite, Zoli, Legends, Sue Charney, Clic and Elite. His most profound and moving photographic assignment was covering the United States Wheel Chair Team at the Special Olympics in Korea.
For more information please visit the 13th Street Rep Theatre Website at www.13thstreetrep.org
The 13th Street Repertory Theatre is located at 50 West 13th Street between 5th and 6th Avenues in Greenwich Village.