LGBT Drama IN LOVE WITH THE ARROW COLLAR MAN Begins Tonight at Theatre 80
A bold new drama about pioneering 20th-century gay illustrator J.C. Leyendecker will have its world premiere at the famed Theatre 80 St Marks in the East Village in November.
In Love with the Arrow Collar Man will open tonight, November 8, for a 10-performance engagement, concluding Saturday, December 2. Theatre 80 St Marks is located at 80 St Marks Place, New York City. Tickets are $18.50 (includes facility fee) and are available via OvationTix by clicking here.
In Love with the Arrow Collar Man by Lance Ringel examines the lives of pre-eminent 20th-century American illustrator Joseph C. Leyendecker (1874-1951) and his model, muse and life partner, Charles Beach. Arrow Collar Man recounts the true story of a pioneering long-term gay couple whose life together spanned nearly half a century. Leyendecker's immense popularity came primarily from his 322 covers for the SaturdayEvening Post, as well as for the use of his art in advertising - most notably the ArrowCollar Man, with Beach as the original model. This play explores the challenge of balancing love, art and commerce at a time when homosexuality was a crime, and how Leyendecker achieved an unlikely triumph on all fronts. Arrow Collar Man also chronicles Leyendecker's relationships with two fellow artists: his talented but self-destructive brother Frank; and Norman Rockwell, the protégé who surpassed him in fame.
This engagement is an Equity Approved Showcase. Please note: The show deals with mature themes; those under age 16 will not be admitted.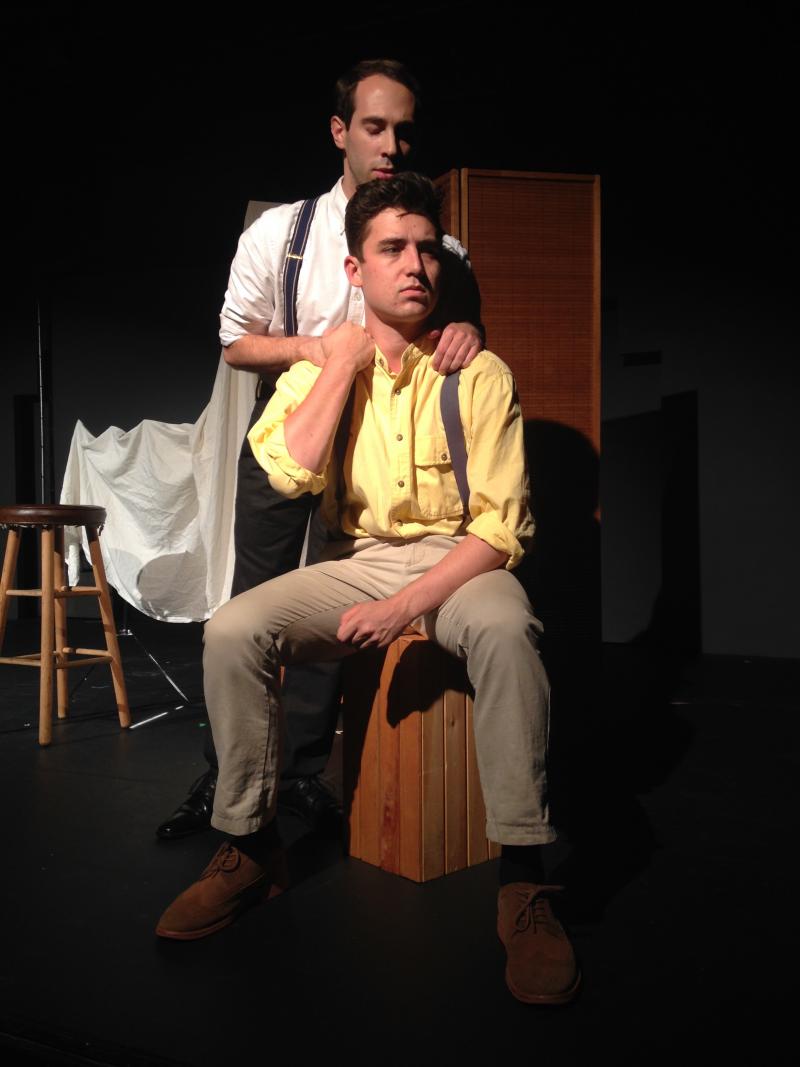 "Of all the image-makers of the Golden Age of American Illustration, Leyendecker's public fame and interest in his personal life make him a natural for theatrical attention," said Fred Taraba, historian, dealer and appraiser of American Illustration, and founder of Taraba Illustration Art. "His place in illustration history is secure, yet it's intriguing to think about the details of the man behind the art."
The cast for In Love with the Arrow Collar Man are Ian Brodsky* as J.C. "Joe" Leyendecker; Jack D. Martin as Charles Beach; Rupert Simonian* as Francis X. "Frank" Leyendecker; Evelyn Peralta as Augusta Mary Leyendecker; Steven Trolinger as Norman Rockwell; Joanna Parson* as The Art Teacher; Holland Hamilton as "Texas" Guinan; David M. Beris* as Louis Metcalfe/William "Pops" Frederic; Justin Bennett* as Manolo/Walter Winchell; and Jenna Cormey as Phyllis Frederic. (*indicates member of Actors' Equity Association)
In September of 2016, a 23-minute segment of the show first appeared in the New York New Works Theatre Festival and advanced to the Semi-Final round of the Festival. Gene Fisch, Jr., the festival's director, was so impressed by Arrow Collar Man that he became the show's executive producer, working with the playwright and director to secure a run of the full-length play.
Opening first during Prohibition, 80 Saint Marks Place became a popular club for famed performers such as Thelonious Monk, John Coltrane and Frank Sinatra. As a theatrical space in the 1960s, Theatre 80 St Marks hosted You're a Good Man, Charlie Brown; it became a film revival house in the 1970s and 80s. The foot and hand prints of silver screen legends appear in cement on the sidewalk. They include Gloria Swanson, Joan Crawford, Joan Blondell and Kitty Carlisle. The Greenwich Village Society for Historic Preservation has recognized Theatre 80 St Marks with the Village Award for its place in the history of the community.
Lance Ringel is the author of In Love with the Arrow Collar Man, a 2016 New York New Works Theatre Festival Semi-Finalist. Ringel is principal writer of two theater pieces created for Vassar College. Vassar Voices, a staged reading highlighting 150 years of the college's history, premiered at Jazz at Lincoln Center, starring Meryl Streep, Lisa Kudrow and Frances Sternhagen. It toured across America and to London. At Home in the World, directed by John Caird, spotlighted talented young performers from Japan, Uganda and America, and was staged to sold-out houses in all three countries. Collaborating with director-actor-composer Chuck Muckle, Ringel wrote Animal Story, a musical for young audiences that is a 2017 New York New Works Theatre Festival Semi-Finalist. Ringel's novel Flower of Iowa (Smashwords), about an American and British soldier who fall in love in World War I, has received critical acclaim and strong sales since its 2014 release. Kirkus Reviewscalled the book "accomplished, touching historical fiction," adding, "Ringel packs a remarkable amount of flavor and detail into this debut work." Actor, author and director Stephen Fry tweeted, "Reading a truly wonderful WW1 novel. ... So truthful and touching." Ringel and husband Chuck Muckle live in New York City and Poughkeepsie.
Chuck Muckle is the director of In Love with the Arrow CollarMan. The show business veteran co-wrote Mourning Becomes Ridiculous (with David Eisner) and directed its incarnation at Emerging Artists, and for Manhattan Theatre Mission's 2nd Annual Musical Showcase, where it won four awards. This year, Muckle has helmed the musical Animal Story, which just made the Semi-Finals of the 2017 New York New Works Theatre Festival, and directed his own play, Running for My Life, in the Broadway Bound Theatre Festival. An actor for four decades, Muckle appeared in the 2015 film The Night Beforewith Seth Rogen. He played in Brush Strokes opposite Joy Franz at the Hudson Guild Theatre and was in the world premiere tour of Four Play, The Musical. Muckle traveled the country and to London in the solo show At Wit's End, playing composer-humorist Oscar Levant. He was in New York City Opera's workshop of Paradise Found, directed by Harold Prince and starring Judy Kaye, Marin Mazzie and John Cullum, with music arranged by Jonathan Tunick. He appeared in Bard Summerscape's The Golden Apple, starring Howard McGillin and Nancy Opel, with musical direction by Mr. Tunick. Muckle's national tours include South Pacific and Camelot with Robert Goulet, and A Christmas Carol with John Astin.
Related Articles View More Off-Off-Broadway

Stories

Shows
More Hot Stories For You