Juilliard Drama Announces 2018-19 Season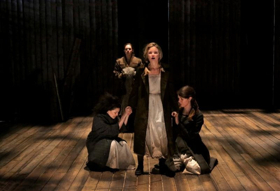 Juilliard Drama begins its inaugural year under the leadership of Obie-winning director Evan Yionoulis, Richard Rodgers Director of the Drama Division. Current acting director Richard Feldman will resume his role as associate director and faculty member. The 2018-19 season features fully staged productions showcasing Juilliard's Group 48 acting students in their fourth and final year in the program.
This fall season's productions feature Nora, adapted by Ingmar Bergman from Henrik Ibsen's A Doll's House, directed by Adrienne Williams (October 10-14); Detroit '67 by Dominique Morisseau, directed by alumna LisaGay Hamilton (November 7-11); and Into the Woods, music and lyrics by Stephen Sondheim, book by James Lapine, directed by Sarna Lapine (December 6-10). In February, Juilliard Drama presents three plays in repertory: Queens by alumna and recent Pulitzer Prize recipient Martyna Majok, directed by Tyne Rafaeli; Red Speedo by Lucas Hnath, directed by Zi Alikhan; and Mother Courage by Bertolt Brecht, directed by faculty member Moni Yakim. All performances take place in the Stephanie P. McClelland Drama Theater at Juilliard.
Juilliard's fourth-year actors (Group 48) are Anthony Bowden, Hannah Rose Caton, Darryl Gene Daughtry, Jr., Regina De Vera, Suzannah Herschkowitz, Brandon Mendez Homer, Lorenzo Jackson, Henry Jenkinson, Juliette Kenn de Balinthazy, Ramzi Khalaf, Tracie Lane, Jayme Lawson, Nate Mann, Julia McDermott, Keshav Moodliar, David Rosenberg, Sebastian Roy, Anya Whelan-Smith, and Maggie Walters.
While Juilliard Drama Division performances are not open for review, we invite members of the press to enjoy these productions featuring the next generation of actors.
Extremely limited tickets at $20 will be available beginning September 20 at juilliard.edu/calendar or at the Juilliard Box Office. Full-time students may purchase tickets for $10, only at the Juilliard Box Office. Tickets may get released closer to the date of the performances, so please check back.
About Evan Yionoulis, Richard Rodgers Director of the Drama Division at Juilliard
Evan Yionoulis, an Obie winning director, was recently appointed as Richard Rodgers Director of the Drama Division at Juilliard. She had been on the faculty of Yale School of Drama, and she was a resident director at Yale Repertory Theatre for 20 years. She was professor in the practice of acting and directing and was Lloyd Richards chair of the department of acting from 1998 to 2003.
An award-winning director, she has directed new plays and classics in New York and across the U.S. She has enjoyed collaborations with major American Playwrights, including Adrienne Kennedy and Richard Greenberg. She recently directed the critically-acclaimed world premiere of Kennedy's He Brought Her Heart Back in a Boxfor Theatre for a New Audience, where she previously directed her Ohio State Murders (Lortel Award for Best Revival) and the Off-Broadway premiere of Howard Brenton's Sore Throats.
She opened Manhattan Theatre Club's Biltmore Theatre (Broadway) with Greenberg's The Violet Hour, directed his Everett Beekin at Lincoln Center Theater, and received an Obie Award for her direction of his Three Days of Rain at Manhattan Theatre Club, having directed the premieres of all three at South Coast Repertory.
At Yale Repertory Theatre, she has directed Cymbeline, Richard II, The Master Builder, George F. Walker's Heaven, Brecht's Galileo, Gozzi's The King Stag (which she adapted with her brother, composer Mike Yionoulis. and Catherine Sheehy), Caryl Churchill's Owners, the world premiere of Kirsten Greenidge's Bossa Nova, and numerous other productions including Kiss, by Guillermo Calderón.
Other credits include productions at the Mark Taper Forum, the Huntington, NY Shakespeare Festival, the Vineyard, Second Stage, Primary Stages, Dallas Theatre Center, Actors Theatre of Louisville, Denver Center, Williamstown Theatre Festival, and many others.
She directed Seven, a documentary theatre piece about extraordinary women from across the globe who work for human rights, in New York, Boston, Washington, Aspen, London, Deauville, and New Delhi.
Her short film, Lost and Found, made with Mike Yionoulis, premiered at Cleveland International Film Festival. Their most recent collaborations are the multi-platform project Redhand Guitar, about five generations of musicians across an American century, and The Dread Pirate Project,about the malleability of identity between the digital and natural worlds.
She has received a Princess Grace Foundation Fellowship, Works-in-Progress Grant, and the Foundation's prestigious Statuette. She serves on the executive board of SDC, the labor union representing stage directors and choreographers, as secretary.
About The Juilliard School's Drama Division
Since its inception five decades ago, the Drama Division at Juilliard has become one of the most respected and renowned programs for theater artists in the world. The program is dedicated to educating versatile 21st-Century Theater artists and empowering them to thrive in an ever-evolving performing arts landscape.
Founded in 1968 by the celebrated American director, producer, and theater administrator John Houseman and the French director, teacher, and actor Michel Saint-Denis, the four-year drama program combines vocal and physical training, extensive work on text, and appreciation of style with a fierce commitment to emotional honesty, immense physical energy, and imaginative daring. The program is both highly selective and extremely rigorous, attracting committed and focused young actors.
Having long conferred BFAs and certificates, in the fall of 2012, Juilliard Drama began offering the degree of MFA, providing a diversity of experience for undergraduate and graduate students working side by side on projects that span classic texts of Shakespeare and Chekhov to contemporary works. This variety and breadth of repertoire ensures that Juilliard actors enter the profession with the experience and the craft to tackle the full spectrum of work and to bring to life the stories of writers who are deeply ingrained in theater history as well as the exciting work of living writers.
In fact, Juilliard actors have many opportunities to explore contemporary work during their training, as an essential component of their work within the Drama Division lies in collaboration with Juilliard's playwriting fellows. The distinguished Lila Acheson Wallace American Playwrights Program, under the direction of Tony Award-winning playwright Marsha Norman and Pulitzer Prize winner and Juilliard alumnus David Lindsay-Abaire, who joined the program two years ago, encourages the development of fresh and diverse voices in the American theater and provides many opportunities for actors and playwrights to work together in the development of new work and to build lasting artistic relationships.
The Juilliard Drama program seeks not only to provide a challenging and full curriculum of training but also to give students valuable exposure to the professional world. Over the course of their studies, our actors have many opportunities to work with professional directors, who come in to work as teachers and guest artists as well as to direct productions.
The Drama Division also forges connections with the broader theater community as part of the strong ethos of citizenship and community service at Juilliard. In addition to many other opportunities for interdivisional collaboration between students, our actors and playwrights regularly join forces with music and dance students to use their art to reach out to underserved communities around the world.
Juilliard Drama's outstanding creative reputation, distinguished faculty, and rigorous professional training have enabled alumni of the program to excel as artists, leaders, and global citizens for more than five decades and will continue to shape the future of American theater for decades to come.
Photo: Juilliard Drama's 2017-18 Production of Euripides' Trojan Women (photo by Jessica Katz)