John Gould Rubin to Direct World Premiere at HERE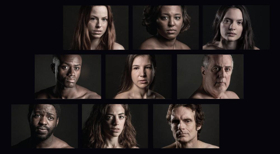 The Private Theatre, in association with TÉA Creative, is pleased to present the world premiere theatre event Rocco, Chelsea, Adriana, Sean, Claudia, Gianna, Alex, created by Vieve Radha Price and John Gould Rubin. A visionary tapestry of intimate stories that depict the increasing polarization of America, the play's title characters are each confronted with life-altering decisions which, in turn, ask us to confront our own deeply held convictions. Rocco, Chelsea, Adriana, Sean, Claudia, Gianna, Alex, directed by John Gould Rubin, begins previews at HERE Arts Center (145 Sixth Ave.) on February 23, with opening night set for February 28 for a limited run through March 9. Tickets, priced $30, are available at www.here.org or by calling (212) 352-3101.
From a shock-jock wrestling with his on-air partner's marital violence to a sister who constantly relives the loss of her brother in the Twin Towers on 9/11, Rocco, Chelsea, Adriana, Sean, Claudia, Gianna, Alex are all Americans-or hope to be someday soon-facing drastically different choices that will change their lives in various, yet similarly monumental, ways. Beginning from their own seat at Sean's Thanksgiving table, each audience member must make their own decisions about how to experience the show, finding themselves mirrored in the struggles of Rocco, Chelsea, Adriana, Sean, Claudia, Gianna, Alex in the process. Each story is intricately woven together to create a complex tapestry of struggle that represents the polarizing habits of mind that drive cultural conflict in America today.
Rocco, Chelsea, Adriana, Sean, Claudia, Gianna, Alex was developed over a mutli-year process in which a core group of multi-disciplinary artists set a challenge to dramatize the "consciousness of conflict," a philosophy of Bernard Lonergan. Spurred by increasing socio-political tensions across the country, these artists set out to conduct "insight conversations" with people coast to coast, speaking one-on-one with a desire to gain insight to a person's hopes and aspirations without agenda or provocation. The company followed with twelve labs-one dedicated to each conversation-to collaborate on how to dramatize the material within the context of Lonergran's philosophy. Drawing inspiration from Robert Altman's Short Cuts and Robert Lepage's Lipsynch, playwright Dan Hasse was then brought on board to weave these narratives together into the world premiere of Rocco, Chelsea, Adriana, Sean, Claudia, Gianna, Alex.
The cast features Adrian Baidoo, Emily Jackson, Scott McCord, Chuk Obasi, Chuck Montgomery, Melissa Mickens, Adriana Rossetto, and Tayla Mar. Set and costume design are by Liz Toonkel; lighting design is by Erin Fleming; video design is by Elizabeth Mak; and sound design is by Drew Weinstein. Dan Hasse pens the script, based on original writing by Chuk Obasi, Chelsea Frei, Karen Eilbacher, Sarah Wharton, Jason Gray, Adriana Rossetto, Salomé Krell, and Bronwen Carson. Rocco, Chelsea, Adriana, Sean, Claudia, Gianna, Alex is based on an original concept by Vieve Radha Price and John Gould Rubin, who also serve as producing director and director, respectively.
Rocco, Chelsea, Adriana, Sean, Claudia, Gianna, Alex plays HERE Arts Center (145 Sixth Avenue) for a limited engagement from February 23 through March 9, with opening night set for February 28. The performance schedule is as follows: Tuesdays through Saturdays at 8:30pm; and Sundays at 4pm. A special closing night performance will be held on Sunday, March 9 at 8:30pm. Tickets, priced $30, are available at www.here.org or by calling (212) 352-3101.
ABOUT THE ARTISTS
Vieve Radha Price (Producing Director, Original Concept) is the founder and current Director of TÉA Creative, Inc. as well as a managing member of The Private Theatre. For three years, Price served as the Director of Insight Initiatives at Intersections International and as Founding Artistic Director of TÉA. In 2008, she founded TÉA with the mission of engaging interactive theatre and the performing arts in the service of peace building and conflict transformation. After working for five years with NiteStar, an HIV prevention program using theatre and the performing arts, Price joined the Peace Corps. She served in Vanuatu as a youth development volunteer using theatre and the arts to educate young people about HIV/AIDS prevention. Upon returning to the US, Price was selected for the Sargent Shriver Peace Worker Program, a graduate fellowship program focusing on the integration of theory, practice and ethics for the purpose of social change. As a part of the program, Price earned her MS in Public Policy from the University of Maryland, Baltimore County and continued her studies at George Mason University, where she earned a second MS degree in the field of Conflict Analysis and Resolution. During this time, Price worked with Search for Common Ground in Washington, D.C. as the Program Assistant for the US/Iran and the US/Syria programs. Over the last ten years, Price has been working on the challenge of creating Insight theatre, an artistic language and aesthetic framework that is critically grounded by the Insight approach to conflict transformation. To date, Price and the TÉA Company have researched and devised four distinct theatrical performance pieces with issues ranging from being Muslim and non-Muslim post 9-11, veterans coming home from the wars in Iraq and Afghanistan, retaliatory violence and police legitimacy, and most recently, the political and cultural polarization of America. Presently, Price and a company of Insight artists are working on a new piece focusing on the dynamics of race in America.
John Gould Rubin (Director, Original Concept) is the Artistic Director of The Private Theatre and former co-Artistic/Executive Director (with Phillip Seymour Hoffman and John Ortiz) of LAByrinth Theater, for which he directed seven plays, including premieres by John Patrick Shanley and Erin Cressida Wilson. He originally created Turn Me Loose at LAByrinth as part of collection of writings entitled '68, and subsequently directed the show off-Broadway at The Westside Theatre (nominated for the Joe Calloway Award, Best Director); at The Wallis Annenberg Center in LA; and Arena Stage in D.C. He directed American Buffalo with Treat Williams and Stephen Adly Guirgis at The Dorset Theatre Festival, where he also directed Outside Mullingar two seasons prior; and a multimedia production of Double Indemnity at The Old Globe with Michael Hayden and Little Doc at Rattlestick Playwrights Theater with Adam Driver. He has directed at Ma-Yi, The Public, and the Soho Theatre in London among others, notably Peer Gynt at The International Ibsen Festival in Oslo, Playing With Fire (a deconstruction of Strindberg's one-act play about voyeurism, exhibitionism and wife-swapping at The Box, the notorious sex cabaret), a site-specificHedda Gabler in a townhouse for twenty five people per performance, Queen For A Day with David Proval and Vincent Pastore off-Broadway, and The Cherry Orchard with Ellen Burstyn at The Actors Studio. Current projects: a radical, new adaptation of A Doll House for The Private Theatre (recently developed through a Collaboration Residency at The Marble House Project) and an all Afro-German production of Hedda Gabler in Berlin. Next year, Mr. Rubin will direct a multimedia stage adaptation of Revolutionary Road in Mandarin for the 1,000-seat theater in the National Centre of Performing Arts of China in Beijing, which will then tour throughout the Mainland.
The Private Theatre (Producer) was founded in 1980 by a group of theatre artists, some from the Yale School of Drama, and others who had met in eastern Europe in pursuit of the Jerzy Grotowski/Tadeus Kantor revolution then taking place in Poland. These, along with adventurous Americans such as JoAnne Akalaitis, Lee Breuer, Liz LeCompte, Robert Wilson, Richard Forman, and other European and Asian practitioners, served as inspiration to advance a rebellion against a more conventional American theater of the 70's and 80's. The company began their work with radical, devised, and site-specific works, initially producing Philoktet, the U.S. premiere of Heiner Müeller, at the now-defunct Second Avenue Theater. Other early works include the The Last American in Paris, a devised theatrical conflation of the films An American in Paris and Last Tango in Paris; an all-male version of The Maids, staged in a 4th floor walk-up apartment for twelve audience members each night; Michael Stephens' Our Father at The Colonnades Theater Lab, which subsequently played for four years at The West Bank Café and won a Fringe First Award at the Edinburgh Fringe Festival; and An Unseen Energy Swallows Space, a devised work that later premiered at The Kitchen. The Private Theatre also produced the European premiere of Stephen Adly Guirgis' original LAByrinth Theater production of Jesus Hopped the 'A' Train at the Edinburgh Fringe Festival, which later performed at The Donmar Warehouse and The Arts Theatre in the West End. Other recent works include The Fartiste; a radically site-specific Hedda Gabler in a townhouse for 25 audience members per performance; and Playing with Fire at The Box, the sex cabaret on Chrystie St. The Private Theatre's company is a diverse group of artists-from color to body-ability, from immigration status to sexual orientation, from age to career establishment-all having the same stakes in creative initiative, leadership, and business administration. Both their creative method and organization structure contribute to the theatre scene they wish to see in New York: a more collaborative and diverse group of artistically sensitive leaders empowered to create awesome and cutting-edge art.
TÉA Creative (Producer) For ten years, TÉA has been progressively developing a platform for the collaborative design and creation of Insight theatre. In 2009, they gathered and trained the original Company of TÉA artists, with whom we worked collaboratively to create Under the Veil: Being Muslim (and Non-Muslim) in New York, post-9/11. In 2012, they produced a sold-out, site-specific, equity showcase of Cadence: Home in midtown Manhattan, an Insight theatre piece focused on our veterans returning from Iraq and Afghanistan. Continuing to push the boundaries of Insight art, they partnered with the Mayor's Innovation Team in Memphis, Tennessee in 2013 to create an Insight project dealing with police and the community relations, ultimately producing Uniform Justice, which in both Memphis and at the New York Fringe Festival. TÉA's partnership with The Private Theatre began in 2012 on their most socially and aesthetically ambitious work to date,Rocco, Chelsea, Adriana, Sean Claudia, Gianna, Alex. TÉA Creative continues to work on a number of Insight-based projects and is committed to pushing the aesthetic horizon of Insight art and artistry.