INTAR Theatre To Present the World Premiere of SCISSORING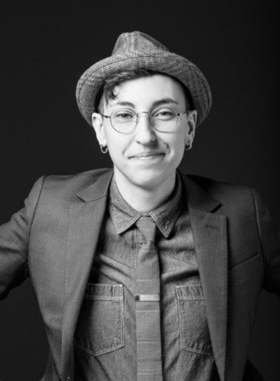 INTAR (Lou Moreno, Artistic Director/John McCormack, Executive Director) today announced the World Premiere of Scissoring, a new play by Christina Quintana, directed by Estefanía Fadul. Scissoring will star Ryan Vincent Anderson (We Live Here - EST); Kim Brockington ("Guiding Light," School of Rock, upcoming: lead in "Asunder," USA Network); Vanessa Butler (2017 Connecticut Critics Circle Award, Outstanding Actress in a Play for Queens for a Year, Hartford Stage); Ally Carey (Macbeth -NY Classical Theatre), Marie Louise Guinier (ABC's "What Would You Do?," Most Dangerous Man in America - NFT); Ashley Marie Ortiz (INTAR Unit 52); and Elise Santora (Reba in "Orange Is The New Black," Broadway: In The Heights, The Capeman).

Performances will begin May 31st for a limited Off-Broadway engagement through June 30th. Opening Night is set for June 11th. Performances will be at INTAR's Theatre, 500 West 52nd Street at Tenth Avenue, on the 4th floor. Tickets are only $35, and may be purchased at www.intartheatre.org or by calling 212/352-3101 or toll free, 866/811-4111.

In Scissoring, Abigail Bauer, a New Orleans native and resident, must confront the clash between the life she has created with her long term girlfriend and her career as a devoted teacher in a repressive Catholic school. Through her struggle, Abigail receives pressure from the school's shape-shifting, personified public address system and guidance from the figures of First Lady Eleanor Roosevelt and Roosevelt's devoted friend and lover, Lorena Hickok.

Scissoring will have set design by Raul Abrego; costume design by Heather McDevitt Barton; lighting design by Christina Watanabe; and sound design by Fan Zhang.

Christina Quintana is a New York-based writer with Cuban and Louisiana roots.Scissoring was a finalist for the 2014 Alliance/Kendeda, and an honorable mention for the Kilroys List. Other plays include: Azul (2017 Kilroys List; Honorable Mention - Arch & Bruce Brown Playwriting Competition), Evensong (Astoria Performing Arts Center), Enter Your Sleep (Yale Cabaret), Citizen Scientist (Ensemble Studio Theatre/Alfred P. Sloan Project Commission), and The Great Lonely Roamer & The Night That Changed Everything (NYU Voices Festival). The recipient of fellowships from Playwrights Realm, Van Lier New Voices at The Lark, Queer/Art, CubaOne, and Lambda Literary, she holds an MFA in Playwriting from Columbia University and is a current member of Youngblood, Ensemble Studio Theatre's Obie-winning cohort of playwrights. For more, visit cquintana.com

Estefanía Fadul is a Colombian-born, New Hampshire-raised, NYC-based director and producer. Recent and current projects include Around 2 by James Anthony Tyler (Keen Company), The Nature Room by Nora Sørena Casey (Columbia Stages), Rokera by Tatiana Suárez-Pico with music by Michelle Rodriguez (LPAC), and Óye Oyá by Rebecca Martínez with music by Rodolfo Ortega (Milagro). She has also developed new plays and musicals at The Drama League, Hi-Arts, Barton Booth, Fresh Ground Pepper, and Rising Circle Theater Collective, among others. Estefanía is a recipient of the O'Neill/NNPN National Directors Fellowship, and an alumna of the Drama League Directors Project, the Foeller Fellowship at Williamstown, and the Van Lier Fellowship at Repertorio Español. She is a member of The Civilians' R&D Group, the New Georges JAM, the Latinx Theatre Commons Steering Committee, and the Lincoln Center Theatre Directors Lab. BA: Vassar College. www.estefaniafadul.com

INTAR, one of the United States' longest running theatres producing Latino/Latina voices in English since 1966, works to:
Nurture the professional development of Latino/a theater artists;
Produce bold, innovative, artistically significant plays that reflect diverse perspectives;
Make accessible the diversity inherent in America's cultural heritage through an integrated program of workshops, productions of works-in-progress, and mainstage productions. INTAR brings to the public vital and energetic voices of emerging and accomplished Latino/a theater professionals, giving expression to the diversity and depth of today's Latino-American community.
INTAR is an organization committed to the development of "theater arts without borders." Over the past four decades, INTAR has produced classics, Latino/a adaptations of classics, cabarets, and 70 world premieres of plays written by Latino-Americans and Latina-Americans, including Oscar nominee Jose Rivera and Pulitzer Prize recipient Nilo Cruz. INTAR, one of the United States' longest running Latino/a theaters producing in English, works to nurture the professional development of Latino/a theater artists; produce bold, innovative, artistically significant plays that reflect diverse perspectives; and, make accessible the diversity inherent in America's cultural heritage. INTAR has commissioned, developed, and produced works by more than 175 Latino/a writers, composers, and choreographers. It has assisted hundreds of Latino/a playwrights, directors, and actors in obtaining their first professional theater credits, union memberships, and reviews in English-language media. "There's scarcely a Latino artist in America who hasn't been supported or trained or produced by INTAR" according to The New York Times.

Performances take place at INTAR's theater space (500 West 52nd Street, at Tenth Avenue, on the 4th Floor). Tickets for all performances are only $35 and may be purchased at www.intartheatre.org or by calling 212/352-3101.

For more information on Scissoring and all the programs at INTAR, visit INTAR on the web at www.intartheatre.org