Ego Actus' LOVE STINKS to Open at MITF in Dorothy Strelsin Theatre, 7/16
Ego Actus and Kim M. Jones present Love Stinks, a sexy comedy by Kate Plumb Rader opening at the Dorothy Strelsin Theatre on July 16th as part of theMidtown InterNational Theatre Festival. Joan Kane directs. The cast features Rosie Cosch* and Matthew Collier Hammond. (*Member of Actors Equity)
Colleen, an assistant district attorney is working on an odd case she finds amusing that involves a defendant who has exhibited irrational behavior by shooting his girlfriend in the face for almost saying something mundane. Colleen's boyfriend Jack, another attorney, does not think it's funny and finds the man in question a candidate for the psychiatric ward. But Colleen maintains that it's possible for a sane person to discover themselves doing and saying things they never dreamed possible with the right provocation. She makes a bet with Jack to prove her point and he doubles her offer to prove her wrong. What follows is a battle of the sexes in which Colleen accuses Jack of having said the "L" word in a moment of passion yet never being able to follow through on a committed relationship, eventually threatening him with bodily harm. Is she serious or just finding a way to demonstrate that love stinks? Director Joan Kane was named one of the 2011 People of The Year in independent theatre by
nytheatre.com
. Some of her directing credits include Play Nice! Off-Broadway at
59E59 Theaters
, Aliens With Extraordinary Skills at Theater 54, Safe in the 2012 Planet Connections Theatre Festivity, Pizza Man at Bridge Theater, a critically acclaimed production of Penny Jackson's I Know What Boy's Want at the WorkShop Theater and a recent revival of
Kate Fodor
's 100 Saints You Should Know at Urban Stages. She is also directing Safe at this year's East to Edinburgh Festival at
59E59 Theaters
. She has directed plays and readings at the Lark Play Development Center,
Ensemble
Studio Theatre
, Theatre for the New City, The Samuel French Short Play Festival,
The Players
Club and
The Actors Studio
. Producer and lighting designer
Bruce A! Kraemer
has done lighting design for Roundabout Theatre and
Soho Rep
and designed shows at
Ensemble
Studio Theatre
,
59E59 Theaters
and Bleecker Street Theatre, among others. Well skilled in many technical aspects of theatre and TV, he's worked on a variety of events including the Tony Awards, the Grammys and the Olympics. Ego Actus (Latin for "my way") was founded in 2009 by Joan Kane and
Bruce A! Kraemer
. They produce, direct and develop plays that are meant to be a complete audience experience using all the elements of theatre contributed by a talented team of playwrights, actors and designers who have made these disciplines the focus of their lives. Each associated artist brings their own creative vision to the shows produced by Ego Actus and their work is unified into a collective "My Way". Love Stinks opens at the Dorothy Strelsin Theatre (312 West 36th Street, 1st Floor) on Tuesday July 16th. The performance schedule is as follows: Tues. July 16 at 6PM, Wed. July 17 at 8PM, Thurs. July 18 at 6PM, Fri. July 19 at 8PM and Sat. July 20 at 4:45PM. Tickets are $18. For tickets, go to
http://OvationTix.com
and
http://MidtownFestival.org
or call (866) 811-4111.
Pictured: Matthew Hammond and Rosie Cosch. Photo Credit: Joan Kane.
| | |
| --- | --- |
| Vote Now for the 2022 BroadwayWorld Off-Broadway Awards | |
| voting ends in | |
More Hot Stories For You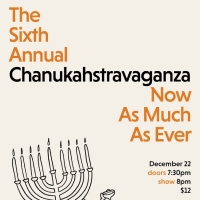 The Sixth Annual Chanukahstravaganza Comes to Littlefield This Month

December 8, 2022

Lana Schwartz and Ilana Michelle Rubin are two Jewish (you might have guessed), native New Yorkers who always get pretty lonely around the holiday season. For the sixth year in a row, they've invited some of the funniest Jewish comedians in New York City (where else?) to help them celebrate the Miracle of Lights: Chanukah. Hannukah. Hanukah. However you choose to spell it. There will be songs, there will be laughter, there will be surprises, and you know there will be gelt. Lots of gelt. Tons of it.
---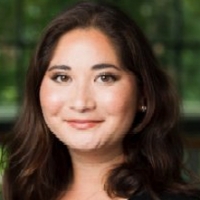 Einhorn Prize Reading Announced At Triad Theater, December 11

December 7, 2022

On Sunday December 11 at 2pm, there will be a presentation of the winners of the first David A. Einhorn Playwriting Prize The event will be held at the Triad Theater, 158 W. 72nd Street. The event will run 90 minutes and include readings of the 1st and 2nd prize winners, some words about David Einhorn, and a talkback on the topics addressed by the plays.
---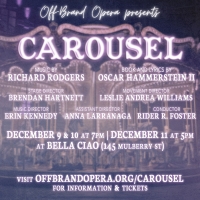 Off-Brand Opera Presents CAROUSEL, December 10 & 11

December 7, 2022

Off-Brand Opera returns this fall with a fresh take on Carousel, the beloved Rodgers & Hammerstein classic. Carousel will be presented with a fresh take on the classic work, featuring performers from a variety of artistic backgrounds in restaurant Bella Ciao's intimate basement cabaret space.
---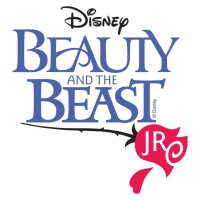 BEAUTY AND THE BEAST JR. to be Presented at AMT Theater in January

December 7, 2022

​January 18th through the 22nd is BEAUTY AND THE BEAST at AMT Theater. Wednesday through Saturday at 7pm, Saturday at 2 and Sunday at 3pm.
---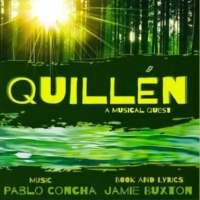 QUILLÉN A New Musical To Premiere At Winterfest, December 13-17

December 6, 2022

Latiné Musical Theatre Lab and Teatro Latea unite to present the new Chilean musical Quillén at New York Theater Festival's Winterfest, December 13-17, 2022.
---