Terrence McNally's WHERE HAS TOMMY FLOWERS GONE? Opens Tonight at Workshop Theater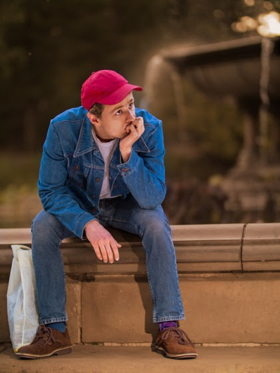 STARTING 5 PRODUCTIONS presents Terrence McNally's Where Has Tommy Flowers Gone?, directed by Laura Braza. Where Has Tommy Flowers Gone?, playing a three-week limited engagement at the Workshop Theater (312 W 36th St Fourth Floor New York, NY 10018).
Performances began Thursday, November 30 and continue through Sunday, December 17. Opening is today, December 2 (7:30 p.m.).
Constructed as a series of vignettes, skits and brief incidents, the play portrays the life and attitude of one Tommy Flowers-irrepressible cut-up, determined freeloader and disenchanted rebel against society. In the course of his adventures he befriends a destitute old actor, acquires an oversized sheep dog (his best friend) and finds love with a beautiful music student (whom he meets in the ladies' room at Bloomingdale's). But as Tommy moves from scene to scene, his bright red shopping bag at the ready for pilfering and his agile wit poised to hoodwink everyone in sight, we also glimpse the root causes of his alienation-his ailing, complaining mother back home; an unhappily married brother; a former girlfriend who has settled for a suffocating domesticity; and a venturing forth that has brought more rejection than acceptance. In the end, betrayed yet again, but still buoyantly defiant, Tommy devises his final rip-off-a bomb to blow him, and at least some small portion of a world he cannot accept, into oblivion.
An Off-Broadway success, selected by Time magazine as one of the ten best plays of the year, this biting, hilarious, touching and totally original work captures the essence of the "now generation," from flower children to violent revolutionaries.
The production stars David Gow (Eugene O'Neill Center, Duke Theater, 14th St Y) as Tommy Flowers, Emma Geer (Lincoln Center, Shakespeare and Company) as Nedda Lemon, Daniel O'Shea (State of Grace, Streets of Gold) as Ben, Sam Garber (Flea Theater, New Conservatory Theater) as Arnold, Al Fallick (Somebody's Darling, We're Working On It) as Men, Emily Kitchens (Yale Repertory Theater, California Shakespeare Theater) as Women, and Meagan Kimberly Smith (Blindspot, The Tale of Four ) as Girls.
The production features scenic design by Zach Serafin and Mariah Pepper Berkowitz is the stage manager.
Tickets ($18) available at www.brownpapertickets.com/event/3102624 or by calling 1-800-838-3006. Tickets may also be purchased in-person at the box office ½ hour prior to the performance. Running Time: 2 Hours.
Laura Braza (Director) is the Artistic Director of the Attic Theater Company as well as a freelance director and teaching artist. NYC: Moonchildren, Dark Rapture, Wonderful World, This One Time In Last Chance, The Time of Your Life, The Tutors, The Notebook of Trigorin, Strictly Dishonorable, the dreamer examines his pillow, and On The Verge (Or the Geography of Yearning) (all for The Attic Theater Company); Friend of the Devil and If I Were You (Harold Clurman Theater); work at NYMF, FringeNYC, Dixon Place, Atlantic Theater Company's Stage II, InGenius Theater Festival, and Sam French OOB. . Regional: Grounded, Souvenir, and the upcoming Always...Patsy Cline (Milwaukee Repertory Theater), The Dispute and If You Give a Pig a Pancake (Hangar Theater). She has also worked extensively as a guest director for both UNCSA and NYU/Tisch&Stella Adler. Drama League Directors Project Alumnus. Teaching Artist, UNCSA. BFA: NYU. Up next: the world premiere of Jericho by Michael Weller with The Attic Theater Company. www.theattictheaterco.com
Terrence McNally (Playwright) has been described as "a probing and enduring dramatist" and "one of the greatest contemporary playwrights the theater world has yet produced". He has received the Tony Award for Best Play for Love! Valour! Compassion! and Master Class, as well as the Tony Award for Best Book of a Musical for Kiss of the Spider Woman and Ragtime. His other accolades include an Emmy Award, two Guggenheim Fellowships, a Rockefeller Grant, four Drama Desk Awards, two Lucille Lortel Awards, two Obie Awards, three Hull-Warriner Awards, and a citation from the American Academy of Arts and Letters. He is a recipient of the Dramatists Guild Lifetime Achievement Award as well as the Lucille Lortel Lifetime Achievement Award. In 2016, the Lotos Club honored McNally at their annual "State Dinner," which has previously honored such luminaries as W.S. Gilbert and Arthur Sullivan, George M. Cohan, Moss Hart, Richard Rodgers and Oscar Hammerstein, Saul Bellow, and Arthur Miller. In addition to his award-winning plays and musicals, he also written two operas, multiple screenplays, teleplays, and a memoir.
Photo Credit: Daniel Davila Photography