DESARROLLO, Coming Of Age Story Set In The Bronx Created By Queer And Trans POC, Closes Corkscrew Theater Festival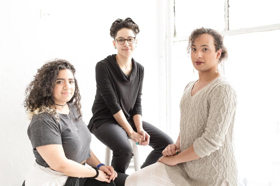 Corkscrew Theater Festival presents Desarrollo, written by Juliany Taveras and directed by Manny Rivera. Running July 27-August 5, Desarrollo follows three queer and trans Bronx natives as they grow from exuberant 13-year olds to yearning, unmoored young adults. The creative team and cast consists entirely of queer and trans people of color, bringing the sights and sounds of the Bronx to the stage while wrestling with the disorienting changes that gentrification has brought to the neighborhood. Performed by Jace Alejo, Genesiss Mejia, Ember Moon, Arianna Mora, Ana Mery Rivera, Imani Russell, Ricardo Salcido, Jackie Torres, and Bleu Zephra, Desarrollo is the fifth and final production in the second annual season of Corkscrew Theater Festival, a new summer theater festival that provides early-career artists with a high level of production support.
As kids growing up in New York City, Nelly, Alaida, and Sol spent hot summer days daring, dancing, and documenting their way across boroughs, rivers, and storefronts. Ten years later, time has seemed to warp everything, from their once-indestructible friendship to the landscape of the streets they used to call home. Desarrollo is an unraveling-a discovery-of what happens to the people and the places we love when put under pressure; like film developing in the dark, their stories are ones of transformation, of capturing the moments that change us.
"I grew up with my father owning a bodega in the Bronx, so it's very near and dear to my heart, that experience," said Taveras. "Most of my life, two decades, that was a really big part of my growing up. And then I went away to school, and when I moved back to the city [to Crown Heights], seeing laundromats, hair salons, and bodegas was the biggest comfort for me, like 'ok, this is still my city.' And yet those are some of the first things to go when neighborhoods start to change.
A huge question that I've been exploring ever since I started writing it is: how do we process and navigate change? Specifically the change in New York City, where the landscape is really being gutted and rebuilt so rapidly across the boroughs. What does that means for folks who have been here a long time and who only know this place? And how do we change as people while our environment changes -- how do we come out through that stronger, and with empathy, still connecting?"
Corkscrew Theater Festival features five world premieres and four readings performed in repertory over four weeks. Special attention has been given to theater makers who are developing work through innovative and robust collaborations. A majority of the participating artists identify as women or trans.
The creative team forDesarrollo includes Lafi Sophia (set design), Nikita Maturine (lighting design), Nayshaun Stokes (costume design), Rivera (sound/projection design), Rafael Tawasil (production stage manager), Torres (dramaturg) and Ianne Fields Stewart (choreographer).
Performances ofDesarrollo will take place July 27-August 5 (see schedule above) at Paradise Factory (64 E 4th St, Manhattan). Critics are welcome as of July 28, which serves as the official opening. Tickets are $24 and can be purchased at corkscrewfestival.org or by calling 347.954.9125.
About the Artists
Juliany Taveras is a Latinx writer, photographer, and theatre-maker from the boroughs of NYC. Their playwriting has been nationally recognized (The Kilroys List 2016, 50 Playwrights Project List 2018) and their images/poetry have been published online and in print. Juliany's plays have been developed and/or staged with Manhattan Rep, The Bechdel Group, Greenhouse Theater Center, and Unbound Theatre Company, among others. See more at julianytaveras.com.
Manny Rivera is a trans, Latinx theatre artist. They are a member of the performance art collective, A Beautiful Desperation, a participant in the 2017 Upstart Program at BAX; the recipient of The Seymour Peck Award for Excellence in Directing at their alma mater, The City College of New York. Notable credits include Blu (Asst. Director/Sound Designer) with CCCA, Marisol (CCNY) and sound design for Your Healing Is Killing Me (JACK). mannyr.carbonmade.com
Jace Alejo (Sol) is very excited to be a part of Desarrollo. New to the team but not to the stage, Jace has acted since his junior year in high school where he played Seymour in Little Shop of Horrors. He thanks his parents who hooked him on theatre, and everyone else who supported him the rest of the way. Jace lives in Riverdale, and is currently attending BCC for a degree in Digital Arts.
Genesiss Mejia (Jana/Jonah) is a 24 y/o nonbinary/gnc afro-latinx queens native, who's thrilled to be a part of the Desarrollo family. Because it's their first production since high school (¡yikes!) they're a bit nervous, however, being that they're also a skilled bike mechanic/messenger, drummer + photographer, picking this up should be a piece.of.flan. Wish 'em luck!
Ember Moon (Alaida) is an interdisciplinary performer & creator forever fascinated by the human experience. They've been involved in theatre for most of their life, & are always expanding their exploration of storytelling, healing, connection, & how to share that journey. These explorations take different forms outside of acting, such as street performing, short films, scripts, & curated performances. They're thrilled to be part of Desarrollo & to bring Alaida to life. Thanks to the Universe!
Arianna Mora (Young Nelly) is an 18-year-old gay prodigy (omg kidding) who grew up in Queens, NY and has a passion for acting and theatre. She's been involved in numerous works with different programs and companies, including the Stella Adler studio, the Park Avenue Armory, and the feminist organization Girl Be Heard. Arianna loves to act and hopes to continue making theatre a part of her daily life. This fall, she'll be attending Emerson College to continue studying theatre and performance. Arianna is extremely excited to be working with such an amazing team on this incredible show!
Ana Mery Rivera (Nelly) is currently studying music and theater at the City College of New York. Besides being a part of four productions there, she has performed in a staged reading for the Off-Off Broadway production Soccer Dad by Dave Curan at the Medicine Show Theatre. This new opportunity is dear in her heart because of its much needed representation and striking message. She would like to thank her mom for letting her stay out past 10 for rehearsals.
Imani Russell (Young Sol) is a Black & Puerto Rican actor, singer, and writer from Brooklyn, NY. A recent graduate of Vassar College with a BA in Drama, Imani has acted in productions such as Trippin' Through Mud and The Spitfire Grill, as well as Woodshed Theater Ensemble productions such as Big Love, Blood Play, and Clown Bar. Imani is also a playwright, and their play Audra McDonald and Marsha P. Johnson Deliver a Message About the End of the World won the 2018 Marilyn Swartz Seven '69 Playwriting Award. In September, Imani will be attending the Royal Conservatoire of Scotland to receive a MA in Musical Theatre.
Ricardo Salcido (Pops) has performed in theatre, television, and film in Los Angeles, New York City, and Edinburgh, Scotland. Last summer, Ricardo appeared in the two character Off-Broadway production of Life Line at Theatre At St. Clements as Carlos. "I want to thank my partner, Martin Luevano, my family and friends for their support in helping me create a purposefully driven life by setting new goals as an artist who understands and promotes the development of theatre."
Jackie Torres (Tía Ramona/Dramaturg) (she/her/hers) is an Afro Boricua poet, theater maker, writer, and mal'criada whose work seeks to utilize storytelling as a method for personal healing and a demand for societal accountability, transparency, and reconstruction. She is the Poet/Playwright and a co-collaborator of IN THEORY: Notes on Home, Love, Diaspora, and Failing Adulthood, a dance and spoken word fusion about converting the pain of our past into the resistance of our future. Jackie is also part of the writing team for The Legacy Project, a new musical about black ancestry and identity. She has written multiple pieces on Afro-Latinx identity for The Kinfolk Kollective, Voix Noire, and Simone Digital. She is based in NYC.
Bleu Zephra (Young Alaida) is an artsy hustler with Thespian Swag prevalent in NYC. Bleu's acting credits of late are original works (such as Desarrollo, wooh!), experimental and devised theater. You can check out all her upcoming shows on instagram: @laviedebleu. Bleu is a proud collective member of WOW Café Theatre. When Bleu isn't remembering to jump into art with both feet first, she is maintaining her happiness, her brownness, and her muchness. She thanks you for your presence and your energy.
About Corkscrew Theater Festival
Now in its second year, Corkscrew Theater Festival showcases original productions by early-career artists who are creating work through robust and innovative collaborations. Corkscrew aims to advocate for underrepresented artists and viewpoints while mounting a festival that offers a unique mix of work at various stages of development, promoting dialogue among artists and building community around a season of theatre. In its inaugural 2017 run, Corkscrew was featured in The New York Times, The Village Voice, Playbill, WNYC, and more. "Packed with young talent. In the risk-taking venture that is summer festival-going, encountering talent you want to see more of is a worthy payoff." www.corkscrewfestival.org