Comedians From The Daily Show, Tonight Show, Full Frontal W/ Sam Bee Join Forces For Sketch Comedy Show 'Kids These Days'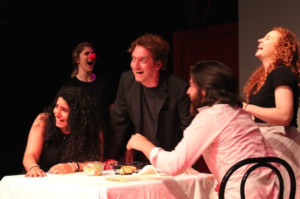 "Kids These Days: A Sketch Comedy Show!" is a wild sketch comedy experience performed by comedians at The Daily Show with Trevor Noah, Full Frontal with Samantha Bee, The Opposition with Jordan Klepper, & The Tonight Show Starring Jimmy Fallon!
The sketch group Kids These Days is headlining the 2018 Out of Bounds Comedy Festival in Austin, TX, as well as the 2018 NYC SketchFest. "Kids These Days: A Sketch Comedy Show!" is a recurring monthly show at the People's Improv Theater Mainstage. Every single show has been sold out. Kids These Days performs a mix of sketches and musical numbers.
Things you might experience at a Kids These Days show: Getting convinced that you actually came to a comedy show-themed "Escape the Room", seeing two Adam Sandlers trying out for Mamma Mia 2, watching a live music video about a country singer who just wants his dad to shake his hand, and just the right amount of people using tearaway pants.
Featuring:
Ana Bretón (Full Frontal with Samantha Bee)
Jack Blankenship (The Tonight Show Starring Jimmy Fallon, Funny Or Die)
Scott Hercman (The Daily Show with Trevor Noah)
Rachael Burke (The Tonight Show Starring Jimmy Fallon)
Sabeeh Jameel (The Opposition with Jordan Klepper, Passport Control)
Adrian Frimpong (UCB Harold Night, The PIT)
Maggie Maxwell (Boogiemanja, Co-Host for Would You Rather...?)
Lida Darmian (UCB Maude Night, The PIT, & Magnet Theater)
Sascha Garrey (Writer, Performer, & Musician from Vancouver)
Nick Reichheld (Instinct (CBS), Motherless Brooklyn)
Photo credit: Emily Dalma
Ticket link: https://thepit-nyc.com/events/kids-these-days-a-sketch-comedy-show/
Related Articles View More Off-Off-Broadway

Stories

Shows
More Hot Stories For You