Cave Theatre Co. Presents ROSENCRANTZ & GUILDENSTERN ARE DEAD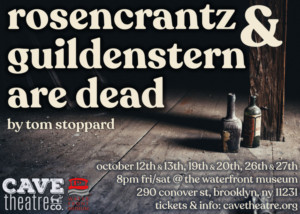 Cave Theatre Co., in association with The Waterfront Museum, will present Tom Stoppard's Rosencrantz & Guildenstern Are Dead, directed by James Masciovecchio, October 12-27th, 2018 at The Waterfront Museum (290 Conover St, Brooklyn, NY 11231) with performances Friday and Saturday at 8pm. Tickets ($30) may be purchased in advance at www.cavetheatre.org. The performance will run approximately 120 minutes, with one 15 minute intermission.
Meet Rosencrantz and Guildenstern. They're...well...who are they? Sometimes even they're not so sure. Join Shakespeare's most loveable (minor) characters as they muddle their way through one existential crisis after another. In this brilliant comedy, set against the backdrop of the most famously morose play of all time, playwright Tom Stoppard muses on life, death, and the statistical probability of coin tosses, flipping seamlessly between hilarity and poignancy.
The cast will feature Jessie Atkinson, Alex Etling, Arshia Panicker, Ayo Akinsanya, David Hernandez III, Khalid Bilal, Sarah Joy Gugel, Rosie DeSantis, AJ MacDougall, & Garrett Lyons
Tom Stoppard (Playwright) Rosencrantz and Guildenstern Are Dead (1967) premiered at the Edinburgh Fringe Festival in 1966. The play came to the attention of Kenneth Tynan, then working for the National Theatre, and it was produced at the National in 1967 and on Broadway in 1967, winning a Tony Award for Best Play (USA) in 1968. The Real Inspector Hound was first staged in 1968, followed by productions of Albert's Bridge and If You're Glad I'll Be Frank, both in 1969.
His play Jumpers (1972) was staged at the National Theatre in 1972 and his adaptation of Lorca's The House of Bernarda Alba was first performed in the same year. Travesties (1975) was first staged by the Royal Shakespeare Company in 1974, transferring to New York in
1975 where it won a Tony Award for Best Play. Every Good Boy Deserves Favour (1976), was inspired by his friendship with Viktor Fainberg, who had been imprisoned in Czechoslovakia by the Soviets, and Stoppard began to speak out on behalf of dissidents including the Czech playwright Vaclav Havel, who had been charged with subversion. Professional Foul (1978) was written for Amnesty International's Prisoner of Conscience Year in 1977.
Tom Stoppard was knighted in 1997. He lives in London. His latest plays include Heroes (2005), Rock 'n' Roll (2006) and The Hard Problem (2015). He has written the screenplays for adaptations of Anna Karenina (2012) and Tulip Fever (2014), and co-wrote the screenplay for Shakespeare in Love (1998).
JAMES MASCIOVECCHIO (Director) Serves as the Artistic Director of Cave Theatre Co. Notable Credits: Row After Row, Touch, and Gruesome Playground Injuries, as well as the World Premier of Lauren Wimmer's Divorce Party. He also serves as Production Manager for the Obie Award Winning Fire This Time Festival now entering its 10th season.
Our Mission: CAVE THEATRE CO. challenges the community to engage with us in the primal art of storytelling, exploring what it means to tell a story with vigor and artistic integrity - always seeking truth. We strive to create a safe haven for artists and audiences of all walks of life, cultivating growth, dialogue, and open collaboration.
Cave Theatre Co. is an innovative independent theatre company in New York City striving to give voice to powerful and challenging stories with tireless passion, exuberant imagination, and artistic integrity while creating meaningful collaborative opportunities with artists of diverse disciplines and backgrounds. We strive to engage the public in our work by expanding the reach of theatrical expression to new audiences through community outreach, and encouraging and cultivating the next generation of theatre artists through arts education.
Cave Theatre Co. is a recent WeWork Creator Awards "Incubate" creative grant recipient.
The Waterfront Museum was founded in 1986 to provide waterfront access and programs in education and the arts aboard an historic vessel. The Lehigh Valley Railroad Barge #79, built in Perth Amboy, NJ in 1914, is the only wooden covered barge of its kind left over from "The Lighterage Era (1860-1984)." At one time there were over 5,000 non-self propelled barges similar to her. Today she is the only surviving example afloat today. She was rescued from Edgewater, NJ in 1985 by David Sharps where she had been made obsolete by major shifts in the shipping industry. Prior to that period, railroad companies maintained large fleets of barges to bring goods between railroad terminals, across and along the Hudson River for consumer use, and for shipment overseas. In her thirty-three history as a showboat and classroom, hundreds of thousands have come to the waterfront to participate in museum programs. Sign up for the Museum's e-newsletter and discover more at www.waterfrontmuseum.org
More Hot Stories For You