Cast Announced For Corbin Went's OLD NAMES FOR WILDFLOWERS at The Tank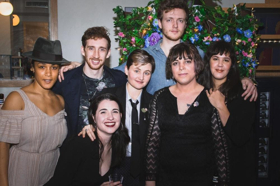 The Tank (Meghan Finn and Rosalind Grush, Artistic Directors), The Renovationists, and Parity Productions will co-present the World Premiere of Corbin Went's OLD NAMES FOR WILDFLOWERS, directed by Emma Rosa Went at The Tank (312 West 36th Street between 8th and 9th Avenues), May 11-25. Performances will be Friday, May 11 at 8pm, Saturday, May 12 at 8pm, Sunday, May 13 at 7pm, Thursday, May 17 at 8pm, Friday, May 18 at 8pm, Saturday, May 19 at 8pm, Sunday, May 20 at 7pm, Wednesday, May 23 at 8pm, Thursday, May 24 at 8pm, andFriday, May 25 at 8pm. Tickets ($25) are available for advance purchase at www.thetanknyc.org. The performance will run two hours, with an intermission.
The Civil War is over, but the scabs it left still itch. A fox stalks the clearing behind the Auberts' home, hunting chickens. A love triangle goes horribly wrong, and a family is destroyed. The pieces cannot be put back together: the survivors must build something new. In the absence of God, community, morality, on the edge of the woods that ring with the devil's whistle, two sisters must embrace the power of renouncing everything.
The cast will feature Jackie Abbott (Emerson Losers Her "Miand" at Dixon Place), Karen Eilbacher* (She Like Girls at The New Ohio), Tom Giordano* (Double Falsehood with Letter of Marque Theater Company at The Irondale Center), Alexandra Gonzalez* (Out of Touch at The Secret Theatre), Zoe Goslin (Curvy Girls Rock, web series), Patrick Harvey (Artaud Artaud at Signature Theatre), Montana Lampert Hoover* (Double Falsehood with Letter of Marque), Finn Kilgore (Pomegrenade with The Artic Group/IRT), Monica Lerch (I Was Loved By a Rat at 2013 FringeNYC), and Patrick McCann (The Love of the Nightingale with Circomedia in the UK) with Set Design by Dan Daly (The Good Girl at 59E59), Lighting Design by Chris D'Angelo (Dead Man's Dinner with Squeaky Bicycle), Costume Design by Sara Fellini (The Execution of Mrs. Cotton with spit&vigor), Sound Design by Corbin Went and Movement Direction by Monica Lerch. *Appears courtesy of the Actors' Equity Association.
Corbin Went (they/them) is a co-founder of The Renovationists and current member of Trans Theatre Lab. Corbin's work has been produced and developed by Trans Lab @ The Public and WP, Parity Productions, The Tank, The Brick, The Flea, Barn Arts Collective, and regionally. Corbin is the recipient of the 2017 Parity Productions' commission for women and transgender playwrights, finalist for The Public's Emerging Writers Group, Ingram Works New Play Lab @ Nashville Rep, Scratchpad Series @ Playwright's Realm, and semi-finalist for the Ars Nova Play Group. Corbin's full-length plays include Old Names for Wildflowers, Courage! To the Field!, Three Seconds, Saving Throw, Boxcar, The Great American Folksong, and The Tarantists. Short works includeMongrel (pub. Dionysian #3) and Fireflies. BA Sarah Lawrence College.
Emma Rosa Went (she/her) is a co-founder of The Renovationists. recent work including Three Seconds (Barn Arts Collective;) and Boxcar (The Tank.) She is also a co-founder of Easy Leap Theatre Company, for whom she has directed: Much Ado About Nothing (The Brick;) The Changeling (West End Theatre;) Hearts of Gold: From Henry IV and Othello (West End Lounge;) and Love's Labors Lost (Access Theater, LPAC Lab). Off-Broadway and regional assisting includes: Theatre for a New Audience, Atlantic Theater Company, Rattlestick, Oregon Shakespeare Festival, and Colorado Shakespeare Festival. Emma is a past participant of the SDCF Observership Program, and the Oregon Shakespeare Festival FAIR Program. She is an Associate Member of the Stage Directors & Choreographers Society. BA Sarah Lawrence College. Also upcoming in 2018: Moth&Flame (spit&vigor;) and As You Like It (Scranton Shakespeare Festival). www.emmawent.com
The Renovationists Re-framing the traditional to create the unorthodox. We are inspired by the craftsmanship of the great American practitioners of the 20th century, but are not satisfied that their canon reflects our contemporary cultural experience. It is our mission, therefore, to produce theatre that queers tradition and allows new stories to unfold inside old structures. By centering our plays around women and queer characters, and affording them the same sweeping romance found in Williams, Miller, or O'Neill, we hope more members of our audience will see themselves reflected in this renovation of an American tradition that has often left their stories untold.
Parity Productions is a producer of new theatrical work that gives voice to individuals who rebel against their marginalized place in society. As part of our unique dual art and advocacy mission, we always ensure we fill at least 50% of the creative roles on our productions-directors, playwrights, and designers-with women and/or trans and gender nonconforming artists, and we maintain several advocacy initiatives to encourage the industry to do the same. www.parityproductions.org
The Tank is a non-profit arts presenter serving emerging artists engaged in the pursuit of new ideas and forms of expression. We serve over 1,000 artists every year in over 400 performances, and work across all disciplines, including theater, comedy, dance, film, music, public affairs, and storytelling. Our goal is to foster an environment of inclusiveness and remove the burden of cost from the creation of new work for artists launching their careers and experimenting within their art form. The heart of our services is providing free performance space in our 98 seat proscenium and 56 seat blackbox that we operate in Manhattan, and we also offer a suite of other services such as free rehearsal space, promotional support, artist fees, and much more. We keep ticket prices affordable and view our work as democratic, opening up both the creation and attendance of the arts to all. Since its founding in 2003, artists who have come through The Tank include Alex Timbers, Amy Herzog, Lucy Alibar, Mike Daisey, Reggie Watts, Kyle Abraham, Andrew Bujalski, We Are Scientists, and tens of thousands of others. www.thetanknyc.org
Photo: Karen Eilbacher, Patrick McCann, Montana Lampert Hoover, director Emma Rosa Went, Finn Kilgore, playwright Corbin Went, and Zoe Goslin Photo credit: Lenny's Lens Photography
Related Articles View More Off-Off-Broadway

Stories

Shows
More Hot Stories For You