Blockchain Theater Project & Theaterlab Present World Premiere Of NYLON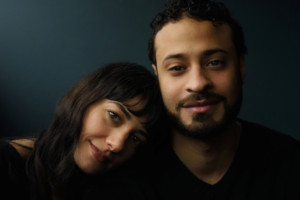 Blockchain Theater Project (BTP), founded by Sofia Alvarez and Nicola Korzenko, is a new theater company that empowers artists to produce the work they create, funded in part by cryptocurrency donations. Like Bitcoin and other blockchains, BTP eliminates the institutional gatekeeper, creating a peer-to-peer model of support where the next play to be produced will be nominated by the playwright of the current production. Alvarez's NYLON will start this chain.
Co-presented by Theaterlab, NYLON is written by Sofia Alvarez (To All the Boys I've Loved Before), directed by Knud Adams (Tin Cat Shoes, Marie and Bruce) and features Sheila Vand (We the Animals, TNT's upcoming Snowpiercer), Cesar J. Rosado (Plano, The Workshop), Maggie Bofill (Devil of Choice, Between Riverside and Crazy), and Claire Siebers (Agnes, The Workshop), with original music by Yeasayer's Anand Wilder. Additional cast to be announced soon.
In NYLON, an estranged couple, Anna and Matthew, meet for the first time in four years. During this combustive encounter, their past is dredged to the surface in a way that ruptures their carefully constructed personas and sets in motion a psychological tennis match that threatens their respective futures as well of those of everyone around them. A modern day A Doll's House, NYLON explores the options available to women and the ways in which we become our own worst enemies when we stray from the acceptable paths available to us.
Theaterlab's artful white-box space will perfectly frame the depth and specificity of this story. In the play, unflattering truths are laid bare. In this space, there's nowhere to hide. The creative team also includes sets by Andrew Moerdyk, lighting by Kate McGee, costumes by Clara Fath, sound design by John Gasper, and original music by Anand Wilder, with Patrick Harnett-Marshall as production stage manager.
Performances of NYLON will take place March 6 - 24 (see above schedule) at Theaterlab, located at 357 West 36th Street in Manhattan. Critics are welcome as of Friday March 8, and Saturday March 9 is the official opening. Tickets, priced at $22, can be purchased by visiting
www.theaterlabnyc.com/events/nylon.

About the Artists
Sofia Alvarez (playwright) is a playwright and screenwriter. Most recently she adapted Jenny Han's bestselling novel To All The Boys I've Loved Before for Netflix for which she was named one of Variety Magazine's 2018 screenwriters to watch. Her play Friend Art was produced by Second Stage Theater in May of 2016. She recently wrote the book and lyrics for a musical adaptation of William Steig's classic children's book, Amos and Boris. The musical was produced at South Coast Rep in May of 2018. South Coast Rep also produced her first play, Between Us Chickens. Work in television includes the first two seasons of Man Seeking Woman (FXX) and the first season of Sirens (USA). She is a graduate of Bennington College and the Juilliard School's Lila Acheson Wallace American Playwrights Program. She teaches in the department of Dramatic Writing at NYU. Sofia is thrilled to be launching Blockchain Theater Project with Nicola Korzenko to give productions to worthy new plays with a company that emphasizes the peer support she has always found present in her community of playwrights.
Knud Adams (director) is a New York-based director who specializes in artful/intelligent/radical new plays. Recent productions: Tin Cat Shoes (Trish Harnetiaux, Clubbed Thumb), Marie and Bruce (Wallace Shawn, JACK), Aloha, Aloha, or When I Was Queen (Eliza Bent, Abrons), The Workshop (Torrey Townsend, Soft Focus), Asshole (Justin Kuritzkes, JACK), Every Angel is Brutal (Julia Jarcho, Clubbed Thumb), On a Clear Day I Can See to Elba (Eliza Bent, The New Ohio), Tom & Eliza (Celine Song, JACK), Snore (Max Posner, Juilliard), An Intimate Evening with Typhoid Mary (Carl Holder, The New Ohio), That Poor Girl and How He Killed Her (Jen Silverman, U. of Rochester), and Krazytown (Jenny Schwartz, NYU). Assisting: Knud trained by assisting André Gregory, Elizabeth LeCompte, Richard Foreman, Sam Gold, and Sarah Benson. Affiliations: Drama League Next Stage Resident, Drama League NY Directing Fellow, Soho Rep Writer/Director Lab, and Playwrights Horizons Directing Resident. www.knudadams.com
Sheila Vand (Anna) most recently starred as "Ma" in the critically acclaimed We the Animals (2019 Independent Spirit Award nominee, 2018 Sundance Film Festival NEXT Innovator Prize) and alongside Susan Sarandon in Viper Club (Toronto International Film Festival 2018). Her extensive filmography includes the anthology hit XX (2017 Sundance Film Festival), Paramount's Whiskey Tango Foxtrot (opposite Tina Fey), the Sundance hit A Girl Walks Home Alone at Night, and the Academy Award-winning film Argo. Other notable credits include her Broadway debut opposite Robin Williams in Bengal Tiger at the Baghdad Zoo (Pulitzer Prize finalist), Sneaky Nietzsche (her original theatrical experience at the Los Angeles County Museum of Art), and MILK (a visual art collaboration with TED-fellow Alexa Meade). She will star in TNT/Netflix's upcoming series Snowpiercer.

Cesar J. Rosado (Matthew) is a Bronx native. He is a member of the Middle Voice at Rattlestick and The Rising Pheonix Rep. His past works include: The Things That Were There by David Greenspan dir. Lee Sunday Evans (The Bushwick Starr/Abingdon theater); PLANO dir. Taylor Reynolds (Clubbed Thumb, Summerworks); Dolphins and Sharks dir. Charlotte Brathwaite (Labyrinth); EL COQUI ESPECTACULAR and the Bottle of Doom dir. Jose Zayas (Two River Theater); NYTimes Critic Pick: The Workshop dir. Knud Adams (Soft Focus/HB Playwrights); Seven Spots on the Sun dir. Weyni Mengesha (Rattlestick Playwrights Theater). Film/TV: Manifest; Law & Order: SVU; and Guap.

Maggie Bofill (Marisol) is an actor/playwright. Founding member of LAByrinth Theater Company, member of Ensemble Studio Theater (EST), The Playwright Director's Unit at The Actor's Studio, and WAW, Women Artists Writers/DorsetTheaterFestival. As an actor: Most recently played GOD in God Shows Up, (The Playroom) Queen Latina (Capt. Maggie, LabyrinthTheaterCo @Cherry Lane) Between Riverside and Crazy (2ndStage) and many NYC and regional theaters. Devil of Choice, her play produced by LAByrinth to a sold out run last summer, will be going to Edinburgh Fringe in 2019, where she will be playing Delia. TV: Law and Order, Smash, The Path.

Clara Fath (costumes) is a graduate of the University of North Carolina School of the Arts. This summer she worked in Arezzo, Italy with the Oberlin Opera Program designing La Rondine, Don Giovanni, and Gianni Schicchi. Most recently she designed Daniel's Husband at Penguin Repertory in New York. Other credits include We Were Nothing (New York); Ragtime, The Legend of Georgia McBride, Dry Powder (Miami, FL); 1776, Harvey, and Henry IV (Monomoy Theater); Tape (Williamstown Theatre Festival)

John Gasper (sound) is a theatermaker, musician, and video & sound designer. He has performed and made designs with Saint Fortune, Royal Osiris Karaoke Ensemble, Advanced Beginner Group, 7 Daughters of Eve Thtr & Perf Co, New Saloon, Trusty Sidekick Theater Company, Bentertainment, Designated Movement Co. and beloved others. He plays synthesizers, saxophone, clarinet and bass with Major Magics, The Witch Ones, Czech Neck, and The Tender Band. MFA: PIMA, Brooklyn College.
Patrick Harnett-Marshall (production stage manager) is a Stage Manager, Dramaturg and Translator. His projects in Stage Management include: The Truth About Santa (The Tank), When We Went Electronic (The Tank), Suddenly (Live Source), Pete Rex (Dreamscape Theatre), Songs About Trains, and The Corrido of the San Patricios (Radical Evolution), Hookin' (BMA Detroit), Icons/Idols (Byzantine Choral Project). As Associate Producer for the Resident Acting Company, he supports ensemble-driven readings of the classic repertory. As a company member of the Upstart Creatures, he works as a Literary and Producing Associate for stagings of new, or rarely-produced, essential plays.

Kate McGee (lighting) is a trans*everything lighting designer. Recent work includes: Emily's D+ Evolution World Tour (Esperanza Spalding), 50/50 old school animation (Under the Radar, The Public Theater), Galileo (Playmaker's Rep), My Lingerie Play (Rattlestick Playwright's Theater), An iliad (Long Wharf), Marie and Bruce (Jack), A Hunger Artist (Sinking Ship Productions), Masculinity Max (The Public Theater), Infinite Love Party (Bushwick Starr), Pay No Attention to the Girl (Target Margin Theater), Aloha, Aloha, or When I was Queen (Abrons Arts Center), SoundHouse (New Georges), Kidnap Road (La Mama), Carnival of the Animals and The Bremen Town Band (The Miller Theater), Early Plays (New York City Players/Wooster Group, Henry Hewes Award Nomination). BA Oberlin MFA NYU
Brian Miskell (Colin) Broadway: The Waverly Gallery. Off-Broadway: Peace for Mary Frances (The New Group), The Antipodes (Signature Theatre), The Flick (Barrow Street Theatre), The Undeniable Sound of Right Now, Afghanistan Zimbabwe America Kuwait, The Hill Town Plays (Rattlestick Playwrights Theater). Other recent credits include F*** Marry Kill (Less Than Rent Theatre, New Ohio Theatre), The Aliens (Studio Theatre and San Francisco Playhouse), Eightythree Down (Horse Trade Theater Group; New York Innovative Theatre Nomination). TV: "Compliance" (FX). A company member of Rising Phoenix Rep, Brian studied at the Lee Strasberg Institute and graduated from NYU's Tisch School of the Arts. brianmiskell.com

Andrew Moerdyk (sets) is a South African set and costume designer based in New York City. Recent theatre credits include Mies Julie (CSC), Joan (Colt Couer), Indeed, Friend! (Clubbed Thumb / PHTS), Thyestes directed by Ken Rus Schmoll (NYU), The Triumphant [parts 3,4&7] (Target Margin),The Tempest and Don Juan Comes Back from the War (Columbia Stages), and Go Get the Axe (FIG Productions). He has an M.F.A in Design for Stage and Film at NYU-Tisch school of the Arts. With an M.Arch [prof] degree from the University of Cape Town, Andrew is also an Architect with residential, commercial and entertainment projects in Cape Town, Miami and Dubai. www.andrewmoerdyk.com

Claire Siebers (Gigi) Acting: Agnes (Lesser America), The Workshop (by Torrey Townsend, directed by Knud Adams, with Austin Pendleton), Tribes at Actors Theater of Louisville (directed by Evan Cabnet), Time Is The Mercy of Eternity (by Deb Margolin, with Lisa Kron), Storm Still (Brooklyn Yard), Pocatello / When You're Here (Sam Hunter) at Williamstown Theatre Festival. Film Writing/Directing: Power Lunch the Web Series, Body feat. Denitia (House of Feelings, Music Video), Genius in a Small Town on www.nobudge.com. Education: Yale University, The Juilliard School.
Anand Wilder (original music) is a multi-instrumentalist, singer and songwriter best known as the guitarist, co-lead vocalist, songwriter of the band Yeasayer. Yeasayer has released four experimental rock albums, All Hour Cymbals (2007), Odd Blood (2010), Fragrant World (2012) and Amen & Goodbye (2016). They plan to release their 5th full length album in 2019. In between touring and recording for Yeasayer, Anand produced Brooklyn Band Suckers' debut EP, and in 2014 Anand released a-ten-years-in-the-making folk-rock opera concept album entitled Break Line. This is the first play Anand has composed music for and he is thrilled to be a small part of the production.

Find out more at www.btproject.us.
Related Articles View More Off-Off-Broadway

Stories

Shows
More Hot Stories For You