Blessed Unrest Presents THE SNOW QUEEN at the New Ohio Theatre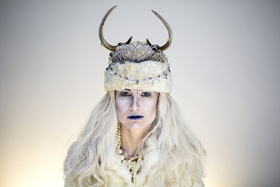 Following the 2016 hit production of A Christmas Carol, the award-winning company Blessed Unrest returns to the New Ohio this holiday season with a contemporary riff on Hans Christian Andersen's The Snow Queen, tailored for the entire 21st century family (ideal for children 7 and up).
This story of a fearless young woman on a quest to save her friend from a frozen world devoid of feelings features the troupe's signature physicality, magical transformations, extravagant costumes, and modern humor. The show will be playing a limited engagement from December 31, 2017 - January 14, 2018 at New Ohio Theatre (154 Christopher Street, between Greenwich and Washington Streets). Tickets ($25) can be purchased through OvationTix website at web.ovationtix.com/trs/pr/982558 or by calling 866-811-4111.
Written by Matt Opatrny, directed by Jessica Burr, and developed by Blessed Unrest in a year-long New Victory LabWorks residency, The Snow Queen remains faithful to Andersen's wild tale, presenting the title character as a metaphor for the cool allure of modern technology - the force that alters most present-day interpersonal interactions. In this version, the protagonist couple, Gerda and Kay, are not the victims of a sinister force but sentient travelers in search of deep human connection. Resourceful and emotionally mature, Gerda emerges as a personification of the power of compassion and empathy. As always in a Blessed Unrest production, there will be dance, whimsical costumes and scenography, a touch of humor, and plenty of theatrical magic.
The production stars longtime company collaborators Rich Brown, Tatyana Kot, Celli Pitt, and Joshua Wynter, as well as Nancy McArthur and Todd Grace who mark their stage debut with Blessed Unrest. The production features costume design by Sydney Maresca (Hand to God on Broadway); sound design by Beth Lake (The Great Comet of 1812 and The Play That Goes Wrong on Broadway); scenic design by Sam Vawter; and lighting design by Jay Ryan.
Blessed Unrest is in its 17th season of generating original theatre in NYC and touring internationally. They create safe environments where dangerous things can happen, producing dynamic, disciplined, and exuberant new works for the stage with their diverse ensemble. They teach their approach to physical and devised theatre at universities across the country. Among their awards are four New York Innovative Theatre Awards (twelve nominations) including the Cino Fellowship for Sustained Excellence, the LPTW Lucille Lortel Award, and first prize at the 2016 Secondo Theatre Festival (Switzerland).The company's work has been praised for "magnetism and electricity" (TimeOut NY) and "physical ingenuity and visual artistry" (NYTheatre.com). blessedunrest.org
Jessica Burr (Director) is the founding Artistic Director of Blessed Unrest. She was honored with the 2011 Lucille Lortel Award from the League of Professional Theatre Women, in recognition of her work as a director and the body of work that Blessed Unrest has created under her leadership. She received the 2013 New York Innovative Theatre Award for Outstanding Choreography/ Movement and was a nominee for the same in 2015. She was a featured panelist in the 2016 Brave Summit, a forum of women leaders, experts, and scholars to drive cultural change. She has directed and choreographed numerous productions and workshops for Blessed Unrest including Body: Anatomies of Being (with the New Ohio Theatre), Lying (2015 IT Award nominee), Doruntine (First Prize, 2016 Secondo Festival, Switzerland) and The Sworn Virgin (both in NYC and on international tours, co-directed with Florent Mehmeti of Teatri Oda, Kosovo), A Christmas Carol, Eurydice's Dream (2013 IT Award winner), The Storm, ArtCamp SexyTime FootBall, A Midsummer Night's Dream, Measure for Measure, the 365Days/365Plays Festival. Burr has taught workshops and/or directed at Stephens College (MO), Eastern New Mexico University, Centenary College (NJ), Prishtina University (Kosovo), Texas Tech University, and at the Kennedy Center/American College Theatre Festival. She has degrees in theatre and dance from Bard College.
Matt Opatrny (Playwright) is the founding Managing Director of Blessed Unrest. With Blessed Unrest, Opatrny authored scripts for Body: Anatomies of Being, Burn Crave Hold (2008 NY Innovative Theatre Award for Outstanding Production, nominee for Outstanding Script), adapted Lying and A Christmas Carol, and co-wrote The Sworn Virgin, Doruntine (First Prize, 2016 Secondo Festival, Switzerland), Eurydice's Dream, ArtCamp SexyTime FootBall, and Certain Things Which I Will Call Sacred (The Lovers' Project). Opatrny has taught devised writing, physical theatre, and stage combat including at Stephens College(MO), Centenary College (NJ), Prishtina University (Kosovo), Texas Tech University, Kennedy Center/American College Theatre Festival, Greenwich Academy, and Columbia Preparatory. He has trained with the Siti Company and at Clemson University.
New Ohio Theatre is a two-time OBIE Award-winning theatre under the leadership of Robert Lyons, Artistic Director, and Marc Stuart Weitz, Producing Director. The New Ohio serves New York's most adventurous theatre audiences by developing and presenting bold work from today's vast independent theatre community. They believe the best of this community, the small artist-driven ensembles and the daring producing companies who operate without a permanent theatrical home, are actively expanding the boundaries of where American theatre is right now and where it's going. From their home in the West Village's historic Archive Building, the New Ohio provides a high-profile platform for downtown's most mature, ridiculous, engaged, irreverent, gut-wrenching, frivolous, sophisticated, foolish and profound theatrical endeavors. The theatre is accessible from the #1 train to Christopher St. or A, B, C, D, E, F or M train to West 4th St. For info, visit NewOhioTheatre.org.
Photo Credit: Maria Baranova