Review: APAC Presents A Lively and Long Overdue Revival of the 1974 Tony-Winning Musical, Raisin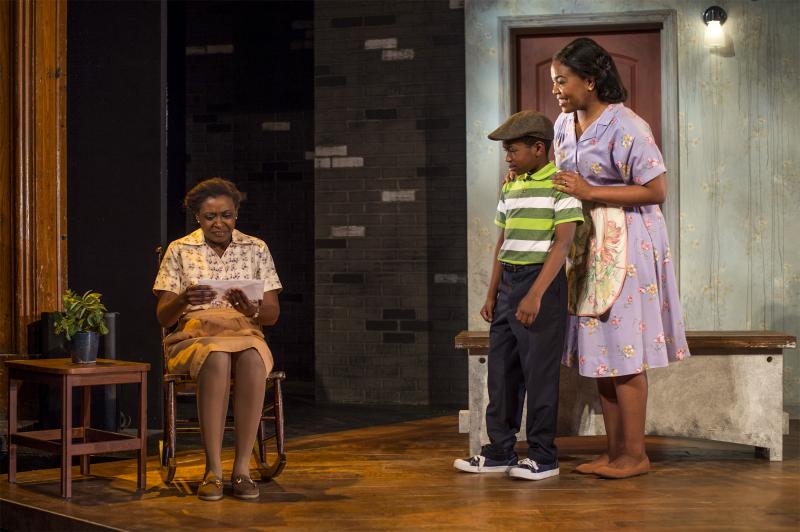 "There was a musical version of Lorraine Hansberry's Raisin in the Sun?": this was the universal response of friends who heard I was reviewing RAISIN. Even Dev Bondarin, the artistic director of APAC (Astoria Performing Arts Center) who directed the current production, only became aware of the show in college, during an historical survey of musical theater.
I will leave it to others to speculate why a musical nominated for nine Tony awards--including Best Original Score, Best Choreography, Best Book--and the winner of two statues (Best Musical and Best Leading Actress) has all but vanished from theatrical memory, or why the show hasn't been revived in New York since the Broadway run. But one hopes that Bondarin's production will restore
Raisin
to its rightful place in the musical theater canon--not because it takes up relevant social and political topics (which it does), but because it's a fine show with compelling music and lyrics by
Judd Woldin
and
Robert Brittan
, and sharp, elegant prose by Hansberry's ex-husband,
Robert Nemiroff
, and Charlotte Zalztberg. (The cast album also won a Grammy in 1975.)
The action begins in the living room of the Younger family's shabby apartment on Chicago's South Side. It's morning and Ruth (Brandi Knox) is preparing her son, Travis (charmingly played by Chinua P. Payne) for school. It's a typical domestic scene, with husband Walter (Warren Nolan, Jr.) revisiting what one can see is a well-worn topic: the investment of insurance money in a liquor store that will allow him to quit his mundane, low-paying job as chauffeur for a wealthy white man.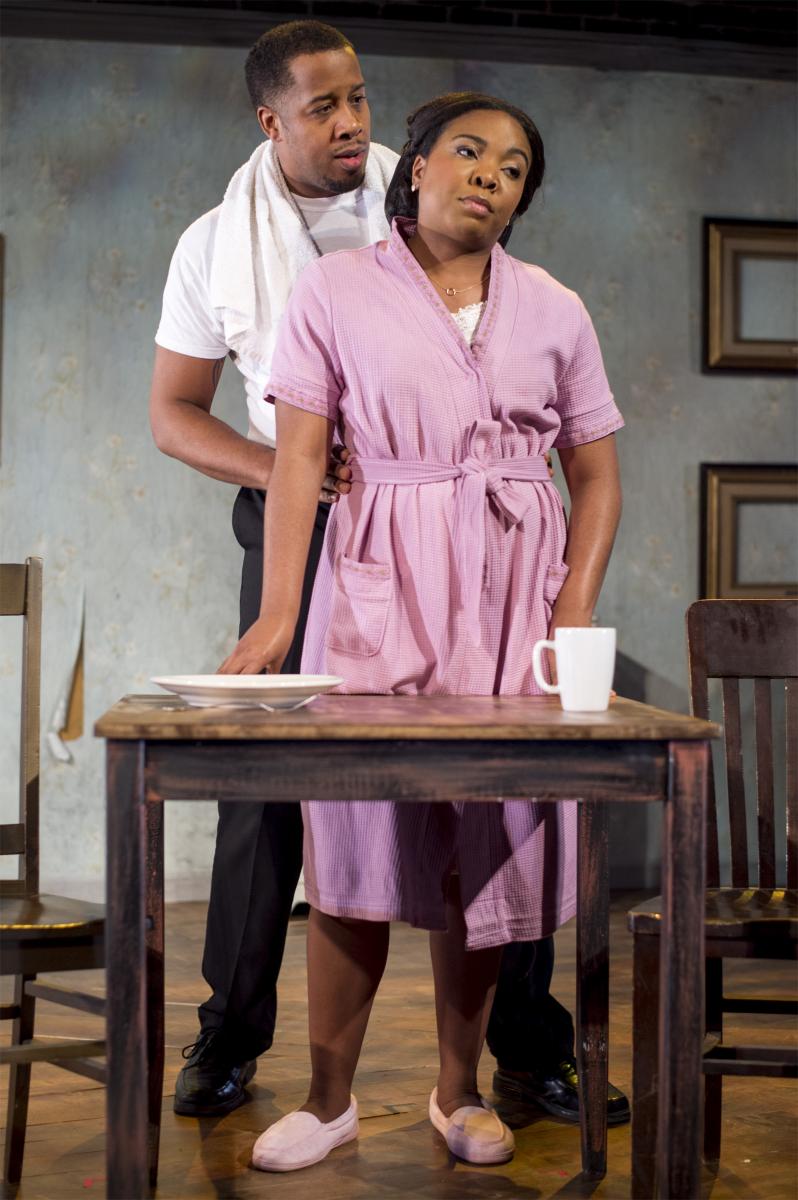 Ruth knows how Walter's God-fearing mother, Lena (Ebony Marshall-Walter), feels about the sale of alcohol, but this doesn't stop Walter from trying to charm her: "You look young this morning, baby. Real young." More bemused than angry, Ruth dismisses him and remains focused on the task at hand: breakfast. Exasperated, Walter exclaims, "The first thing a man ought to learn in life is not to make love to no colored woman at eight o'clock in the morning. You all is some eeevil people at eight o'clock in the morning!" The exchange sets up "Man Say," a sort of comic allegory about female practicality versus male idealism: "Man say, 'I got me a dream.' Woman say, 'Pass the cream!'"
The talk of dreams is of course deliberate. Langston Hughes' short lyric, "A Dream Deferred" is the epigraph to Hansberry's landmark play, which at 29 made her the youngest American playwright, the fifth woman, and the only African American ever to win the New York Drama Critics Circle Award for Best Play. It's no accident that the final song of Act I, "You Done Me Right," expresses Walter anger at his mother for doing him "right/outta [his] dreams" [emphasis mine]." It's a clever lyric by Robert Brittan, and a slight zeugma, a poetic device famously practiced by Alexander Pope, wherein the second half of a line undercuts the first. "You done me right" sounds positive, but Walter's point is precisely the opposite.

"Whose Little Angry Man," sung with the quiet strength and grace that defines Knox's performance throughout, captures the purity of a mother's love. She's the grownup in the room (when Lena isn't around). When Travis wants fifty cents for "Negro history week," Walter gives the boy money they don't have, and then hits Ruth up for coffee money.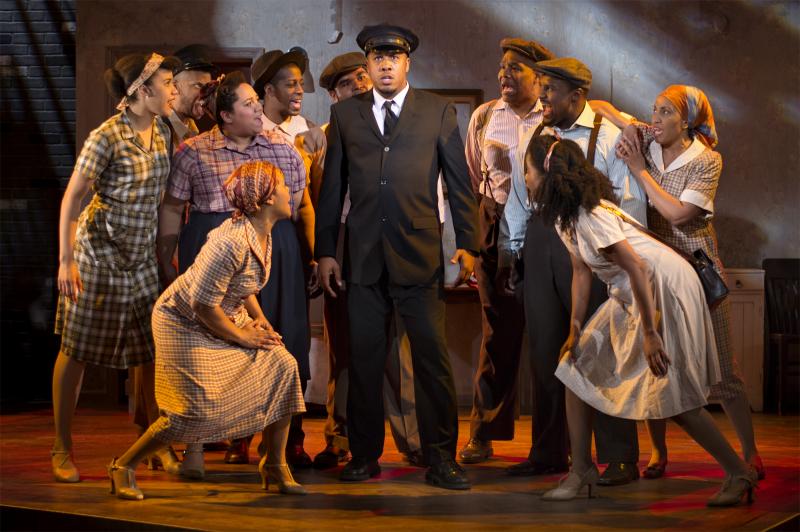 Like all the ensemble pieces, "Runnin' to Meet The Man" works well, partly because acoustics at Good Shepherd Methodist are not optimal and the keyboard is subpar. This is not the fault of musical director Darius Smith, whose arrangements are outstanding (and best appreciated when juxtaposed with the original cast album recordings).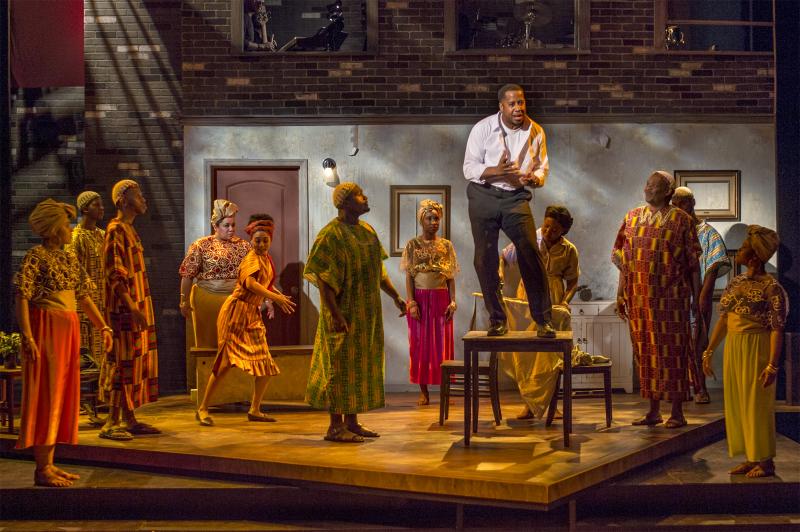 Perched above the impressive set designed by Lawrence E. Moten III (and nicely lit by Adam Honore), Smith leads a strong band. Jeannipher Pacheco does a nice job with costumes. A lot of vintage shopping probably went into finding the period dresess and the African garb looks rich and authentic. A low budget surely explains the keyboard, which compares unfavorably to those heard at other off-off and off-Broadway venues, but it's jarring for the first few numbers. After fifteen or twenty minutes, the powerhouse acting distracts you from the the tinny, thin piano, but given the venue's constraints, mics would have shown off the performers' voices.

"He Come Down This Morning," which opens Act 2, is joyful and boisterous. It sets up a terrific scene between Lena and church busybody, Mrs. Johnson (hilariously rendered by Marcie Henderson): "Mmm. Mmm. Mmm. If there are two things the colored race has got to survive: one is the Ku Klux Klan, and the other is Wilhelmina Othella Johnson."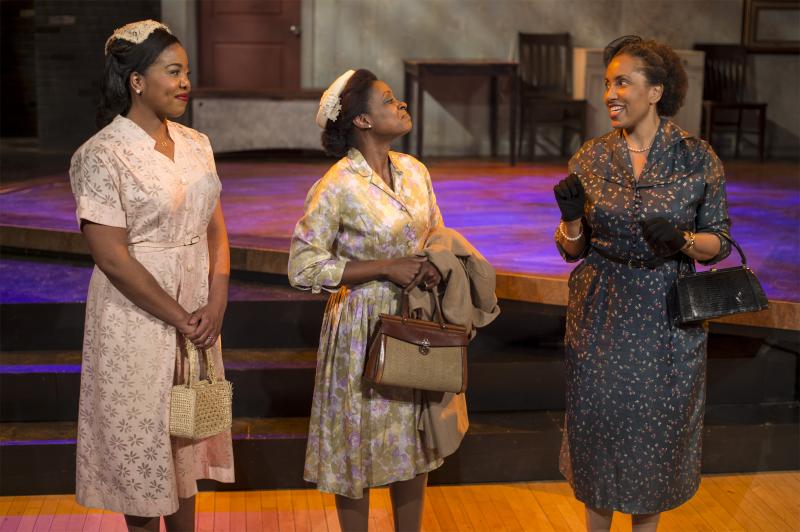 Sarita Amani Nash
gives a standout performance as Beneatha, Walter's ambitious, whip-smart (and smart ass) sister studying to become a doctor. Nash is perfectly cast, her astonishing physical beauty and femininity a welcome reminder that looks and brains can coexist. (Some contemporary feminists seem eager to argue that only brains matter. This nonsense and it's nice to see a powerful
and
conventionally beautiful female character. Hansberry herself was attractive and did not, at least not in RAISIN, take this unfortunate position.)
The most political member of the family, Beneatha, chides Walter and Ruth for being "old-fashioned Negroes" who slow dance to jazz standards: "Enough of this assimilationist junk! Let's put some real music on!" The "African Dance" number which follows is electrifying, and makes clear why Donald McKayle's choreography was nominated for a Tony. McKayle would, I think, be pleased with the quality of Tamrin Goldberg's choreography and the ensemble's dancing in the current production.
Walter and Ruth may tease Beneatha for her militancy, or at least, her inability to take a night off from fight for civil rights, but there is real solidarity amidst differing priorities and worldviews. And even Asagai, Beneatha's Nigerian boyfriend and medical school classmate (well-played by Cartreze Tucker) lovingly teases her about her zeal to connect with her African heritage.
Pan-Africanism is, like other serious themes, treated with a light touch. Beneatha knows that like many American blacks, Lena is not interested in Africa except as an object of missionary work (heathenism worries her mother than colonialism). She begs her mother not to embarrass her in front of Asagai. Lena does her best, but then conflates the CIA with CPAs.
Tragedy strikes when Walter's no good partner disappears with the money Lena has finally agreed to give him (on the theory that selling liquor is better than killing oneself with it). This But only then does the talk of Africa (and what it really means to "help people"and revive African culture) become urgent. The dramatic scene between Asagai and Beneatha, whose medical dream is now dead, culminates in Asagai's emphatic, "
I live the answer
!"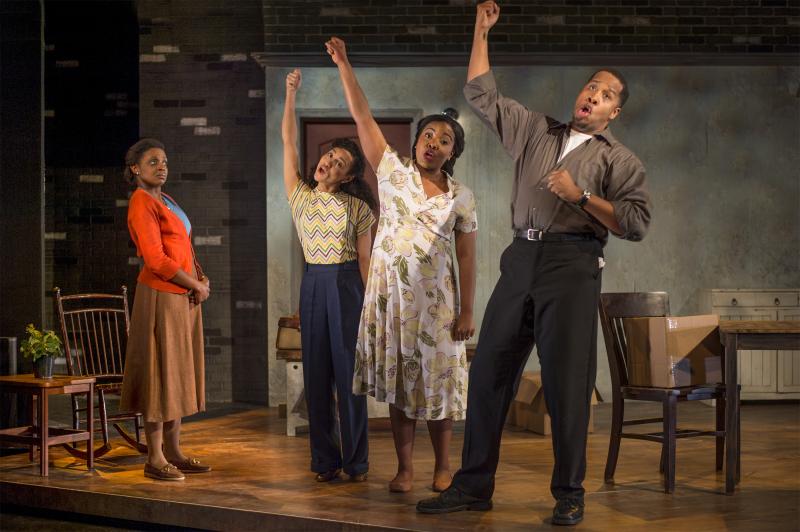 This modulated shift from light to heavy (but not too heavy) also marks RAISIN's treatment of racism. In the lacerating but upbeat "Not Anymore," Beneatha, Ruth, and Walter mock whites who claim they're no longer racist (specifically, whites who object to a black family in "their" neighborhood). The song rings truer than ever in Trump's America. But when Walter decides to accept the buyout, things explode, like the raisin in Hughes' poem.
Sweat, the Broadway play for which Lynn Nottage recently won a Pulitzer, naturally comes to mind. RAISIN, described by critics as "warm" and "sweet" during its Broadway run, seems tame, quaint even, compared to Nottage's brutal play about a failing factory and the race tensions that turn violent as a result. Sweat is an unqualified tragedy. Beneatha doesn't become a doctor and Walter does become a small businessman, but the family is stronger and more harmonious at the end of RAISIN than it was at the beginning. Beneatha will marry Asagai and the family will challenge the prevailing order in their new home.
From the perspective of this critic, who cried both happy and sad tears through much of RAISIN and felt emotionally bludgeoned by
Sweat
(and therefore numb), RAISIN achieves its end--the arousal of empathy and commitment to racial and social justice--more successfully than the much-celebrated Nottage play. RAISIN portrays a struggling but essentially functional black family. Lena won't tolerate Beneath's secularism (in the play's only act of violence, Lena slaps her daughter hard, when she denies the existence, or usefulness, of faith in God) and she despairs at Walter's obsession with money (rather than freedom, her generation's preoccupation). But we are touched by the love and tenderness these very different people display toward one another throughout these conflicts.
The ultimate message, powerfully delivered by the matriarch, is that we must love each other at our least lovable. "When you measure a man, measure him right," Lena tells her angry daughter. "Measure the Valleys," the show's finale, puts a stake in the heart. But that's only possible because the humor and poignancy of RAISIN gives us the courage to open our hearts and become vulnerable. Sweat, by contrast, beats us senseless. It's hard to fight for justice when you're comatose. The very existence of RAISIN, written by Hansberry's ex-husband and literary executor who devoted his life to sustaining her legacy, is a testament to faithful action inspired by love.