BWW Interview: Chris Harder Talks #BIGBRIGHTSTAR World Premiere
New York City burlesque performer, producer, and porn star Chris Harder is known for exhilarating audiences and leaving them breathless. This week, he performs in the world premiere of his debut solo-play #BIGBRIGHTSTAR. In this titillating, behind-the-scenes tell-all Harder promises to bare all as he takes audiences on a journey through his Barbie-filled childhood in South Dakota, career in pornography, and ascent to becoming the "raunchy Romeo of burlesque" and a regular Wasabassco fixture. To get the skinny on #BIGBRIGHTSTAR, we caught up with Harder for a chat.
---
What inspired you to create your debut solo-play #BIGBRIGHTSTAR?
Honestly, ever since I was a theater freshman I've always wanted to do a solo show. I was always a very "physical" actor - no pun intended. And, I love the idea of embodying a plethora of characters onstage. The works of Jane Wagner, Tim Miller, and John Leguizamo were huge influences on me in college, but the only issue was, at age 18, I really didn't have much of a story to tell. Yet!
Now, I feel like I have something to share and a specific point of view about sex and porn that doesn't get voiced very often. So many stories that have been told about porn either completely parody the sex workers or victimize them. "I got into porn because I'm an idiot," or "I got into porn, and it ruined my life" are essentially the main narratives.
I know every performer has his or her own story and opinions. But overall, my career in porn has been very positive and, if anything, brought more attention to my work as a burlesque performer and writer.
I also am personally fascinated by the idea of "stardom" and the many ways anyone can be a star in our culture now: porn, Instagram, YouTube, Facebook, Twitter, etc. To be "liked," admired, and most importantly wanted is a very real, human desire. And, that's also another through line of #BIGBRIGHTSTAR.
What was your writing process for the show like?
I've loved writing the show. Ask me the night before I open, though, and I may have another opinion. But, writing really is re-writing. From a pure process standpoint, I've been working on #BIGBRIGHTSTAR for a year now. It's gone through several major drafts and rewrites. Also, I have truly learned so much about writing and refining my point of view from my director David Drake. And, one of the challenging parts of creating #BIGBRIGHTSTAR is walking that line between how much needs to be said, or written, and what can be embodied on the stage.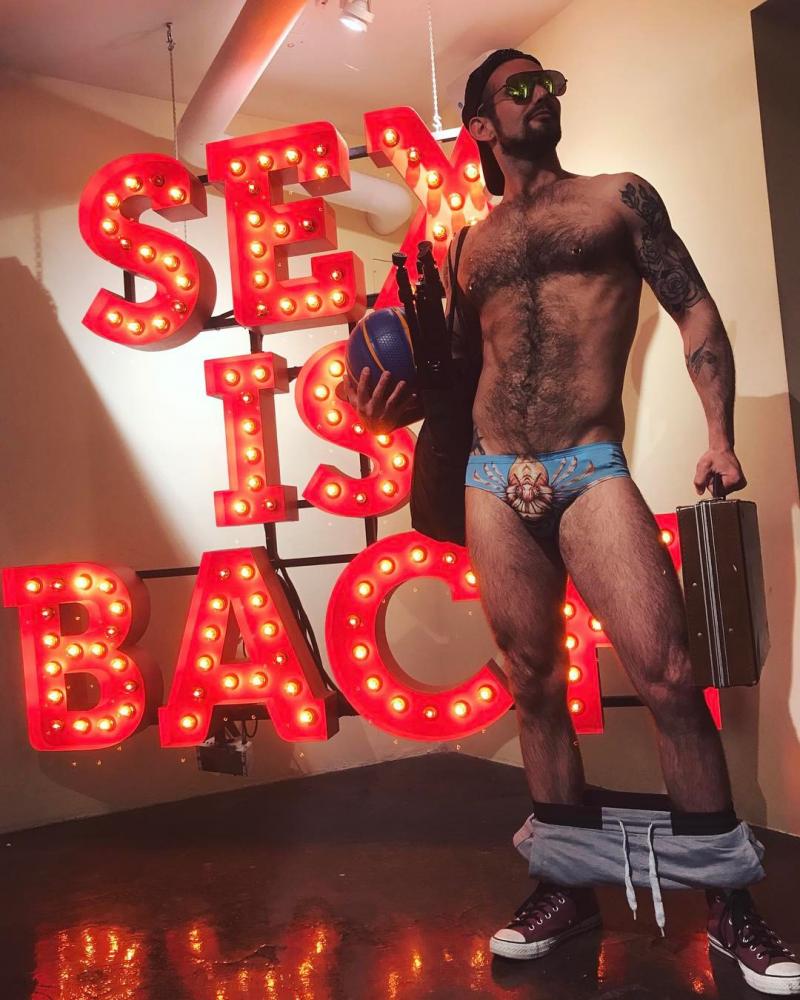 Did you reach out to any other solo-play writers/performers for advice along the way?
Absolutely, which is not to say that's an easy or enjoyable part of the process. In fact, showing works in progress to people you respect is, for me, probably the most uncomfortable, humbling aspect of creating new work. But, I'm lucky to be surrounded by so many smart, intuitive performers from a variety of backgrounds. Their thoughts and questions about what I wanted to get out on the stage have helped me so much. And, I also owe a big thank you to Abrons Art Center and The Pleasure Chest. Both have helped provide me with rehearsal space over the past year.
Gay porn and Barbie seem like unlikely bed fellows. Without giving too much away, how do these marry in your show?
I don't know what you're talking about. The road to gay porn is paved with Barbies!
Look, I'm a Midwest, sissy boy who grew up idolizing Barbie. To me, she was perfection. As kids, we're told we can be anything we want, and Barbie is living proof of that sentiment. Many times, though, the things we want as children take on different meanings and values once we reach adulthood. To see how I feel about Barbie now, you'll just have to see the show.
With your NASTY DREW AND THAT HARDER BOY series you showed audiences that you have a great sense of humor and a sharp wit. What kinds of humor and wit can audiences expect from #BIGBRIGHTSTAR?
People should expect to laugh. I want people to laugh. Even though I think #BIGBRIGHTSTAR ultimately has a sex positive tone, that doesn't mean I don't satirize myself, the people, and the experiences I've had along my journey to Barbie-porn stardom.
Art, in general, often challenges audiences. Is there any fear that the socially taboo subjects of sex and pornography may push the envelope too far for your audiences?
I think even people who say they have no interest in porn are actually still interested in it, or, in the very least, want to know what it's like. Cue a volley of comments from people saying they hate porn!
We are sexual beings and, again, I want to put a show on the stage that says these are and were my sexual experiences. Now that I've had them, I'm still a fully functioning human being, and here's some things I've learned about myself along the way.
I hope people can take some personal meaning from my personal story about porn. That's ideally one of the reasons for and outcomes of creating and sharing solo work. We think we're seeing a show about one person and then realize that we can identify with at least some aspect of his or her life. You see yourself in someone else. That's not supposed to be a pun, but it actually kind of works.
Obie Award-winning performer/playwright David Drake is directing the show. What has it been like working with this artist to create #BIGBRIGHTSTAR?
Wonderful. I love working with David. I honestly felt, from the first phone conversation I had with him about "this new play I'm developing," that we had a similar sense of humor. And, we also both love the same brand of granola bars, so it's meant to be! But, ultimately, David has pushed and encouraged me in ways as a writer and actor that I wouldn't be able to do on my own.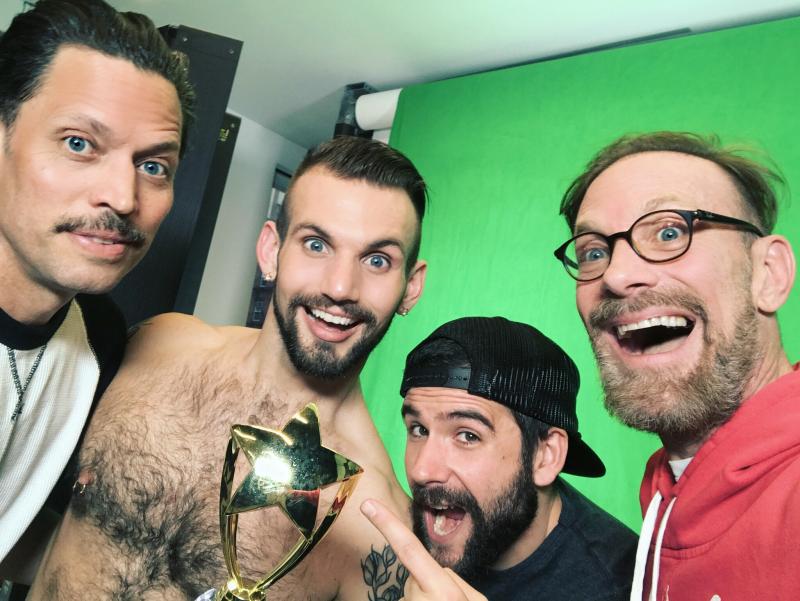 Following this Off-Off-Broadway run at the Laurie Beechman Theatre, do you have future plans for #BIGBRIGHTSTAR?
I want to tour #BIGBRIGHTSTAR. I would also love to find it a home at an Off-Broadway theater here in NYC. Any takers? Hello?
What advice would you offer to anyone else interested in creating their own solo-play?
Just start writing it. There is actually never an ideal time to do something creative, especially in NYC. Give yourself a deadline and just understand that you will re-write it and then probably re-write it again. And, that's ok.
You can catch the debut of Harder's #BIGBRIGHTSTAR at The Laurie Beechman Theater inside West Bank Cafe (407 West 42nd Street). Performances are Saturday, May 27 at 7:00 PM and on Thursdays at 7:00 PM from June 1 through 15. Tickets are $22 plus a $20 food/drink minimum. To purchase tickets, call (212) 352-3101 or click here.
Related Articles View More Off-Off-Broadway

Stories

Shows