Articulate Theatre Explores Artist's Activism With THE ART OF PROTEST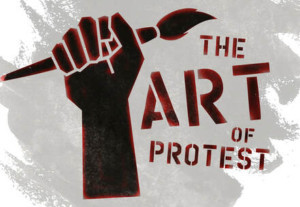 Art is more than imitating life - as the expression goes - it facilities; it communicates, it combats it. Articulate Theatre Company explores the role of the artist's role in activism with the Art of Protest.
Articulating The Arts: The Art of Protest: April 3 - 6 (April 3 - 5 @ 8pm; April 6 @ 7pm) at TADA Theatre 15 W. 28th St, NYC, 2nd Floor. Tkts: http://www.articulatetheatre.com/ata-5-the-art-of-protest.html
Visual artists - as an ad or a picket sign - create images that stick in our collective minds and allow their visual to visualize change. Articulate will team playwrights with visual artists to create Articulating the Arts, Articulate Theatre Company's signature benefit event examining other art forms through the lens of theatre. It brings together the ATC ensemble and guest artists with unique works of art to use as a springboard and source of inspiration for new theatre works. For past sessions, we've responded to classic paintings, folk music, children's folklore, and more.
Today's world has challenged us to look at how artists impact change in the world through protest images, as our playwrights create new theatre works in response to the art created to invoke change in our society and beyond: The Art of Protest!
Participating Playwrights: J. B. Alexander, Jaisey Bates, Thomas C. Dunn, Jeff Dunne, Elizabeth Gordon, Liv Matthews, Robin Rice, Scott C. Sickles, Judd Lear Silverman, and Bara Swain
Participating Directors: Janet Bentley, Tekla Gaughan, Michael Hagins, Katrin Hilbe, Brock Hill, Joan Kane, Brian Gillespie, Cat Parker, and Catherine Vargas
Participating Actors: Sarah Babb,* Grant Bowen,* David Palmer Brown,* J. Dolan Byrnes,* Laurence Cantor,* Joanne Dorian,* Arianna Ennis, Brad Fryman,* Michael Gnat,* Kylie Kelder, David Lamberton,* Sarah Okada, Denise Pence,* Eric Percival,* Briana Sakamoto,* Sharon Talbot,* Valerie Terranova,* Brittney Venable, and William Franke*
Participating Designer: George Allison (Scenic Design); Janet Bentley (Sound Design); Morry Campbell (Sound Consultant)
Articulate Theatre Company is committed to challenging and connecting audiences and artists with clearly structured work that is intelligent, thought-provoking, visually striking and timeless.
Articulate produces "mythical" theatre that is based around the three definitions of 'articulate:' clarity, structure and connectivity: challenging and connecting audiences and artists with clearly structured work that is intelligent, thought-provoking and visually striking.