Latest News on Eric Percival
Eric Percival News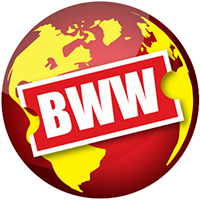 American Renaissance Theater Company to Present Double Header of FASTENED TO THE MOON and LOVE, SEX & REAL ESTATE
by Stephi Wild - Aug 23, 2022
American Renaissance Theater Company kicks off their 2022-23 season with two new plays presented in rotation, Fastened to The Moon by Linda Kampley directed by Kathleen Swan and Love, Sex and Real Estate by Bill Cosgriff directed by John D. McNally. Performances begin at the Chain Theater (312 W. 36th Street 4th Floor) starting Thursday September 15th and run thru Saturday October 1st.
Urban Stages Announces THE HEROES AND VILLAINS MONOLOGUES
by Chloe Rabinowitz - Jan 26, 2021
Urban Stages has announced a February virtual production, THE HEROES AND VILLAINS MONOLOGUES, streaming February 5- 12, 2021 at urbanstages.org. Creative Consultant Bara Swain serves as the project's producer with Kim T. Sharp as the production manager. 
Urban Stages to Present THE TOURIST TRAP PLAYS - Starring Disnie Sebastien
by Chloe Rabinowitz - Jan 21, 2020
Urban Stages (Frances Hill, Founding Artistic Director) will begin 2020 with The Tourist Trap plays. Seven playwrights have been challenged to write a brand spanking new short play using a tourist trap (Mount Rushmore, Hollywood Sign, etc) as a springboard. This will be the ninth installment of short play premieres under Urban Stages New Pages' facilitated by Bara Swain. The program provides increased visibility and networking opportunities to playwrights at all career levels as well as free public programming.
Articulate Theatre Explores Artist's Activism With THE ART OF PROTEST
by Julie Musbach - Mar 15, 2019
Art is more than imitating life - as the expression goes - it facilities; it communicates, it combats it. Articulate Theatre Company explores the role of the artist's role in activism with the Art of Protest.
Planet Connections Theatre Festivity Annouces Full Lineup for 2016
by Louisa Brady - Jun 11, 2016
Planet Connections Theatre Festivity, the country's premier socially-conscious, eco-friendly arts festival, is proud to announce its eighth season of plays, musicals & staged readings, with all shows taking place at The Paradise Factory, 64 East 4th St, between 2nd Avenue & Bowery.
WinterWorks 2016: A Festival of New One Act Plays Begins in January
by Tyler Peterson - Dec 10, 2015
American Renaissance Theater Company will present WinterWorks 2016: A Festival of New One Act Plays, three programs of intimate new plays in The Shop @Cap 21 from January 5 thru 18. The Festival offers eleven works running in rep that, each in its own way, deal with life's beginnings and endings and how they transform us.
Directors, Cast Announced for NYM's Season Launch with Neil LaBute
by Tyler Peterson - Sep 21, 2015
NYMadness Season Launch, RACIAL MADNESS with Featured Guest Neil LaBute (The Way We Get By, Bash: Latter-Day Plays, Outer Critics Circle Award for Fat Pig, Independent Spirit Award for In the Company of Men, Reasons to be Pretty, Reason to be Happy, American Academy Arts and Letters.)
Articulate Theatre Brings ARTICULATING THE ARTS: OFF THE WALL to TADA! This weekend
by BWW News Desk - Sep 13, 2014
Articulate Theatre and Artistic Director Cat Parker, are pleased to announce their two-night-only benefit event ARTICULATING THE ARTS: OFF THE WALL, taking some of the most famous classic paintings 'off the wall' on to the stage. Introducing new plays by James A. Biederman (The Whitest Kids U'Know, The Jamie Kennedy Experiment, The Kids in the Hall), Tom Dulack (Breaking Legs), Allan Knee (The Man Who Was Peter Pan, Little Women, Late Night Comic), Russell Lees (Nixon's Nixon), Robin Rice Lichtig, William LoCasto, Jamie Neumann, Eric Percival, Daniel Talbott (Afghanistan, Zimbabwe, America, Kuwait) and Robert Verlaque (Icarus Sings).