Tekla Gaughan News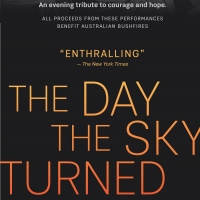 NY Theatre Artists Rally In Effort For Australian Bush Fire Relief With Benefit Performance Of THE DAY THE SKY TURNED
by Stephi Wild - Jan 17, 2020
New York theater producers and artists have come together in support of relief and recovery from the bushfires still sweeping across Australia. The 'CODE RED' campaign is a larger fundraising effort spearheaded by New York's theatre community that will be launched with two performances of the critically acclaimed play THE DAY THE SKY TURNED at THE TANK in New York City. Tickets are available at TheTankNYC.org.
Articulate Theatre Company's presents DOCTOR FRANKENSTEIN this November
by Rebecca Russo - Oct 31, 2019
Articulate Theatre Company's production of Doctor Frankenstein gears up for a limited run starting November 8. Articulate is thrilled to have George Allison's new play, 'Doctor Frankenstein,' inaugurate their residency as part of the historic West End Theatre's Consortium located on the second floor of the historic Church of St. Paul and St. Andrew (263 W 86th St, New York City). 'The stunning architecture is a perfect location for Doctor Frankenstein,' says Brittney Venable, Articulate's managing director.
Articulate Theatre Explores Artist's Activism With THE ART OF PROTEST
by Julie Musbach - Mar 15, 2019
Art is more than imitating life - as the expression goes - it facilities; it communicates, it combats it. Articulate Theatre Company explores the role of the artist's role in activism with the Art of Protest.
Cain Park Opens 2017 Season with ROCK OF AGES
by A.A. Cristi - May 31, 2017
The City of Cleveland Heights announces the regional premiere of ROCK OF AGES will be produced in the Alma Theater June 8-25 as part of Cain Park?s 2017 season. Newly appointed Cain Park Theater Artistic Director Joanna May Hunkins will direct, with music direction by Jordan Cooper. ROCK OF AGES is a Tony-nominated Broadway musical that features a book by Chris D'Arienzo, arrangements and orchestrations by Ethan Popp and the classic rock hits of bands including Bon Jovi, Styx, Journey, Whitesnake, Night Ranger, REO Speedwagon, Pat Benatar, Twisted Sister, and others.