Abrons Arts Center presents Eliza Bent's ALOHA, ALOHA, OR WHEN I WAS QUEEN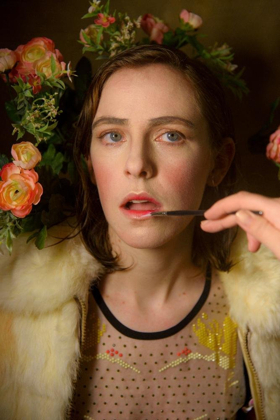 Abrons Arts Center is pleased to present the world premiere of Aloha, Aloha, or When I Was Queen (April 4-21), a solo play written and performed by Eliza Bent and directed by Knud Adams. In 1996, a young Eliza Bent, along with a friend, created, directed and starred in an amateur historical film for a school project. In it, Bent portrayed Hawaii's last reigning monarch, Queen Liliuokalani. 22 years later, Bent uses her home movie as a jumping off point to lead audiences on a journey that grapples with personal history, legacy, and cultural appropriation. In the tradition of Spalding Gray, Fran Lebowitz, and David Sedaris, Bent's humorous cringe-inducing stories chart a young Bostonian's education in race and appropriation.

Since moving to New York and graduating from Mac Wellman's celebrated playwriting program at Brooklyn College in 2014, Bent has steadily built a dual career as both a writer and actress. Recently, Atlantic Theater Company presented a staged reading of her play On a Clear Day I Can See to Elba and this January, Bent was a featured performer in Anne Washburn's Little Bunny Foo Foo at Actors Theatre of Louisville.

Aloha, Aloha, or When I Was Queen fuses all of Bent's singular talents and is saturated with her unique blend of humor, wit, and insight. "Both as a performance artist and a wry confessor, Bent makes an impression," declared Jenna Scherer in Time Out New York. "She's this generation's answer to Amy Sedaris: frank, weird and immensely likable." Memorable past works include Toilet Fire, The Hotel Colors, and Blue Wizard / Black Wizard, a collaboration with Tony-nominated composer Dave Malloy that will be published by Samuel French.

Aloha, Aloha, or When I Was Queen marks Bent's fourth collaboration with Adams, who recently directed Torrey Townsend's The Workshop, a critic's pick from The New York Times. The creative team also includes set installation by textile artist by Elizabeth Chabot, sound and original music by Jerome Ellis, lighting by Kate McGee and makeup and styling by Naomi Miyoko Raddatz.

Performances of Aloha, Aloha, or When I Was Queen will take place April 4-21 (see above schedule) at Abrons Arts Center, located at 466 Grant Street in Manhattan. Critics are welcome as of Friday, April 6 which also serves as the official opening. Tickets, priced at $20, can be purchased by visiting abronsartscenter.org or by calling 212-352-3101.

About the Artists

Kund Adams (director) is a director of new and experimental plays. Previously with Eliza Bent, he directed On a Clear Day I Can See to Elba at The New Ohio and Asleep at the Wheel at Brooklyn College. Other recent productions: Asshole (Justin Kuritzkes - JACK), The Workshop (Torrey Townsend - Soft Focus - New York Times Critics' Pick), Every Angel is Brutal (Julia Jarcho - Clubbed Thumb), Tom & Eliza (Celine Song - JACK), Snore (Max Posner - Juilliard), An Intimate Evening with Typhoid Mary (Carl Holder - The New Ohio), That Poor Girl and How He Killed Her (Jen Silverman - U. of Rochester), Krazytown (Jenny Schwartz - NYU), Body Awareness (Annie Baker - Chester), and Salome of the Moon (Nick Jones - Waterwell). Adams trained by assisting some of the nation's foremost theater artists: André Gregory, Elizabeth LeCompte, Richard Foreman, Sam Gold, Sarah Benson, and Rachel Chavkin. He has developed new work with dozens of theaters throughout NYC and regionally, including Ars Nova, The Atlantic, The Bushwick Starr, Clubbed Thumb, NYTW, Playwrights Horizons, Playwrights Realm, The Public, P73, and The New Group. Affiliations: Drama League Fall Fellow, Soho Rep Writer/Director Lab, Playwrights Horizons Directing Resident. knudadams.com

Eliza Bent is a writer and performer. Bent's plays have been developed, workshopped, and produced at Abrons Arts Center, JACK, the Bushwick Starr, the Atlantic, and the New Ohio. Awards: 2014 Payne Award for Outstanding Theatrical Event (The Beyonce), Time Out New York Critic's Pick for Toilet Fire, LMCC Process grant for Bonnie's Last Flight. Residencies: MacDowell Colony, SPACE on Ryder Farm "Working Farm," Target Margin Institute, New Georges Audrey residency, artist-in-residence at Abingdon Theatre, Casa Zia Lina. TV: "Arthur." Bent is a former senior editor at American Theatre magazine, a performer with the Obie-award winning group Half Straddle, a frequent collaborator with Knud Adams, and is an adjunct lecturer in creative writing at Brooklyn College where she received her MFA in playwriting. elizabent.wordpress.com

Elizabeth Chabot (set installation) is a self-taught weaver and fiber artist. She makes hand-woven textiles, wall hangings, and large-scale art pieces focusing on an intermixture of textures and the incorporation of found and repurposed materials. Her work has been exhibited nationally in Ohio, North Carolina, New York, and elsewhere. Her most recent project was Penelope's Room, a woven installation built inside the historic bank vault at 21c Museum Hotel in Durham, North Carolina. elizabeth-chabot.com

Jerome Ellis (sound and original music) is a composer, improviser, and theater artist. He creates and performs concert, ambient, and electronic music, and is one half of the live music and storytelling duo James and Jerome. As a composer, he was awarded a 2015 Fulbright Fellowship to research traditional samba performance and write new music in Salvador, Brazil. Recent projects include MUSEUM: Lecture at The Brick in NYC with James Harrison Monaco (directed by Tony-nominee Rachel Chavkin and Annie Tippe) and High Winds with Sylvan Oswald in NYC and LA (directed by Ellie Heyman). He is also an apprentice piano technician with Floating Piano Factory, as well as a translator from Portuguese. jeromeellis.com

Kate McGee (lights) is a trans*everything lighting designer. Recent work includes: Emily's D+ Evolution World Tour Esperanza Spalding, A Hunger Artist (Sinking Ship Productions), 50/50 old school animation (Under the Radar, The Public Theater), Sound House (New Georges), My Lingerie Play (Rattlestick Playwright's Theater),The Mechanics of Love (To By For productions), Kidnap Road (La Mama), Carnival of the Animals and The Bremen Town Band (The Miller Theater) The Hour of the Star adapted and directed by Dara Malina (Columbia Stages), Early Plays (New York City Players/Wooster Group, Henry Hewes Award Nomination, with Aaron Deyo). kateisalightingdesigner.com

Naomi Miyoko Raddatz (makeup and styling) is a makeup artist for film, television, theater, print, and private clients. She began her career as a costume designer and became interested in makeup as a way to bring an entire character to life. She has toured throughout the United States and internationally to Singapore, Belgium, and Canada, as lead makeup artists, wig and hair stylist, and wardrobe supervisor. She was born and raised in Hollywood, California, and is currently based in New York City. naominaominaomi.com

About Abrons Arts Center

The Abrons Arts Center is the OBIE Award-winning performing and visual arts program of Henry Street Settlement. Abrons supports the creation and presentation of innovative, multi-disciplinary work; cultivates artists in all stages of their practice with educational programs, mentorships, residencies and commissions; and serves as an intersection of engagement for local, national and international audiences and arts-workers.

Each year the Abrons offers over 250 performances, 12 gallery exhibitions and 30 residencies for performing and studio artists, and 100 different classes in dance, music, theater, and visual art. The Abrons also provides New York City public schools with teaching artists, introducing more than 3,000 students to the arts. For more information: www.abronsartscenter.org.
Photo Eliza Bent
Photo by Knud Adams
Make up: Naomi Miyoko Raddatz