ABOMINABLE FANCY Comes to New York Theater Festival's Winterfest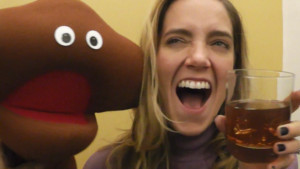 "Abominable Fancy," a play by Stephen Bracco, and directed by Heather Lanza, comes to the Hudson Guild Theater in Manhattan's Chelsea as part the New York Theater Festival on January 2, January 5 and January 6.
Fancy's a trust-fund drunk, living in her Manhattan penthouse loft. It's her 30th birthday, and this year, like every year, her birthday wish comes true.
Last year she turned her therapist into a human liver, for when hers fails. This birthday, Fancy uses her magic to move her father's identity into her fiancé's body, and her fiancé's identity into her father's body.
Meanwhile, her therapist liver battles the son of Satan for Fancy's soul.
Dr. Joey, aka the Liver, is brought to hilarious puppet life by master puppeteer Chris Palmieri. Watch him match wits with Ali Bill as the bourbon-loving Fancy. Also along for the ride are Fancy's father Ray D'Fisi, international artist (Steve Schroko), Haven the snobby blogger (Kurt Bantilan), Chelsea gallerist Marie (Erin Richardson), a half-goat (David Ventura) and an angel from Billionaire's Row, portrayed by Madelyn Murphy. Just your average New York City neighborhood, on the rocks.
Come be blown away, won't you?
Directed by Heather Lanza. Sound design by Victoria Preis, and costumes designed by Deanna Frieman.
Tickets: https://www.brownpapertickets.com/event/3740037