A MAN FOR ALL SEASONS Opens at Heights Players in Brooklyn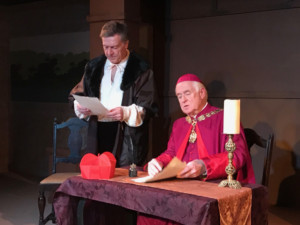 The Heights Players of Brooklyn open their latest production tonight with "A Man For All Seasons" by Robert Bolt, Directed by Elizabeth Bove. The historical drama marks their fourth production of this, their 62nd season. The play will be performed at the John Bourne Theatre.
The play features a large ensemble that includes David Shakopi (Thomas More), Brian Kelly (Thomas Cromwell), Hugh Heckman (Duke of Norfolk) Steven Bergquist (The Common Man) Shelton Tripp (Richard Rich), Kendra Culley (Margaret Roper), Margaret Sullivan (Alice More), Bill McAndrews (Cardinal Wolsey), Nicholas Hudson (King Henry VIII), Ray Wagner (Chapuys), Stephen deFluiter (Cranmer), Christopher Young (William Roper), Doris Martir and Maureen Vidal (sharing the role of The Woman)
"When statesmen forsake their own private conscience for the sake of their public duties, they lead their country by a short route to chaos." Thomas More's words in Robert Bolt's A Man For All Seasons were spoken nearly 500 years ago. So where are we today?" The question gives relevance to the story.
In the play, Sir Thomas More, nobleman, lawyer, and humanist, is a long-time friend and favorite of King Henry VIII. Henry appoints him Lord Chancellor in 1529. When the Pope refuses to grant Henry a divorce from his Queen, Catherine of Aragon, so that he can marry Anne Boleyn, Henry breaks with Rome and declares himself head of the Church of England. More, a staunch and faithful Catholic, resigns as Chancellor. In 1534 Parliament passes a bill requiring all subjects to take an oath acknowledging the King as supreme head of the Church in England. More refuses to sign, is imprisoned, found guilty of treason and is finally executed in 1535. Bolt's play won the Tony Award for Best Play and the 1966 Oscar for Best Picture.
Directed by Elizabeth Bove, Asst. Director, Jessica Baird, Stage Manager is Marialana Ardolino. Lighting: Alan Sporing, Sound Design: Cameron McIntosh, Scenic Design: John Dillon, Set Building: Bill Wood, Poster Design: Robert Wachewski, Program Design: Corrine Contrino, House Manager & Reservations: Corrine Contrino.
The play opens tonight, December 1st at 8:00pm and runs until December 17th. Fridays and Saturdays at 8:00 p.m., Sunday matinees at 2:00 p.m. Tickets at BrownPaperTickets.com.
The Heights Players Theatre Company and the John Bourne Theatre are located in Brooklyn Heights at 26 Willow Place, Between State and Joralemon Streets. Directions and more information can be found at www.HeightsPlayers.org.
Related Articles View More Off-Off-Broadway

Stories

Shows
More Hot Stories For You