Schimmel Center To Present Anna Deavere Smith In Notes From The Field, 6/1 & Today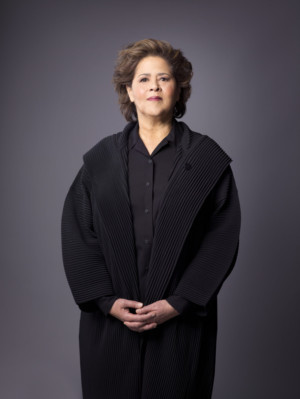 Schimmel Center will present Tony and Pulitzer Prize nominee Anna Deavere Smith's Obie Award-winning solo performance, Notes From the Field, for one weekend only on Friday, June 1 at 7:30 p.m. and Saturday, June 2 at 2:00 p.m. and 7:30 p.m. in preparation for a two week run at the Royal Court in London. The production is directed by Leonard Foglia and features original music composed and performed by bassist Marcus Shelby who joins Ms. Smith on stage.
Through Deavere Smith's signature documentary style of theater which she has used to explore issues of American life for over three decades, Notes From the Field shines a light on a lost generation of American youth who are caught in cycles of poverty and incarceration. Notes From the Field is composed of verbatim excerpts culled from over 250 interviews conducted by Ms. Smith in five geographic areas including Northern California, Philadelphia, Baltimore, South Carolina and Finland. Those interviewed include principals, teachers, youth, correctional officers, judges, social scientists, biological scientists, activists and others who have a direct tie to what has come to be known as the "school to prison pipeline". She uses her signature style of performance, in which she portrays a wide variety of individuals in a one person format.
Notes From the Field was developed as part of The Anna Deavere Smith Pipeline Project, for which she began research in 2013. She was inspired to write the play after having met philanthropists who had been funding ways to tackle the school to prison pipeline.
Notes From the Field premiered at American Repertory Theatre, was last seen at Second Stage Theatre, and was filmed in front of a live audience for HBO.

Schimmel Center Presents Notes From the Field
Friday, June 1, 2018 at 7:30 p.m.
Saturday, June 2,2018 at 2:00 p.m.
Saturday, June 2,2018 at 7:30 p.m.
Created, written and performed by Anna Deavere Smith
Music composed and performed by Marcus Shelby
Directed by Leonard Foglia
Produced in Partnership with ArKtype / Thomas O. Kriegsmann
Part of The Anna Deavere Smith Pipeline Project, Produced by Anna Deavere Smith
Scenic Design by
Riccardo Hernandez
Costume Design by
Ann Hould-Ward
Lighting Design by Julie Fisher and
Peggy Eisenhauer
Sound Design by
Leon Rothenberg
Projection Design by
Elaine McCarthy
Dialect Coach
Amy Stoller
Movement Coach Michael
Leon Thomas
Dramaturg
Alisa Solomon
Tickets, starting at $29, are available at www.schimmelcenter.org, by calling 212-346-1715 or by visiting the box office located at 3 Spruce Street. The Schimmel Center box office is open Tuesdays through Saturday from Noon to 5:00 p.m. and three hours prior to performances.
Notes from the Field was originally produced at the American Repertory Theater
Diane Paulus
, Artistic Director - Diane Quinn, Executive Director - Diane Borger, Producer New York Premiere Produced by
Second Stage
Theatre, New York, 2016
Carole Rothman
, Artistic Director -
Casey Reitz
, Executive Director This work developed with support from The Ground Floor: Berkeley Rep's Center for the Creation and Development of New Work and produced in partnership with Berkeley Repertory Theater.
About Schimmel Center
Schimmel Center, located in the heart of downtown Manhattan at Pace University, presents a unique and diverse array of internationally acclaimed artists, encompassing genres including dance, cabaret, music, comedy, world music, and family programming, in an intimate setting with affordable ticket prices. For more information, visit SchimmelCenter.org.
Location Information
Schimmel Center is accessible via the A, C, 2, 3, 4, 5, J, or Z to Fulton Street (William Street Exit), 4, 5, 6 to Brooklyn Bridge (Brooklyn Bridge Exit), and R to City Hall (Broadway Exit); via the Path Train to the World Trade Center stop; and via bus by the M1, M9, M15, M22, M102, B51 to Brooklyn Bridge/City Hall Stop or the M6 to City Hall/Broadway.
About Anna Deveare Smith
Playwright, actor, and educator Anna Deavere Smith uses her singular brand of theatre to explore issues of community, character, and diversity in America. The MacArthur Foundation honored Smith with the John D. and Catherine T. MacArthur "Genius" Fellowship for creating "a new form of theatre-a blend of theatrical art, social commentary, journalism, and intimate reverie" in 1996, and she received the National Humanities Medal from President Obama in 2012. In 2015, Smith was named the Jefferson Lecturer, the nation's highest honor in the humanities. She also is the recipient of the prestigious Dorothy and Lillian Gish Prize, a Guggenheim Fellowship, and most recently, the 2017 Ridenhour Courage Prize and the George Polk Career Award for authentic journalism.
Best known for crafting more than 15 one-woman shows, based on hundreds of conversations, Smith turns her interviews into scripts, transforming herself into an astonishing number of characters. Smith wrote and performed several well-received plays as part of the On the Road project. Her breakthrough work was Fires in the Mirror: Crown Heights, Brooklyn and Other Identities (1992). Smith crafted the play from her own in-depth interviews, and she performed all 29 roles, moving seamlessly from one character to the next. The show received high critical praise and was a finalist for the Pulitzer Prize. In 1993 her next offering Smith's Notes from the Field, winner of an Obie Award and the 2017 Nortel Award for Outstanding Solo Show, looks at the School-to-Prison Pipeline and injustice and inequality in low-income communities. Time magazine named it one of the Top 10 Plays of the year. In his New York Times review of Notes from the Field,
Ben Brantley
called Smith "the American theater's most dynamic and sophisticated oral historian." The film adaptation of Notes from the Field will be available through HBO in February 2018 with executive production by
Gary Goetzman
and Smith. In 2000 Smith joined the faculty at the Tisch School of the Arts at New York University where she founded the Institute on the Arts and Civic Dialogue, originally launched at Harvard University. In 2008 she premiered a one-woman play,
Let Me Down Easy, which explored the resiliency and vulnerability of the human body. Smith portrayed more than 20 characters, who spoke out about current events such as genocide in Rwanda, steroid use among athletes, AIDS in Africa, and the U.S. healthcare system.,
Twilight: Los Angeles, 1992, was a similarly crafted exploration of the violence that erupted after the acquittal of four white police officers charged in the videotaped beating of Rodney King, an African American. In 2008 she premiered a one-woman play, Let Me Down Easy, which explored the resiliency and vulnerability of the human body. Smith portrayed more than 20 characters, who spoke out about current events such as genocide in Rwanda, steroid use among athletes, AIDS in Africa, and the U.S. healthcare system.The show aired on PBS' Great Performances.
Currently, she appears as Rainbow's mother Alicia on ABC's hit series Black-ish. She is probably most recognizable in popular culture as the hospital administrator on Showtime's Nurse Jackie and the National Security Advisor on NBC's The West Wing, in addition to her roles on All My Children. Her films include The American President, Rachel Getting Married, The Manchurian Candidate and Philadelphia. During the 2017-2018 television season, she starred in the ABC legal drama For the People.
Her books includeTalk to Me: Travels in Media and Politics (2000) and Letters to a Young Artist (2006). She has been an Artist-in-Residence at MTV Networks, the Ford Foundation, and Grace Cathedral in San Francisco. Smith was appointed to Bloomberg Philanthropies' 2017 U.S. Mayors Challenge Committee, a nationwide competition urging innovative solutions for the toughest issues confronting U.S. cities. She holds honorary degrees from Yale, the University of Pennsylvania, and Julliard, among others. About
Marcus Shelby
Marcus Anthony Shelby is a bandleader, composer, arranger, bassist, educator, and activist who currently lives in San Francisco, California. Over the past 25 years he has built a diverse biography as a composer. His work and music has focused on sharing the history, present, and future of African American lives, on social movements in the United States of America, and on early childhood music education. In 1990,
Marcus Shelby
received the Charles Mingus Scholarship to attend Cal Arts and study composition with James Newton and bass with Charlie Haden. From 1990-1996, Shelby was bandleader of Columbia Records and GRP Impulse! Recording Artists Black/Note. Currently, Shelby is an artist in residence with the Yerba Buena Gardens Festival and the Artistic Director of the
Marcus Shelby
Orchestra. In 2013, Shelby received a MAP Fund Award and commission from the Yerba Buena Gardens Festival to compose "Beyond the Blues: A Prison Oratorio" an original composition for big band orchestra about the "Prison Industrial Complex," which premiered in September 2015. Shelby was awarded a 2009 Black Metropolis Research Consortium Fellowship in Chicago for Summer 2009 to conduct research for his commission to compose "Soul of the Movement"- a musical suite on MLK and the Civil Rights Movement. Shelby was also a 2006 Fellow in the Resident Dialogues Program of the Committee for Black Performing Arts at Stanford University to conduct research for his commission to compose "Harriet Tubman"- a musical suite based on the life of freedom fighter, Harriet Tubman.
Shelby has worked extensively with the Healdsburg Jazz Festival from 2011-2015 leading their Black History programs in the Healdsburg Middle Schools. He has also been the Artistic Director and conductor for the Healdsburg Jazz Festival Freedom Jazz Choir, which is a100-person community choir created by the Healdsburg Jazz Since 2002, Shelby has worked with the Equal Justice Society and is currently commissioned to create a musical theater work with choreographer Joanna Haigood and director Stephen Anthony Jones about the Voting Rights Act of 1965. Shelby also has arranged for, toured and conducted the Count Basie Orchestra featuring Ledisi, performed and recorded with Tom Waits, and receive the City Flight Magazine 2005 award as one of the "Top Ten Most Influential African American in the Bay Area". Shelby is active in music education and currently teaches at The Community Music Center, Old Adobe Elementary School, St. Paul's Middle School, and the Stanford Jazz Workshop. Shelby has also led many of the San Francisco Jazz Festival Family Matinee Concerts, often with children's book author Daniel Handler (Lemony Snicket). In March 2013, San Francisco Mayor Ed Lee appointed Shelby to the San Francisco Arts Commission where he serves on the Community Arts Grants and Education Committee and the Street Artists Committee.Festival and Shelby in 2012. Shelby has also worked extensively in Bay Area Theater, Film, and Dance on a range of productions, such as composing scores for Anna Deavere Smith's new play "Notes from the Field: Doing Time in Education" (2014), choreographer Joanna Haigood's dance theater work "Dying While Black and Brown" (2014), Margo Hall's plays "Bebop Baby" (2013) and "Sonny's Blues" (2008), the Oakland Ballet's "Ella" (2004), Robert Moses Kin' Dance Company (2000), The Pacific Boy Choir (2009), The San Francisco Girls Choir (2013), The Oakland Youth Chorus (2014), and many other productions over the past 19 years in the San Francisco Bay Area.
About Leonard Foglia
Leonard Foglia is a theater and opera director, as well as librettist. His work has been seen on Broadway, across the country, and internationally. In 2015, he will direct two world premieres: Joby Talbot's Everest at the Dallas Opera and Jennifer Higdon's Cold Mountain at Santa Fe Opera. As a director, his opera credits include the premieres of three operas by Jake Heggie: Moby Dick (Dallas Opera, San Diego Opera, Calgary Opera, Opera of South Australia, San Francisco Opera, where it was filmed for PBS' Great Performances, and Washington National Opera), Three Decembers (Houston Grand Opera, San Francisco Opera, Lyric Opera of Chicago), and The End of the Affair (HGO, Madison, Seattle). His production of Heggie's Dead Man Walking has been seen across the country.
As a librettist, his mariachi opera Cruzar la Cara de la Luna (To Cross the Face of the Moon), with music by Jose "Pepe" Martinez, had its premiere at HGO in 2010 and since has been performed at San Diego Opera, Lyric Opera of Chicago as well as the Théâtre du Châtelet in Paris and in Phoenix and Tucson. A Coffin in Egypt, with music by Ricky Ian Gordon, premiered at Houston Grand Opera in March 2014 and was subsequently performed at Opera Philadelphia. His theater credits include the original Broadway productions of Master Class (also national tour and West End), Thurgood (also the Kennedy Center where it was filmed for HBO), and The People in the Picture, as well as the revivals of Wait Until Dark and On Golden Pond. He directed Anna Deavere Smith's Let Me Down Easy Off-Broadway and on tour (filmed for PBS' Great Performances). Other New York productions: The Stendhal Syndrome (Primary Stages) and the Encores! presentation of One Touch of Venus (City Center). Regional productions include Unusual Acts of Devotion (Philadelphia Theater Company), Distracted (Mark Taper), Things Being What They Are (Bay Street), Paper Doll, The Secret Letters of Jackie and Marilyn (Pittsburgh Public), The Subject Was Roses (Kennedy Center), Seascape, A Coffin in Egypt, The Woman in Black (Bay Street), God's Man in Texas, Dinner with Friends (The Old Globe Theatre).
About Thomas O. Kriesgsmann/ArKtype
Thomas O. Kriegsmann is Founder and President of ArKtype, a management and Production Company specializing in new work development and touring. His past work in the U.S. and abroad includes projects with Brooklyn Academy Of Music, Lincoln Center Theater, Jacob's Pillow, New York Theatre Workshop, Market Theatre (Johannesburg), Hartford Stage Company, Barbican Centre, Oxford Playhouse, Noorderzon Festival, Performance Space 122 (Fresh Terrain Festival of Performance Theater, Austin, TX), Berkeley Rep, Center Theatre Group / Mark Taper Forum, Bouffes du Nord and The Kitchen, among many others. His work includes projects with Mikhail Baryshnikov, Peter Brook, Victoria Thie?rre?e- Chaplin, Yael Farber, Annie-B Parson & Paul Lazar, Lisa Peterson, Jay Scheib, Peter Sellars, Julie Taymor, and Tony Taccone.
Most recently he served as Director of Programs at New York Live Arts. Recent ArtsEmerson premieres include Big Dance Theater /
Mikhail Baryshnikov
's Man In A Case, the US premiere of Nalaga'at Deaf-Blind Theater's Not By Bread Alone, and
Denis O'Hare
and
Lisa Peterson
's An Iliad. Other recent premieres include Andrew Ondrejcak & Shara Worden's You Us We All and Elijah Green with John Jasperse. Upcoming premieres include
Bryce Dessner
's The Perfect Moment;
Sam Green
& Kronos Quartet' s A Thousand Thoughts,
Kaneza Schaal
and Caldecott Award winner
Christopher Myers
' Cartography I, Byron Au Yong &
Aaron Jafferis
' Trigger based in communities nationwide in recognition of the 10th anniversary of the Virginia Tech massacre, The Freedom Theatre of Jenin, Palestine's The Siege and
Jessica Blank
and
Erik Jensen
's How to be a Rock Critic.