Click Here for More Articles on ROUNDABOUT THEATRE COMPANY
Roundabout's TOO HEAVY FOR YOUR POCKET Begins Tomorrow Off-Broadway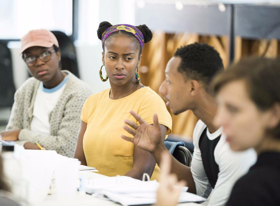 Roundabout Theatre Company presents the first new play of Roundabout Underground's expanded 2017-2018 season: The New York premiere of Too Heavy For Your Pocket by Jiréh Breon Holder, directed by Margot Bordelon, and starring Eboni Flowers (Evelyn Brandon), Hampton Fluker (Tony Carter), Brandon Gill (Bowzie Brandon) and Nneka Okafor (Sally-Mae Carter).
A friendly reminder that Too Heavy For Your Pocket begins preview performances Off-Broadway tomorrow, Friday, September 15, 2017 and opens officially on Thursday, October 5, 2017 at the Black Box Theatre in the Harold and Miriam Steinberg Center for Theatre (111 West 46th Street). This is a limited engagement through Sunday, November 19, 2017. All tickets for Roundabout Underground productions are $25.
In Too Heavy For Your Pocket, Tennessee-born Holder takes us back to Nashville in the summer of 1961. The Freedom Riders are embarking on a courageous journey into the Deep South. When 20-year-old Bowzie Brandon gives up a life-changing college scholarship to join the movement, he'll have to convince his loved ones-and himself-that shaping his country's future might be worth jeopardizing his own.
Now in its 11th season, Roundabout Underground has proven an enormous success since the program debuted in 2007 with Stephen Karam's hit comedy Speech and Debate. Karam's first play commissioned by Roundabout-Sons of the Prophet-was a Pulitzer Prize finalist and his second commission, The Humans, won the Tony Award for Best Play after transferring from the Laura Pels Theatre to Broadway. Joshua Harmon also made his professional debut with Roundabout Underground with the hit Bad Jews. His play, Significant Other, premiered Off-Broadway at Roundabout and transferred to Broadway last season; his new play, Skintight, will premiere at the Laura Pels Theatre in Spring 2018 starring Idina Menzel. Fellow Underground alumnus Steven Levenson (The Language of Trees) won the Tony Award for Best Book of a Musical for his Broadway debut with Dear Evan Hansen, while simultaneously debuting his new play, If I Forget, Off-Broadway at Roundabout. After the success of Too Much, Too Much, Too Many in 2013, Roundabout commissioned playwright Meghan Kennedy to write Napoli, Brooklyn, which is currently playing at the Laura Pels Theatre. Lindsey Ferrentino, who made her Roundabout debut with Ugly Lies the Bone, will return with Amy and the Orphans at the Laura Pels Theatre in the spring.
Too Heavy for Your Pocket launches the 11th season of Roundabout Underground, with the goal of introducing and cultivating young artists in Roundabout's 62-seat Black Box Theatre at the Harold and Miriam Steinberg Center for Theatre. Bobbie Clearly was presented as part of last year's Underground Reading Series at Roundabout, and is the second production in the Roundabout Underground's expanded two-play 2017-2018 season. Prior productions include the acclaimed world premieres of Stephen Karam's Speech & Debate (2007), Steven Levenson's The Language of Trees (2008), Adam Gwon's Ordinary Days (2009), Kim Rosenstock's Tigers Be Still (2010), David West Read's The Dream of the Burning Boy (2011), Andrew Hinderaker's Suicide, Incorporated (2011), Joshua Harmon's Bad Jews (2012), Meghan Kennedy's Too Much, Too Much, Too Many (2013), Jeff Augustin's Little Children Dream of God (2015), Lindsey Ferrentino's Ugly Lies the Bone (2015), Jenny Rachel Weiner's Kingdom Come (2016), and Martín Zimmerman's On the Exhale (2017).
The 62-seat Black Box Theatre, below the Laura Pels Theatre in the Harold and Miriam Steinberg Center for Theatre, allows Roundabout to take artistic risks that are better suited for a more intimate space.
The creative team for Too Heavy For Your Pocket includes: Reid Thompson (Sets), Valérie Thérèse Bart (Costumes), Jiyoun Chang (Lighting) and Ian Scot (Sound).
Major support for Too Heavy For Your Pocket is provided by Jodi Glucksman. Roundabout's work with new and emerging playwrights and directors, as well as development of new work, is made possible by Katheryn Patterson and Tom Kempner.
Too Heavy for Your Pocket was also produced at the ALLIANCE THEATRE, Atlanta, GA (Susan V. Booth, Jennings Hertz Artistic Director / Mike Schleifer, Managing Director) in mutual arrangement with Roundabout Theatre Company.
Roundabout Theatre Company is committed to producing the highest quality theatre with the finest artists, sharing stories that endure, and providing accessibility to all audiences. A not-for-profit company, Roundabout fulfills its mission each season through the production of classic plays and musicals; development and production of new works by established and emerging writers; educational initiatives that enrich the lives of children and adults; and a subscription model and audience outreach programs that cultivate and engage all audiences.
Roundabout Theatre Company presents a variety of plays, musicals, and new works on its five stages, each of which is specifically designed to enhance the needs of Roundabout's mission. Off-Broadway, the Harold and Miriam Steinberg Center for Theatre, which houses the Laura Pels Theatre and Black Box Theatre, with its simple sophisticated design, is perfectly suited to showcasing new plays. The grandeur of its Broadway home on 42nd Street, American Airlines Theatre, sets the ideal stage for the classics. Roundabout's Studio 54 provides an exciting and intimate Broadway venue for its musical and special event productions. The Stephen Sondheim Theatre offers a state of the art LEED certified Broadway theatre in which to stage major large-scale musical revivals. Together these distinctive homes serve to enhance Roundabout's work on each of its stages.
Roundabout's season in 2017-2018 includes Time and the Conways by J. B. Priestley, directed by Rebecca Taichman; John Lithgow: Stories by Heart, by John Lithgow, directed by Daniel Sullivan; and Tom Stoppard's Travesties, directed by Patrick Marber.
Roundabout's new off-Broadway season dedicated to new work at the Harold & Miriam Steinberg Center for Theatre in 2017-2018 includes The Last Match, by Anna Ziegler, directed by Gaye Taylor Upchurch; Amy and the Orphans, by Lindsey Ferrentino, directed by Scott Ellis; Skintight, by Joshua Harmon, directed by Daniel Aukin.
Roundabout Underground's 2017-2018 season includes Too Heavy For Your Pocket, by Jiréh Breon Holder and Bobbie Clearly, by Alex Lubischer.
Photo Credit: Jenny Anderson