Playwrights Horizons Extends DANCE NATION Through 6/17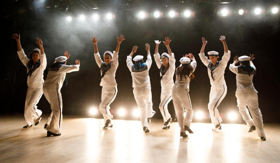 Playwrights Horizons (Tim Sanford, Artistic Director; Leslie Marcus, Managing Director) has announced a second extension for their acclaimed world premiere production of Dance Nation, the Susan Smith Blackburn Prize-winning new play by Obie Award winner Clare Barron (You Got Older, I'll Never Love Again). Directed and choreographed by Obie Award winner Lee Sunday Evans (Caught, D Deb Debbie Deborah, A Beautiful Day in November..., [Porto]), the play is the fifth production of the theater company's 2017/2018 Season.
Before even opening, and due to popular demand, Dance Nation had extended from May 27 to June 3. Following an avalanche of rave reviews, the production will now play two additional weeks, through Sunday, June 17 at Playwrights Horizons' Peter Jay Sharp Theater (416 West 42nd Street).
Ben Brantley of The New York Times named Dance Nation a CRITIC'S PICK, praising it as, "Blazingly original and unsettlingly familiar. The godly, insanely talented Clare Barron conjures the passionate ambivalence of adolescence with such being-there sharpness and poignancy that you're not sure whether to cringe, cry, or roar with happiness. Directed and choreographed with gloriously rough magic by Lee Sunday Evans, you're obliged to keep your eyes on the stage and marvel at how close what you see cuts to the bone - your bone." Adam Feldman of Time Out New York also named it aCRITIC'S PICK and gave it FIVE STARS, calling it a "Riotous, sensational, and ferociously funny new play! As rendered by the wondrous ensemble cast, under Lee Sunday Evans's sharp direction, their fierce commitment is at once adorable and scary. Dance Nation is out for blood." Sara Holdren inNew York Magazine hailed it, "A brave, visceral, excitingly off-kilter, barbaric play. Angry and sad, brash and funny, Dance Nation gets at something excruciatingly tender: the burden of modesty on young American women." And Peter Marks of The Washington Post proclaimed, "I have seen the future, and it is Dance Nation. Clare Barron's fresh, funny, and perceptive play gives resonant insights into the lives of American teens not yet fully prepared to relinquish the illusions of childhood."
The "fabulous cast" (Hilton Als, The New Yorker) features Purva Bedi (An Ordinary Muslim, Uncommon Sense, Veil'd), Eboni Booth (After the Blast,Fulfillment Center, The Cider House Rules), Camila Canó-Flaviá (Julius Caesar in London, My Jane), Obie Award winner Ellen Maddow (The Lily's Revenge, Betty and the Blender, Painted Snake in a Painted Chair), Christina Rouner (Coram Boy, Eternal, Three Tall Women), Drama Desk Award winner Thomas Jay Ryan (The Crucible, In the Next Room, The Temperamentals), Dina Shihabi (regionally in Picasso at the Lapin Agile, "Jack Ryan," "Daredevil"), Lucy Taylor (Fondly, Collette Richland; The Sound and the Fury; The Select: The Sun Also Rises) and Ikechukwu Ufomadu (Ike at Night,Nightcap by Ike, Ike Night).
Somewhere in America, an army of pre-teen competitive dancers plots to take over the world. And if their new routine is good enough, they'll claw their way to the top at the Boogie Down Grand Prix in Tampa Bay. But in Clare Barron's raucous pageant of ambition and ferocity, these young dancers have more than choreography on their minds, because every plié and jeté is a step toward finding themselves, and a fight to unleash their power.
The production features scenic design by Arnulfo Maldonado, costume design by Ásta Bennie Hostetter, lighting design by Barbara Samuels and sound design by Brandon Wolcott. Production Stage Manager is Erin Gioia Albrecht.
The performance schedule for Dance Nation is Tuesdays through Fridays at 7:30 PM, Saturdays at 2 & 7:30 PM and Sundays at 2 & 7PM. Singletickets, $59-99, may be purchased online via www.phnyc.org, by phone at (212) 279-4200 (Noon-8pm daily) and in person at the Ticket Central Box Office, 416 West 42nd Street (between Ninth & Tenth Avenues).
Following Dance Nation, the Playwrights Horizons 2017/2018 Season will conclude with LOG CABIN, the world premiere of a new play by Pulitzer Prize finalist Jordan Harrison, directed by Tony Award and Obie Award winner Pam MacKinnon, featuring Phillip James Brannon, Cindy Cheung, Jesse Tyler Ferguson, Ian Harvie, Talene Monahon and Dolly Wells (previews begin June 1).
Flex Passes (customizable bundle, $220+) and Memberships ($45 to join, $25 preview tickets) are now on sale. Packages are available at www.phnyc.org.
Playwrights Horizons recently announced its 2018/2019 Season, which will feature (in season order): I WAS MOST ALIVE WITH YOU, the New York premiere of a new play written by three-time Tony Award nominee and three-time Obie Award winner Craig Lucas, directed by Tyne Rafaeli, with Sabrina Dennison serving as Director of Artistic Sign Language, featuring Marianna Bassham, Tad Cooley, two-time Obie Award winner Lisa Emery, Theatre World Award winner Russell Harvard, two-time Tony Award nominee Lois Smith and Gameela Wright, and simultaneously performed in American Sign Language by a shadow cast of Deaf actors, including Beth Applebaum, Kalen Feeney, Seth Gore, Dickie Hearts, Amelia Hensley,Anthony Natale and Alexandria Wailes (previews begin August 31, 2018); THE THANKSGIVING PLAY, the world premiere of a new play by Larissa Fasthorse, directed by Tony Award nominee Moritz von Stuelpnagel (October 2018); NOURA, the New York premiere of a new play written by and featuring Lucille Lortel Award winner Heather Raffo, directed by Joanna Settle, produced in association with Shakespeare Theatre Company (November 2018); IF PRETTY HURTS UGLY MUST BE A MUHFUCKA, the world premiere of a new play by Tori Sampson, directed by Tony Award nominee and Obie and Lucille Lortel awards winner Liesl Tommy (February 2019); THE PAIN OF MY BELLIGERENCE, the world premiere of a Playwrights Horizons commissioned new play written by and featuring Halley Feiffer, directed by Obie Award winner Trip Cullman (April 2019) and conclude with A STRANGE LOOP, the world premiere of a new musical with book, music and lyrics by Michael R. Jackson, directed by Stephen Brackett, with choreography by Raja Feather Kelly, produced in association with Page 73 (May 2019).
A subscription package to Playwrights Horizons' 2018/2019 season is now available ($310, four Mainstage and two Peter Jay Sharp Theater productions). In addition to discounts on all season productions, subscribers receive priority booking and seating, ticket exchange privileges, parking and dining discounts, and exclusive mailings of Playwrights Horizons Bulletins. Flex Passes (customizable bundle, $220+) and Memberships ($45 to join, $25 preview tickets) are also now on sale. Patron packages start at $1,800. Packages are available at www.phnyc.org.
Patron Program Memberships begin at $1,800 (all but $550 is tax-deductible) and include two reserved house seats and personalized concierge service to all six Playwrights Horizons productions, as well as a variety of exclusive benefits including invitations to attend special events with artists, staff and board members. Complete benefits list at www.phnyc.org.
Playwrights Horizons' season productions are generously supported in part by The Harold and Mimi Steinberg Charitable Trust and the New York City Department of Cultural Affairs.
Playwrights Horizons is supported in part by public funds from the National Endowment for the Arts, the New York State Council on the Arts with the support of Governor Andrew Cuomo and the New York State Legislature and the New York City Department of Cultural Affairs. In addition, Playwrights Horizons receives major support from The Andrew W. Mellon Foundation, The Shubert Foundation, the Peter Jay Sharp Foundation and the Time Warner Foundation.
Photo Credit: Joan Marcus