Photo Flash: In Rehearsal with the Cast of 'REVOLUTION IN THE ELBOW' at Minetta Lane
REVOLUTION IN THE ELBOW OF RAGNAR AGNARSSON FURNITURE PAINTER, a new musical featuring Tony Award winner Cady Huffman and Kate Shindle, began rehearsals last week at the Minetta Lane Theatre. With book, music & lyrics by Ívar Páll Jónsson, based on a story by Ívar and Gunnlaugur Jónsson, performances of Revolution in the Elbow of Ragnar Agnarsson Furniture Painter will begin July 28th, with the official Opening Night on Wednesday, August 13th. Scroll down for a sneak peek at the cast in their first rehearsal!
Under the direction of Bergur Þór Ingólfsson, the cast features Cady Huffman (Tony winner for The Producers, The Will Rogers Follies, The Nance, "Curb Your Enthusiasm," "The Good Wife"), Kate Shindle (Legally Blonde, Cabaret, Jekyll & Hyde, Capote), Michael Biren (Billy Elliot), Patrick Boll (Mamma Mia!, Death of a Salesman, Faith Healer), Zach Cossman (Band Geeks), Karli Dinardo ("Silversun"), Danielle Kelsey (Young Frankenstein), Graydon Long ("The Carrie Diaries"), Brad Nacht (Billy Elliot, The Addams Family), Josh Sassanella (Rock of Ages, Spider Man: Turn Off the Dark), Marrick Smith (Crossing Swords, Uncovering Eden), and Jesse Wildman (Ghost). Choreography for Revolution in the Elbow of Ragnar Agnarsson Furniture Painter is by Lee Proud, with music direction by award-winning Icelandic Indie rock musician Stefán Örn Gunnlaugsson.
Have you ever wondered what's going on inside your elbow? Revolution in the Elbow of Ragnar Agnarsson Furniture Painter answers this hypothetical, surreal question in an emotionally charged rock musical love story. Set in Elbowville (a microscopic community within Ragnar Agnarsson's body), the highly unconventional story introduces us to a love triangle developing against the backdrop of the once-idyllic community's false prosperity at the hands of a power-mad mayor and its ultimate ruin, tragedy and rebirth.
The heart of Revolution in the Elbow of Ragnar Agnarsson Furniture Painter lies in its songs, which were written over the course of several years by Ívar Páll Jónsson -- a gifted Icelandic songwriter who pursued fronting a rock band several years ago and released an album, but felt confined in the spotlight. He worked as a journalist but kept writing songs, and ultimately, with the encouragement of his younger brother Gunnlaugur, found his comfort zone behind the curtain. He wrote the entire score and, with his brother, the book for the musical.
Unlike many musicals, the songs, which can be heard on the musical's new concept recording, stand independently of the story, evoking influences from David Bowie, Radiohead, Grizzly Bear, the Pixies, Sufjan Stevens, and more. The album is performed by singers from an array of Icelandic bands, as well as Liam McCormick from The Family Crest.
Director Bergur Þór Ingólfsson directed the Disney/Cameron Mackintosh production of Mary Poppins at the Reykjavík City Theater. Mary Poppins is Iceland's highest-grossing theater production of all time. Following the opening of Revolution in the Elbow of Ragnar Agnarsson Furniture Painter, Bergur is set to direct Billy Elliot at the RCT.
Lee Proud is resident choreographer for the West End production of Billy Elliot and his other UK choreography credits include Carousel, Hairspray, Victor Victoria, Mack & Mabel, and Guys and Dolls.
Set & projection design for Revolution in the Elbow of Ragnar Agnarsson Furniture Painter are by Petr Hloušek, with lighting design by Jeff Croiter (Tony winner for Peter and the Starcatcher) and Cory Pattak, and sound design by Carl Casella. Costume design is by Hrafnhildur Arnardottir (aka Shoplifter) and Edda Gudmundsdottir, who have collaborated with Björk several times as artists, stylists and designers.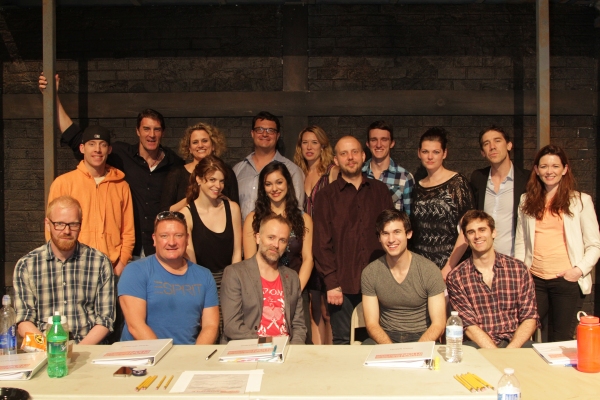 The entire company of
Revolution in the Elbow of Ragnar Agnarsson Furniture Painter
at the first day of rehearsal