Photo Flash: THE MARVELOUS WONDERETTES Celebrates 500 Performances
Reaching the 500th performances, The Marvelous Wonderettes will surpass the runs of landmark off-Broadway productions including Sideman (1998), Boy Meets Boy (1975), Jacques Brel is Alive and Well and Living in Paris (2006), Vampire Lesbians of Sodom (1985), Jeffrey (1993), Closer Than Ever (1989), Bat Boy (2001), and Torch Song Trilogy (1982).
"Wednesday, November 25th turns out to be The Day Before Thanksgiving, and have we ever got a lot to be thankful for" says gum-popping soprano-Wonderette Suzy Simpson speaking on behalf of herself and her fellow Wonderettes. "As all of New York is hustling and bustling about to their families, stuffing their turkeys and inflating their parade balloons, our Wonderettes family will be gathering around our microphones giving thanks in four-part harmony for the 500 marvelous performances that we have been privileged to play here in New York. Thank you for coming and coming back again."
Earlier this month, The Marvelous Wonderettes announced that it will play its final performance at New York's Westside Side Theatre on Sunday, January 3rd at 3:00PM. The Marvelous Wonderettes will have played 545 performances and 19 previews.
After a record-setting and award-winning run in Los Angeles, The Marvelous Wonderettes opened over a year ago to rave reviews from the New York critics. The New York Times called the show "effervescent, irresistible and an utter charm," while Variety called it "charming and funny" with "four gifted comedians." The Associated Press raved "you won't find a more delightful girl group. These irrepressible, bubbly Wonderettes are singing their hearts out in this charming, fast-paced musical. Beautiful singing, well-honed timing, often poignant and highly entertaining!" Backstage wrote "Don't buy a ticket - buy two! It's a show you'll want to see twice! A laugh-a-minute songfest!"
With the success of the show on the West Coast and now in New York, The Marvelous Wonderettes will bring their special brand of tightly-harmonized "shing-a-lings" and "shoop-de-doos" to cities around the United States. Recently, new productions of The Marvelous Wonderettes opened at Chicago's Northlight Theatre and Miami's Actors' Playhouse. In the year to come, new productions are slated to open at Detroit's Gem Theatre and Lincoln's Tada Theatre in February 2010, Long Beach's Musical Theatre West in April, 2010, Cincinnati's Ensemble Theatre in May, 2010 and Albany's Capital Repertory Theatre June, 2010, with more to be announced in the coming months.
A cotton candy-colored non-stop pop musical, The Marvelous Wonderettes features the iconic sounds of the fifties and sixties in a journey back to the 1958 Springfield High School prom where the Wonderettes - Betty Jean, Cindy Lou, Missy and Suzy - are four young girls with hopes and dreams as big as their crinoline skirts. Brimming with such classic hits as "Lollipop," "Dream Lover," "Stupid Cupid," "Lipstick on Your Collar," "Hold Me, Thrill Me, Kiss Me," "It's My Party" and "It's In His Kiss (The Shoop Shoop Song)," The Marvelous Wonderettes is a high-octane musical blast from the past.
Presented by David Elzer (Jewtopia, The Laramie Project), Peter Schneider (The Lion King, Sister Act: The Musical) and Marvelous NYC, LLC, The Marvelous Wonderettes features choreography by Janet Miller, musical direction by Brian William Baker, set design by Mike Carnahan, costume and wig design by Bobby Pearce (Broadway's Taboo) and lighting design by Jeremy Pivnick.
Photos by H.E. Yhoman (c) 2009

Happy 500th Wonderttes!

Lowe Taylor

Lindsay Mendez

Christina DeCicco

Courtney Balan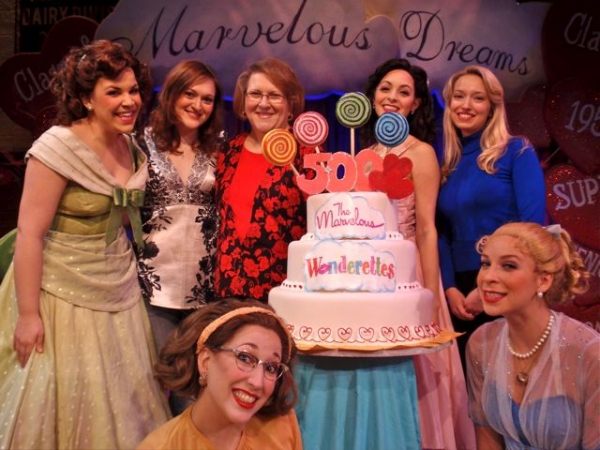 Lindsay Mendez, Tricia Tanguy, baker AnnMarie Tanguy, Christina DeCicco, Christy Faber, Lowe Taylor, Courtney Balan

The company of The Marvelous Wonderettes

The cast of The Marvelous Wonderettes

The company of The Marvelous Wonderettes

Lindsay Mendez, Lowe Taylor, Christina DeCicco, Courtney Balan

Courtney Balan, Lindsay Mendez, Lowe Taylor, Christina DeCicco
Related Articles
More Hot Stories For You