Click Here for More Articles on ERNEST SHACKLETON LOVES ME
Photos: First Look at Wade McCollum and Val Vigoda in ERNEST SHACKLETON LOVES ME Off-Broadway
After critically acclaimed and award winning productions in Seattle, New Jersey and Boston the new musical, Ernest Shackleton Loves me, produced by Q Theatricals, which began performances on Friday, April 14, 2017 and officially open on Sunday, May 7, 2017 at Off-Broadway's Tony Kiser Theatre (305 West 43rd Street). This strictly limited engagement will play through Sunday, June 11th only. BroadwayWorld has a first look at the stars onstage below!
ERNEST SHACKLETON LOVES ME is the epic musical adventure starring GrooveLily's fierce and funny electro-violinist Valerie Vigoda (Striking 12), and the courageous and charismatic Wade McCollum (Priscilla Queen of the Desert). This innovative, high-tech adventure tells the story of a sleep-deprived single mom who struggles to work as a video game music composer. Unexpectedly, she is contacted across time by the famous polar explorer, Ernest Shackleton. Inspired by her music, he shares his epic Antarctic journey with her in video and song. Against all odds, they discover that their greatest inspiration lies within each other.
Sir Ernest Shackleton (1874-1922) is widely known as one of the most inspirational leaders of the twentieth century, and is studied by Navy captains and business school students alike. While he never achieved his personal dream of being the first to reach the South Pole, his reputation as a leader of men is based on a still greater success: the survival and safe return of all of his team members, after their ship, the Endurance, was crushed in the middle of its 1,800 mile journey through the Weddell Sea. Whilst overcoming almost unimaginable odds, Shackleton's men road an iceberg for months before landing on the deserted Elephant Island, exhausted and starving. Shackleton then took five of his strongest men and a twenty foot row boat, and crossed 720 nautical miles in one of the greatest open water traverses in history, landing on the remote South Georgia Island. The six men then spent 36 hours scaling previously unclimbed snowy peaks with nothing but 50 feet of rope and a carpenter's hammer. Once they found safety, Shackleton rested only a single night before sailing back repeatedly out into the Antarctic ice floe to successfully rescue all 22 of his crew men. Shackleton's name lives on as a synonym for courage, leadership and most of all, unquenchable optimism.
At the behest of their expedition sponsor, the Royal Geographic Society, the crew of the Endurance brought 1915 vintage plate photography equipment with them to document their exploits. Despite the harshness of conditions and the loss of their ship, these photos still survive and, with the use of live green screen technology, place the actors into the actual Antarctic landscape of Shackleton. The crew also famously carted along both costumes and musical instruments and put on performances to keep their spirits up through long Antarctic winters. With these rich tools in hand, Ernest Shackleton Loves me brings this indisputable and indomitable hero across space and time to intimate theatrical life in New York City for the first time.
Directed by Lisa Peterson and written by Tony Award winner Joe DiPietro (Memphis), with music composed by Brendan Milburn and lyrics by Valerie Vigoda, Ernest Shackleton Loves me features production design by Alexander V. Nichols (Nice Work If You Can Get It), costume design by Chelsea Cook and sound design and original compositions by Tony Award winner Rob Kaplowitz (Fela!). ERNEST SHACKLETON LOVE ME was originally co-commissioned by Theatre Works and La Jolla Playhouse.
Photo Credit: Jeff Carpenter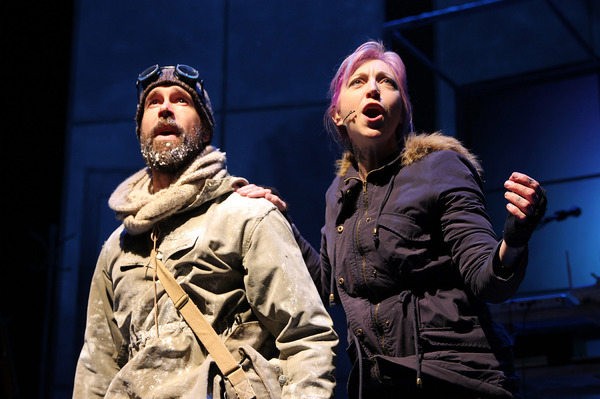 Wade McCollum
and Val Vigoda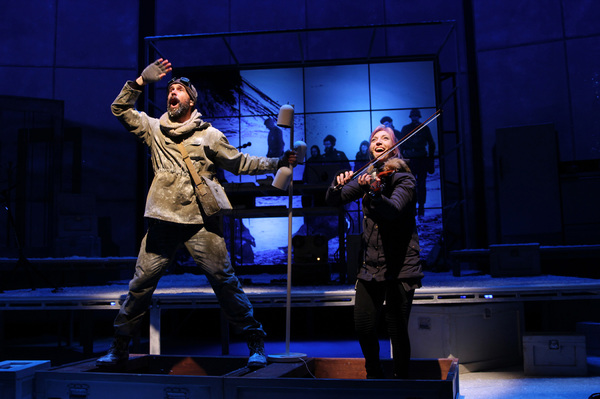 Wade McCollum
and Val Vigoda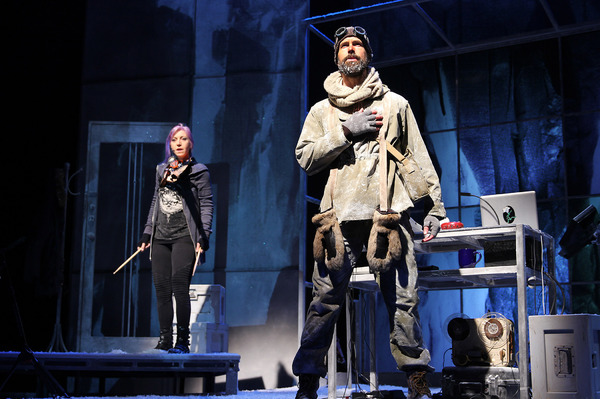 Val Vigoda and
Wade McCollum
Wade McCollum
and Val Vigoda
Val Vigoda