MCC Extends Lucy Thurber's TRANSFERS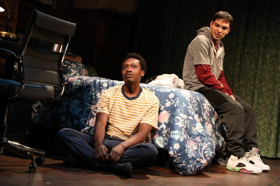 MCC Theater (Robert LuPone, Bernard Telsey, William Cantler, Artistic Directors; Blake West, Executive Director) is pleased to announce the extension by popular demand of the World Premiere of Transfers. Inspired by young artists participating in the MCC Theater Youth Company, Transfers is written by MCC Theater's Youth Company Playwriting Lab Director and Obie Award winner Lucy Thurber, and directed by Jackson Gay. Previously scheduled through May 13, Transfers will now play through Sunday, May 20 at the Lucille Lortel Theatre (121 Christopher Street). For tickets and info, visit www.mcctheater.org
Additionally, this morning Transfers received a nomination for Best New Play from the Off Broadway Alliance Awards.
The cast features Lucille Lortel Award nominee Ato Blankson-Wood, "The Knick" series regular Leon Addison Brown, Juan Castano, Glenn Davis, and "Godless" star Samantha Soule.
In Transfers, Cristofer and Clarence are two gifted students from the South Bronx. After two years at a local community college being coached by faculty members, the young men are competing for a life-changing scholarship at an elite northeast university. During a campus visit, the young men are unexpectedly confronted with their shared past while trying to break through a system that seems designed to keep them on the outside.
The creative team for Transfers includes scenic design by Tony Award® winner Donyale Werle, costume design by Drama Desk Award nominee Jessica Ford, lighting design by Obie Award winner Russell H. Champa, sound design by Broken Chord, and casting by Telsey + Company/Adam Caldwell, CSA, William Cantler, CSA, Karyn Casl, CSA. Production Stage Manager Lori Ann Zepp and Stage Manager Veronica Lee.
A key component of MCC Theater's wide-reaching education and outreach programs, the company's Playwriting Lab, led by Thurber, provides young writers the support and training to develop original scripts in weekly workshops. As a culmination of their work, the playwrights' scripts come to vibrant life in the FreshPlay Festival every summer.
Transfers was originally presented by New York Stage and Film and Vassar in the Powerhouse Season, Summer 2016.
MCC Theater broke ground on its first permanent home- a two-theater complex on West 52nd Street and 10th Avenue-on March 22, 2016. Set to open in 2018, the space will unite MCC's diverse roster of programs under one roof for the first time in the company's three-decade history. The new facility will also allow MCC to expand its programming and establish it as a cultural anchor within the Hell's Kitchen neighborhood. The project is funded by a public-private partnership between the Theater and the City of New York.
About MCC Theater
MCC is one of New York's leading nonprofit Off-Broadway companies, driven by a mission to provoke conversations that have never happened and otherwise never would. Founded in 1986 as a collective of artists leading peer-based classes to support their own development as actors, writers and directors, the tenets of collaboration, education, and community are at the core of MCC Theater's programming. One of the only theaters in the country led continuously by its founders, Artistic Directors Robert LuPone, Bernard Telsey, and William Cantler, MCC fulfills its mission through the production of world, American, and New York premiere plays and musicals that challenge artists and audiences to confront contemporary personal and social issues, and robust playwright development and education initiatives that foster the next generation of theater artists and students.
MCC Theater's celebrated productions include Jocelyn Bioh's School Girls; Or, the African Mean Girls Play; Penelope Skinner's The Village Bike; Robert Askins' Hand to God (Broadway transfer; five 2015 Tony Award® nominations including Best Play); John Pollono's Small Engine Repair; Paul Downs Colaizzo's Really Really; Sharr White's The Other Place (Broadway transfer); Jeff Talbott's The Submission (Laurents/Hatcher Award); Neil LaBute's Reasons to Be Happy, reasons to be pretty (Broadway transfer, three 2009 Tony Award® nominations, including Best Play), Some Girl(s), Fat Pig, The Mercy Seat, and All The Ways To Say I Love You; Michael Weller's Fifty Words; Alexi Kaye Campbell's The Pride; Bryony Lavery's Frozen (Broadway transfer; four 2004 Tony Award® nominations including Best Play, Tony Award® for Best Featured Actor); Tim Blake Nelson's The Grey Zone; Rebecca Gilman's The Glory of Living (2002 Pulitzer Prize finalist); Margaret Edson's Wit (1999 Pulitzer Prize); and the musicals Coraline, Carrie, and Ride the Cyclone. Many plays developed and produced by MCC have gone on to productions throughout the country and around the world.
Blake West joined the company in 2006 as Executive Director. MCC will open its first permanent home in 2018 in Manhattan's Hell's Kitchen neighborhood, unifying the company's activities under one roof for the first time and expanding its producing, artist development, and education programming.
About the MCC Theater Youth Company Playwriting Lab and Education Programs
Eighteen years ago, MCC Theater initiated a series of intensive in-school and after-school education programs that now serve approximately 800 New York City public high school students each year. At the core of all MCC education programs, be they in school, after school, or in the office, is this: MCC programs for teens and young adults foster the desire to be heard and the courage to speak out. The goal of this work is to showcase and celebrate the mosaic of New York City's young people, creating a platform for their voices to be heard and their experiences and individual identities to be honored. MCC's programs build the skills, and provide the encouragement, to make this possible.
The centerpiece of the institution's education programs is the MCC Theater Youth Company, the first free, after-school company of its kind associated with a professional theater in NYC. The Youth Company has several cohorts, including an Acting Lab, a Playwriting Lab, an Ambassador Leadership program, and a school campus-based satellite program on the campus of the High School for Public Service in Prospect Lefferts Gardens.
The Youth Company Playwriting Lab, run by Lucy Thurber, replicates the professional play development process; company members are provided with individualized writing prompts to guide them through the creation of one-act and full-length plays. At the end of the school year, the FRESHPLAY FESTIVAL pairs students with professional directors and actors to rehearse and present staged readings of their plays, which are open to the public.
New York Stage and Film is a non-profit company dedicated to emerging and established artists in the development and production of new works for theater and film. Since 1985, we have provided a home free from critical and commercial pressures, and served as a vital cultural institution of the NY metropolitan region. Through our Powerhouse Season in collaboration with Vassar College, NYC Programming, Filmmakers' Workshop, and educational initiatives, we serve 500+ artists and nearly 10,000 audience members annually, and have launched dozens of celebrated projects, including Hamilton, The Humans, The Wolves, A 24-Decade History of Popular Music, Tru, Doubt, Side Man and American Idiot. www.newyorkstageandfilm.org
Photo Credit: Joan Marcus