Cast Album in the Works for Abingdon's THE BOY WHO DANCED ON AIR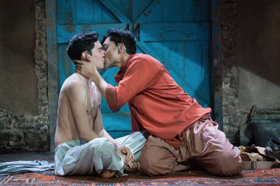 Abingdon Theatre and Jonathan Larson grant recipients Tim Rosser and Charlie Sohne have begun a fundraising campaign for a cast album of the Off-Broadway musical The Boy Who Danced on Air.
The three-week fundraising campaign aims to raise the funds necessary to produce the album with the Off-Broadway cast and band. The album will feature the full score from the NY production as well as some surprise bonuses to be announced in the coming month.
Those interested in making a tax deductible contribution to the campaign or in pre-ordering the album, can find out more information on Abingdon's fundraising page.
The Boy Who Danced On Air is a modern-day love story set in rural Afghanistan. Paiman and Feda have spent their young lives as dancers in the world of bacha bazi, where wealthy men take in boys from poor families, train them to dance at parties, and often abuse them. The two boys' chance meeting changes the course of their lives and sets them on a journey to find their independence in this musical fable about love, tradition, morality and the strength of the human spirit. The New York production starred Troy Iwata (TheatreWorks USA's The Lightening Thief), Nikhil Saboo (Mean Girls: The Musical), Jonathan Raviv (The Band's Visit), Deven Kolluri and Osh Ghanimah (Unbreakable Kimmy Schmidt).
Tim Rosser (Composer) and Charlie Sohne (Book Writer and Lyricist) are winners of the 2015 Jonathan Larson Award, ASCAP's 2015 Mary Rodgers/Lorenz Hart Award and the 2016 San Diego Critics Circle Award for Outstanding Original Score. Their show, The Boy Who Danced on Air (NAMT 2013) had its world premiere at The Diversionary Theatre and it's off-Broadway premiere at the Abingdon Theatre. Their pilot, Truth Slash Fiction, won best comedy at SeriesFest and ITVFest. Their new song cycle will make its premiere with the Oakland Symphony Orchestra in February of 2018 and they're currently working on a children's show commissioned by New York City Children's Theatre. Tim and Charlie were also 2014-15 Dramatists Guild Fellows, members of The Civilians' R&D Group and writers at the Rhinebeck Writers Retreat, ASCAP's Johnny Mercer Songwriters Project and the Yale Institute for Music Theatre. Their songs have been seen at their sold-out 54 Below show, Birdland, Contemporary Classics at Seattle Rep, Cutting Edge Composers at Joe's Pub, ALNM at Rockwell in Los Angeles, Above The Arts in London, a sold out show at Broadway au Carre in Paris, and the Kennedy Center in Washington, DC. They are the songwriting team behind India.Arie's single, High Above.