Applications Now Open for THE 24 HOUR PLAYS: NATIONALS
Applications will remain open through March 31.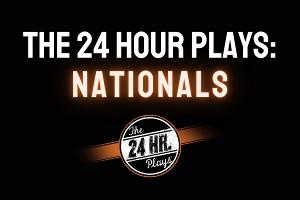 The 24 Hour Plays are partnering with Pace University to produce their 12th annual The 24 Hour Plays: Nationals, a weeklong professional intensive professional development initiative for early-career actors, directors, playwrights, composers and producers. Applications open today, March 13, and will remain open through March 31 at https://24hourplays.org/nationals.
Each summer, The 24 Hour Plays gather a group of promising early-career theater artists for a rigorous series of workshops, master classes, panel discussions, career development, community building, and more. The program is free for participants and includes a $200 stipend. Nationals 2023 will take place July 17-24, with all workshops and panels on the Pace Lower Manhattan campus and the 2023 cohort's own production of The 24 Hour Plays at an off-Broadway theater to be announced.
"Pace Performing Arts is thrilled to be partnering with The 24 Hour Plays," said Executive Director Jennifer Holmes. "We are proud to host the Nationals which brings together the best new young artists, building community and generating new artistic partnerships. For the first time in Nationals history, designers and stage managers will join the artistic teams. At Pace, we train the best in the industry and we are honored that The 24 Hour Plays has selected Pace designers and stage managers to begin this exciting and vital addition to the Nationals."
"Pace University and The 24 Hour Plays share a passion for helping students and recent graduates find a pathway to meaningful, sustainable careers in the performing arts. That's what the Nationals are all about and our partnership with Pace provides both meaningful support for the program's vision and an exciting opportunity for us to grow together," said The 24 Hour Plays artistic director Mark Armstrong.
The 24 Hour Plays: Nationals will be spearheaded by Jake Beckhard and Serena Berman, who recently joined The 24 Hour Plays as Associate Producers.
In previous years, Nationals have featured workshops, panel discussions, and breakout conversations with Pulitzer Prize winning playwrights (Annie Baker, Martyna Majok, David Lindsay-Abaire), Broadway directors (Leigh Silverman, Liesl Tommy, Thomas Kail), celebrated stage and screen actors (Jesse Eisenberg, Claire Danes, Aasif Mandvi) and game-changers from across the arts and entertainment industry.
Alumni of The 24 Hour Plays: Nationals are everywhere in the entertainment industry. Past participants perform on and off Broadway and on screens large and small. They write major motion pictures and television series for A24, Paramount, NBC, Netflix, Hulu, Amazon, Apple TV+ and more. Their work is seen on every major stage in the country, including Playwrights Horizons, Roundabout Theater, New York Theatre Workshop, Center Theater Group, The Goodman, The Geffen Theater and many more. They produce plays on Broadway and the West End, serve in leadership at institutions across the US and abroad and - most importantly - continue to collaborate and succeed together.
The 24 Hour Plays celebrates the diversity of the theatrical field and seeks to make the application process equitable for every early career artist. Artists of all races, ethnicities, creeds, classes, abilities, genders, identities, affiliations, and orientations are encouraged to apply. Applicants with accessibility concerns about the application or program can reach out to staff at nationals@24hourplays.com so they can make reasonable accommodations. More information at 24hourplays.org/nationals.
ABOUT THE 24 HOUR PLAYS
The 24 Hour Plays (est. 1995, Mark Armstrong, artistic director) bring together creative communities to produce plays and musicals written, rehearsed and performed in 24 hours. Through our radically-present approach to theater, we make work that responds immediately to the world around us, builds communities and generates new artistic partnerships. Our events include The 24 Hour Plays on Broadway and The 24 Hour Musicals, as well as productions from London to Los Angeles, Dublin to Minneapolis, Finland to Mexico and more. Since March 2020, The 24 Hour Plays: Viral Monologues have generated 600 new free-to-view theater pieces featuring over 1000 artists that have been viewed millions of times and are archived in the Library of Congress. Website: www.24hourplays.com. Twitter/Instagram: @24hourplays