Alison Cimmet, Jayne Houdyshell, Daphne Rubin-Vega and More Set for SUPER SHAW WOMEN; Cast Updated!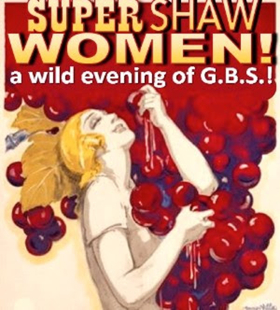 Gingold Theatrical Group today announced updated casting for its 124th concert presentation, a special evening offering scenes and monologues from some of Shaw's greatest works.
Super Shaw Women will be performed by a company of talented women including Alison Cimmet, Jayne Houdyshell, Sheria Irving, Mia Katigbak, Sondra Lee, Daphne Rubin-Vega and directed by David Staller for one night only, Monday, July 17th at 7pm, at Symphony Space's Leonard Nimoy Thalia Theatre (2537 Broadway at 95th Street).
This brilliant cast of actresses will play every one of your beloved Shaw women in less than two hours that are sure to be wild, wacky, and completely inappropriate! The cast will showcase scenes and monologues with their favorite characters including scenes from Candida, Man And Superman, Mrs. Warren's Profession, Pygmalion, Back To Methuselah, The Apple Cart, Misalliance, Heartbreak House, and more.
"Due to scheduling issues we've had the opportunity to adjust our cast and roles, coming up with what we view as the dream team for Super Shaw 2017! We're presenting more than 30 characters representing more than a dozen of Shaw's plays including Pygmalion, Back to Methuselah, Man and Superman (a great deal of the "Don Juan in Hell" scene), The Millionairess, Saint Joan, Mrs. Warren's Profession, Getting Married, Misalliance, Androcles and the Lion, and others. The women will play all the roles, male and female," said Mr. Staller.
Tickets are $35 and are available by calling (212) 864-5400 or online at www.symphonyspace.org. Special reserved VIP seating available for $50 by contacting the Gingold office 212-355-7823 or info@gingoldgroup.org.
Now celebrating its 12th year, Gingold Theatrical Group's Project Shaw made history in December 2009 as the first company ever to present performances of every one of Shaw's 65 plays (including full-length works, one-acts and sketches). They are now also including plays by writers who most inspired Shaw to begin his playwriting career, including work by Chekhov, Ibsen, Wilde, Barrie, and Harley Granville-Barker -- while continuing its new play development and educational programs.
For those interested in lively off-site discourses, each Project Shaw event is followed by a talk-back with cast members. GTG's David Staller is also hosting a monthly Shaw Club discussion group. They meet the Wednesday before every Project Shaw event at 520 8th Avenue. For reservations, which are required, call 212-355-7823 or email info@gingoldgroup.org.
The 2017 Project Shaw Season WOMEN TAKE THE STAGE: Celebrating 100 years of Women's Rights in NY continues with Rachel Crother's A Man's World (September 18), Captain Brassbound's Conversion (October 23), Elizabeth Robins's Votes for Women(November 20), and Oscar Wilde's A Woman of No Importance (December 18).
Symphony Space's Leonard Nimoy Thalia Theatre space is completely accessible. Symphony Space is located in Manhattan at 2537 Broadway (at 95th Street). For more information about Project Shaw and Gingold Theatrical Group contact 212-355-7823 or info@gingoldgroup.org or www.gingoldgroup.org.