SHAKESPEARE IN LOVE to Make Audiences Swoon at National Theatret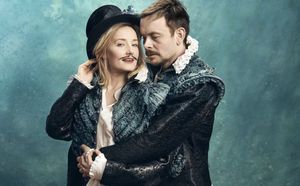 The dramatic comedy, Shakespeare in Love, will play at National Theatret Nov. 15 through Dec. 30.
Young Will Shakespeare has writer's block... the deadline for his new play is fast approaching but he's in desperate need of inspiration. That is, until he finds his muse - Viola. This beautiful young woman is Will's greatest admirer and will stop at nothing (including breaking the law) to appear in his next play.

Against a bustling background of mistaken identity, ruthless scheming and backstage theatrics, Will's love for Viola quickly blossoms and inspires him to write his greatest masterpiece.
The cast features Jan Gunnar Roise as "Will Shakespeare," Ine Marie Wilmann as "Viola de Lesseps," Assad Siddique as "Christopher Marlowe," Oystein Smoker as "Henslowe," Heidi Goldmann as "Frame," John Emil Jorgensrud as "Wessex," Per Frisch as "Fennhman," Jan Saelid as "Burbage," a??a??a??a??a??a??a??Nils Golberg Mulvik as "Ned Alleyn/Lambert," Tone Mostraum as "Queen Elizabeth 1./Molly," Bjorn Skagestad as "Tilney," Lasse Lindtner as "Sir Robert de Lesseps/Peter," Kim S. Falck-Jorgensen as "Nol/Proteus," a??a??a??Daniel Saether as "Robin/Valentine," a??a??a??a??a??a??a??Bernhard Arno as "Adam/Fergemann," Anders Mordal as "Wabash," Per Christian Ellefsen as "Ralph," Espen Mauno as "John Webster/Frees," Iver Realized as "Sam/Catling/Bartender" and Marian Saastad Ottesen as "Costume Lady Fort/Kate/Waitress."
The creative team includes Cecilie Mosli (Director), Dagny Drage Kleiva (Scenographer), Anette Werenskiold (Costume Designer), Martin Myrvold (Light Designer), Per Christian Revholt (Music Director), Kristian Stovind (Choreographer), Hege Ramstad (Head Coach) and Njal Helge Mjos (Playwright).
For more information and tickets to Shakespeare in Love, tap here.
Related Articles View More Norway

Stories

Shows
More Hot Stories For You