BWW Previews: DOGFIGHT at Riksscenen, Oslo
The musical Dogfight premiered at Second Stage Theatre in 2012. The musical, written by future Oscar- and Tony-winning songwriters Benj Pasek and Justin Paul (Dear Evan Hansen, James and the Giant Peach, A Christmas Story, La La Land, The greatest Showman) with a book by Peter Duchan, is an adaptation of the 1991 Nancy Savoca film of the same name.
This off-Broadway musical centers around a young U.S. Marine named Eddie Birdlace, who is headed off to Vietnam, and the girl he falls for, named Rose, after tricking her into coming to a party with a cruel twist: whichever man brings the "ugliest" girl "wins" the evening.
It has been a long journey for director Renate Stridh in bringing this musical to Norway. On August 26 she will finally present the Scandinavian premiere of Dogfight at Riksscnenen in Oslo. BroadwayWorld caught up with her recently, and had a talk about the production.
How did you discover this show?
It was actually one of my students at the Bårdar Academy who wanted to showcase one of the songs. I wasn't familiar with the material at that time, but found the music very interesting. I prefer to see musicals "live", and not just listen to the cast recording, so when it was going to be performed for a limited run, at the Southwark Playhouse in London that summer, I bought a ticket and saw it. I fell in love with the show and knew I had to do it (at some point in the future).
The year before, in 2013, you did the Scandinavian premiere of Jason Robert Brown's Parade, and demonstrated that it is indeed possible to produce new independent productions of musicals in Norway without a huge budget.
My good judgment said, "Don't do it", but Parade was also something I knew I had to do. Dogfight is produced, like Parade, through profit sharing. I am blessed with an incredible group of people who all work for a common goal, and that is to be able to do great works of musical theatre that is not well known, but deserves to be seen.
What do you find so special with Dogfight?
What I find so special with Dogfight is that we get to the opportunity to come along on the journey of two people from very different backgrounds and points of view, and then witnessing their relationship evolve. The musical takes its time in developing this, which I find very refreshing. A lot of musicals have such a big story to tell that it skips important moments in order to have a big impressive number, for instance. Dogfight doesn't do that.
It is also interesting to see how Birdlace thinks he has the upper hand when it is really the other way around. Rose is the one who teaches him what true beauty really is, and she is crucial for him in order to become the man he also could be, and not only the one he has been taught into being from he was in school and later the military. Pasek and Paul also state that, in a way, the marines are victims themselves. Even though they do this horrible thing of arranging the dogfight, they should not be viewed as just bad people, but rather as an example of what their upbringing and society made them capable of doing. And the date of the story is crucial in America's history since it is the night before the assassination of John F. Kennedy. The country lost its innocence that day, much like July 22nd 2011 was for Norway.
And the story is just as relevant in today's cruel society
Yes, it really is. The game is cruel towards women, but what people are capable of doing today with the aid of social media is brutal. So dogfights are still being done, but now it is done in private chat rooms and private groups on the Internet. So one may think we don't do that sort of thing to people anymore, but we are. The story is very relevant especially for young people who do this, and don't realize the impact it has on other people. And in terms of female roles in musical theatre the character of Rose is more important than one might think. She is a leading character that is not what you call traditionally attractive, but she manages to show the meaning of inner beauty and what is important to grow as a person. There is not many types of roles like this, which makes it all the more imperative.
Did you get to talk to Pasek and Paul when they did their master class in Norway?
No, it was not until I attended one of their master classes in London at the St. James Theatre (now renamed The Other Palace) that I got the chance. I approached Benj Pasek after class and asked if he knew of anyone who was producing Dogfight in Norway, and he humorously replied, "Well, you are!" Of course it is never as easy as that getting the rights, but we did a small concert of some of the material rather quickly after that. I wanted to see if the material resonated with the crowd, and it really did.
I notice that Sigurd Vespestad Marthinussen and Benedicte Søreng, who sang Birdlace and Rose on that occasion will play them now as well. Were they cast right then and there?
Yes, after that concert I knew I wanted to do the show with them (a few others from that night are also in the show). I recognized it would take some time to get the production on its feet, so when Sigurd was cast in The Book of Mormon that wouldn't become a scheduling issue. But when it was extended another year, I decided to postpone the show a year in order for him to be available.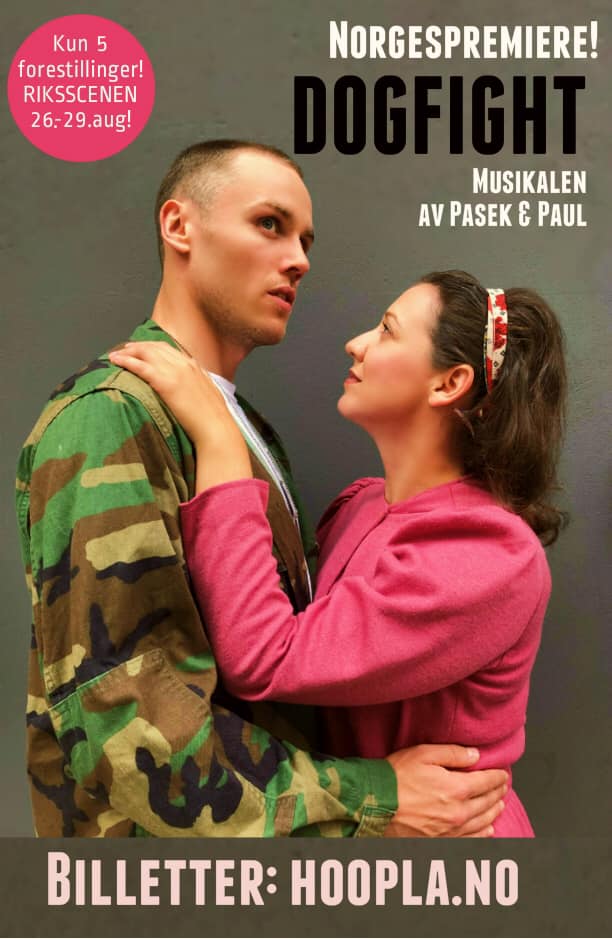 You held the auditions in the spring, and the turn out was very good. What can you tell me about the rest of the casting?
At that point we had already cast Birdlace, Rose, Boland, The Lounge Singer and Marcy. The rest of the cast was found during the auditions. I am very happy with how the cast turned out in the end, it's really a dream team of performers! The casting of Marcy in particular was a little out of the ordinary. I wanted to do a reading before I really started working on the show, to make sure I was still helplessly drawn to the material, because it is such a daunting task to do these types of productions. So I gathered those already cast, and also asked a handful of people just to help out with the reading. Among these was Tone Oline Knivsflå, whom I asked to read Marcy. I told her that this is just for today and that it was not a role I thought she was suited for, in other words "don't get your hopes up" (Laughs). She was okay with this, happy to play along. But she read the part so incredibly well and put her own spin on it in a way that made me rethink who Marcy was. I told Sigurd and Benedicte "I think we just found our Marcy, guys" and they both eagerly agreed.
How has the rehearsal period been this far?
It has been a very rewarding experience, and we have all bonded as an ensemble who all works for a common goal. One incredible sad experience though: one of our translators passed away in June. Hilde Skappel was translating the female songs while Mathias Luppichini translated the male songs. After she died Mathias had to complete it by himself. This affected us all deeply. She will be truly missed.
Production wise I feel we are in good shape - I have great collaborators in MD Petter Kragstad and choreographer Miguel-Angel Fernandez and together with the cast we've established a very playful and warm atmosphere in the rehearsal room. Since many in the cast members also perform in other shows, we have to accommodate that in the scheduling. But things are moving along great and we can't wait to present "Dogfight" to the world at the end of the month.
Dogfight opens at Riksscenen in Oslo August 26th for a limited run
Tickets can be bought here.
---
THE CAST
Rose: Benedicte Søreng
Eddie Birdlace: Sigurd Vespestad Marthinussen
Boland: Endre Skattum
Bernstein: Bendik Hvoslef-Eide
Marcy: Tone Oline Knivsflå
Fector: Frank Engelsvoll
Stevens: Alex Bermann
Gibbs: Sindre Fløistad
Peggy, ensemble: Helene Wibrand
Chippy, ensemble: Ingrid Nøren Stenersen
Ruth Two-Bears, ensemble: Henriette Lerstad
Suzette, ensemble: Andrea Rymoen
Mama: Marianne Snekkestad
Lounge singer: Kim Helge Strømmen
CREATIVE TEAM
Director: Renate Stridh
Choreography: Miguel-Angel Fernandez
Musical Director: Petter Sørlie Kragstad
Related Articles View More Norway

Stories

Shows